These days, the word "trending" typically means that something is hot right now, but in a few days something cooler or better will come along and you will forget all about that original "something." To those who operate within the world of architecture and façade systems, trendy things will come and go, but there will always be one consistent component our industry needs to stay focused on – curtain wall.
As architecture goes, it is incredible to think how much the concept of curtain wall has changed. From a simple stone wall linking a castle's towers centuries ago, to the stunning curved glass façade of projects like the more recent Tulane University A.B. Freeman School of Business. And with the trends we're seeing for 2019 and beyond, it is only going to get better.
ADOPT EARLY TO ADAPT TO CHANGE
NOAA recently cited that 2018's hurricanes caused $265 billion in damages, making it the "costliest year in terms of weather and climate disasters for the nation." Our industry has a critical role in creating buildings designed not only to withstand the elements, but also to be manufactured sustainably and perform with higher efficiency over time.
As the world faces these continuous and rapid changes in weather patterns, the International Code Council (ICC) is driving the steady improvement of building and energy codes to better suit regions with changing climate and extreme weather.
However, architects and builders are also taking it upon themselves to be proactive with their high-performance product recommendations and designs. Architects are designing in curtain wall elements that are more energy-efficient and better able to withstand harsh elements such as hurricane-force winds. Clients are also requiring higher-performing curtain wall systems that may even exceed their climate zone requirements, staying ahead of the ever-increasing requirements being led by the ICC.
One of the most impressive code changes to be activated in Oct. 2019 is to ASHRAE Standard 90.1 2018. This will strengthen the code across the United States, bringing stricter requirements from the most extreme weather zones into more temperate climates. Cities and municipalities within the impacted zones will be tasked with adopting and enforcing this code accordingly.
So, while the ICC continues to be a driving force for adapting building and energy codes to changing climate and extreme weather risks, our industry is also taking matters into its own hands to improve the safety, durability and efficiency of structures through curtain wall performance.
LIGHT IT UP
While it is important for our industry to anticipate the changes necessary to keep buildings and their occupants safe from potential natural disasters, we also must think of their well-being the day they step into a structure. Incorporating daylight into building designs has become extremely popular due to the proven positive impact natural light has on building occupants. Under the influence of natural lighting students perform better in school, office workers experience less eye strain and are more productive, and hospital patients require less recovery time, among many other benefits.
With this in mind, curtain wall designs are more often including oversized or "jumbo" – glass panels to incorporate as much natural light as possible. The emergency room at New York Presbyterian Hospital recently underwent a renovation that included an extra-large, structural silicone-glazed curtain wall system for the entry area. As one of the busiest emergency departments in the U.S. according to the American Hospital Directory, the renovation design team understood the importance of incorporating daylight and outside views into this healthcare setting to promote a healing and restorative environment for the tens of thousands of patients seen here each year.
In addition to bringing in natural light, curtain walls with huge glass panels looks modern and elegant, and it can really elevate the design of a structure. For example, YANMAR Corporation's North American training center is not only a training facility – it is a dramatic showpiece that sparks imagination and collaboration for its employees.
BRINGING THE OUTSIDE IN
But it is not just daylight that affects building occupants. Another growing trend is incorporating greener, more thoughtful design regarding indoor environmental quality. According to the 2018 World Green Building Trends SmartMarket Report, industry leaders expect the majority of projects in the next three years to be green buildings, and innovative curtain wall solutions have a significant part to play in this transition toward sustainability.
With about 43 percent of all energy use in the country attributed to the heating and cooling of buildings, it is more important than ever to incorporate new ventilation options that help improve indoor air quality while augmenting the performance of a traditional HVAC system.
Utilizing natural airflow within the curtain wall design is just one way to achieve this balance, and manufacturers are working to provide innovative solutions for architects to meet the growing need for this approach to more sustainable design.
Incorporating natural air flow can also add an extra element of safety in the case of fire or smoke. As curtain wall vents using air from outside the building aid in the removal of smoke from the inside, visibility is improved for building occupants locating emergency exits, as well as firefighters and emergency responders. The faster evacuation of smoke from the building also helps reduce the risk of further fire propagation and long-term damage that may be caused by smoke.
Vents are necessary for natural air flow, and one design challenge facing the industry is the increasing desire by to include vents within the curtain wall that are seamless in appearance. Integrating operable windows into façade systems within the curtain wall is also becoming popular, so we will see much more innovation around the safety, operability and appearance of these trending designs.
As the aesthetic desires of clients are constantly evolving, the challenge for manufacturers is to create standardized solutions that will allow architects to design a highly customized look and feel.
TRENDING
Our industry always has been and always will be one that grows and changes frequently, but there are some curtain wall expectations that never waiver with time – safety, performance, efficiency and elegance.
As weather events become more severe and frequent, we must align our efforts to keep buildings and their occupants as safe as possible – from physical damage and from the overall impacts of building damage – by ensuring curtain wall designs are code compliant, and in some cases over-compliant.
Sometimes updating and adopting new building and energy codes at any level can be cumbersome, so it is up to architects and manufacturers alike to ensure we are designing in and providing curtain wall products that can withstand the elements of today's climate.
We must ensure that as curtain wall aesthetic trends evolve, our products and designs work within the common mindset of energy efficiency and high performance without abandoning our commitment to beautiful design and evoking feeling within a space.
And finally, we must continue working to meet our clients' needs by developing curtain wall solutions that feel highly customized but can be used for multiple applications throughout the industry.
Trends may come and go, but some things never go out of style. Curtain walls are certainly one of them.
About the author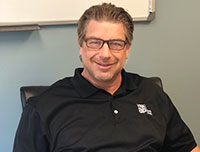 Terry Carespodi, National Sales Manager, YKK AP
Terry Carespodi is a National Sales Manager at YKK AP America Inc. His rich and diverse background in the architectural aluminum fenestration industry serves as an asset to his role, in which he is responsible for implementing strategic initiatives to further the company's long-term goals.