UPDATED PRISM 2017 Media Kit!
PRISM Sustainability in the Built Environment, now bimonthly, is an online publication of the built environment, focusing on design, technologies, and materials and their specification and use — a resource for architects, designers, specifiers, planners, builders, construction firms, developers, suppliers and users of architectural materials.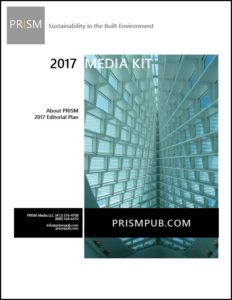 PRISM integrates the whole building—providing timely news and information on building science, color/design, historic preservation, urban/exurban planning and the architectural design and planning industry. In addition, each monthly edition highlights specific topics of interest in the built environment such as healthcare, education, multi-use and building envelope.
PRISM goes beyond the typical definition of 'sustainability' to include materials that add a sustainable nature to architectural design environments such as design focused on wellness, collaborative working areas, more 'hospitality' in healthcare design, sustainable living environments, resiliency, landscape architecture, urban planning and historic preservation.
Download PRISM 2017 Media Kit.
Download PRISM 2017 Editorial Calendar.
Click on PRISM Editorial Guidelines for more information regarding editorial submissions.
ADVERTISING
Contact Emma Kapp about PRISM Partner programs at emmakapp@prismpub.com.
All other advertising inquiries, contact info@prismpub.com.