How a passion for storytelling and the environment led a former journalist to a design career and ethos that's beyond sustainability
In my previous life as a full-time journalist, I covered education, city planning, and wrote features for a local newspaper. The people I met and insights I gained as a journalist were a valuable education. Over time, however, inspired by the growing momentum in the sustainability movement and being a Colorado native raised in the outdoors, I wanted to play a part in protecting the environment. Architecture and design struck me as a direct conduit to making positive, tangible change through creativity. So, I made the leap to a new field.
The process of telling stories in journalism parallels design very closely. The journalist spends time collecting information that must be synthesized into a coherent story. Design is no different. We gather information and inspiration from our client to create a cohesive whole. Project constraints carve out opportunities. My creative process tends to be introspective and responsive—reflecting my journalistic instinct to listen, synthesize, and compose a response that's meaningful.
Sustainability as standard practice
In our practice, sustainability plays a role in just about every project we touch. We think about it because we serve as stewards of smart design solutions in all cases. On the projects which I have led, I've been fortunate to experience a holistic range of sustainable thinking from building performance-driven design to design that makes a lasting social impact.
Since my first project, I've pushed forward sustainable design as an all-encompassing, triple-bottom-line approach. Our aim on Eastside Human Services for the City of Denver was to use this civic project to create a welcoming, community-focused building that made visitors seeking social services feel empowered. The project design employs a variety of passive strategies to emit calm daylight in to work space and energetic natural light into social spaces. Native and adapted plantings contribute to passive site security and storm water treatment. A local art program promotes ongoing engagement. Today, the LEED Gold-certified building is a much-loved beacon in the community.
Can we make cities 'happy'?
If we think beyond sustainability and resiliency—and look at holistic aspects of practicing design with a social impact—our goals become more ambitious. We need new terms to encapsulate them.
"The happy city" refers to a way of life that better connects us with other people and the places we inhabit.
If you commute two hours to work every day, you might only interact with a small group of people. Your experience with the outside world becomes skewed, alienating you from interaction with strangers or new experiences. This life doesn't support our natural instincts as social beings. Happy cities seek to diversify those experiences and reconnect us. This means more mixed uses in our communities, engagement with public spaces, places for expression, and a reduced reliance on our cars. This adds up to a more social environment; often, it's a more sustainable, walkable environment. If we can execute designs that help us to fully experience the places we inhabit, we increase our levels of social trust.
I've already put the happy city concept into practice. Providing master planning services for Dubai South, site of the 2020 World Expo, required us to research what drives quality of life in urban areas. Key values such as walkability, sociability, inclusiveness, play, and ownership of public spaces shaped the design solution. My hope for the new development is that it creates a truly interwoven community and positions urban happiness as a model for future developments.
[Adapted from the Stantec Design Quarterly, Issue 01 – The Sustainable City. Read and subscribe to the Design Quarterly now.]
About the author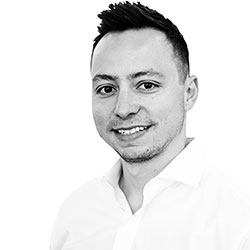 Dominic Weilminster, AIA, LEED AP BD+C
Stantec, Principal
Dominic's design approach is deeply focused on the human experience. Making beautiful places is at the heart of what he does and when that beauty allows someone to enjoy life a little more, he believes our work becomes transcendent. The passion and talent he brings to projects shows in the accolades he's received for his project work, including Colorado and Western Mountain Region Design Awards, an IIDA Best Award, and the 2013 ISOCARP International Planning Award. He was also recognized on the Denver Business Journal's 2018 40 Under 40 list.
He credits summer studies in Finland and Turkey and seeing places that have been operating in roughly the same manner for 800 years with giving him better perspective on resilience and the impact of the built environment on the human experience.