Commercial building design, coatings for metal and roof coatings/materials
Linetec finished the aluminum framing of Tubelite's curtainwall and entrance systems. ArtsQuest Center, Bethlehem, PA. Photo: Paul S. Bartholomew Photography, LLC. Courtesy of Tubelite Inc.
Commercial building design
10 Lafayette Square, Buffalo NY. Credit: The Hamister Group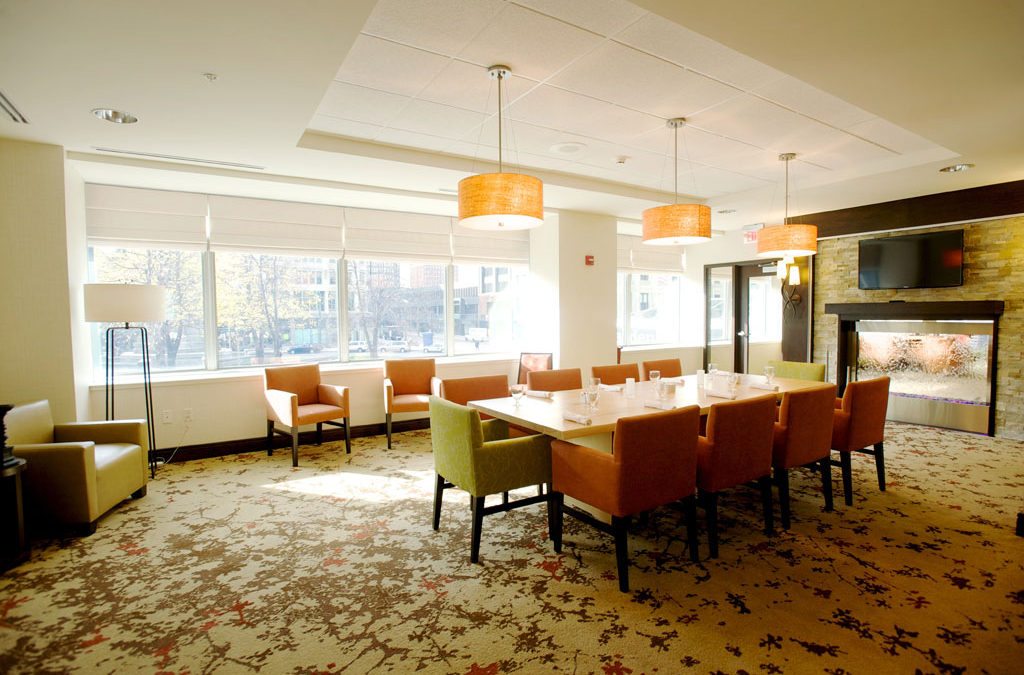 Rising 20 stories into the Buffalo, New York, skyline, 10 Lafayette Square looks identical to when it originally opened in November 1959 as a corporate office building. But, looks can be deceiving. Now—more than 57 years later and memorialized on the National Register of Historic Places—the landmark building is a mixed-use complex and a model of energy efficiency after undergoing an extensive transformation that included the installation of the Renovate by Berkowitz™ (Renovate) façade retrofit system.
read more
The Predictive Index's corporate headquarters,101 Station Drive, Westwood, Mass. Photo: Sabine Mueller Creative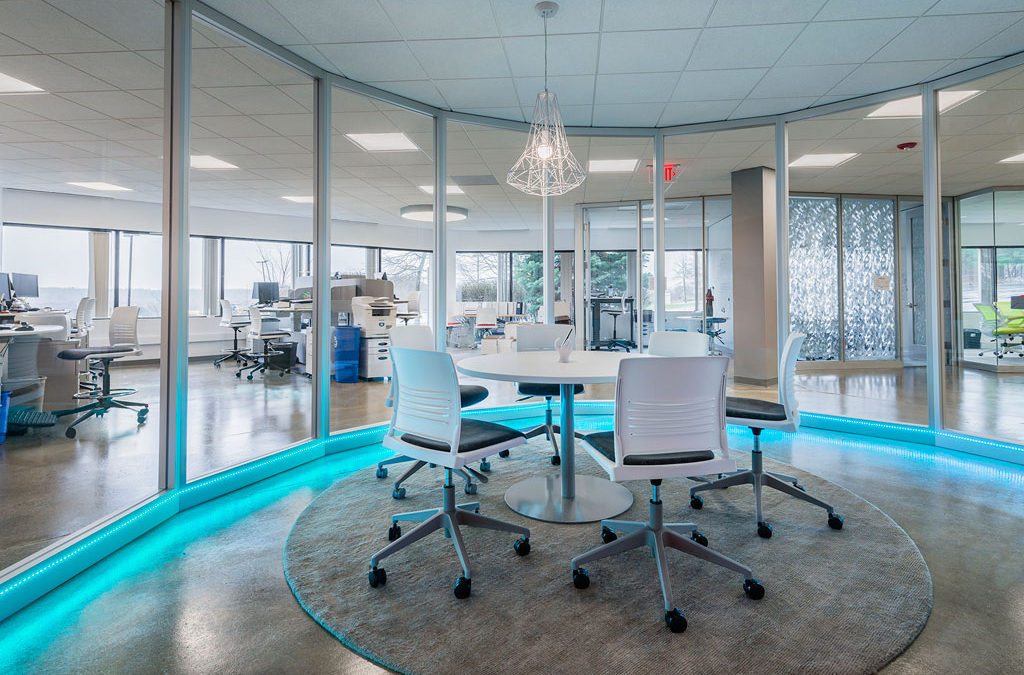 Margulies Perruzzi Architects is proud to announce that the firm's high performance workplace design for The Predictive Index's corporate headquarters has received a 2016 CoreNet Global New England Award of Excellence for Best New Workplace
read more
Landry Design Group in Los Angeles, CA. Credit: SageGlass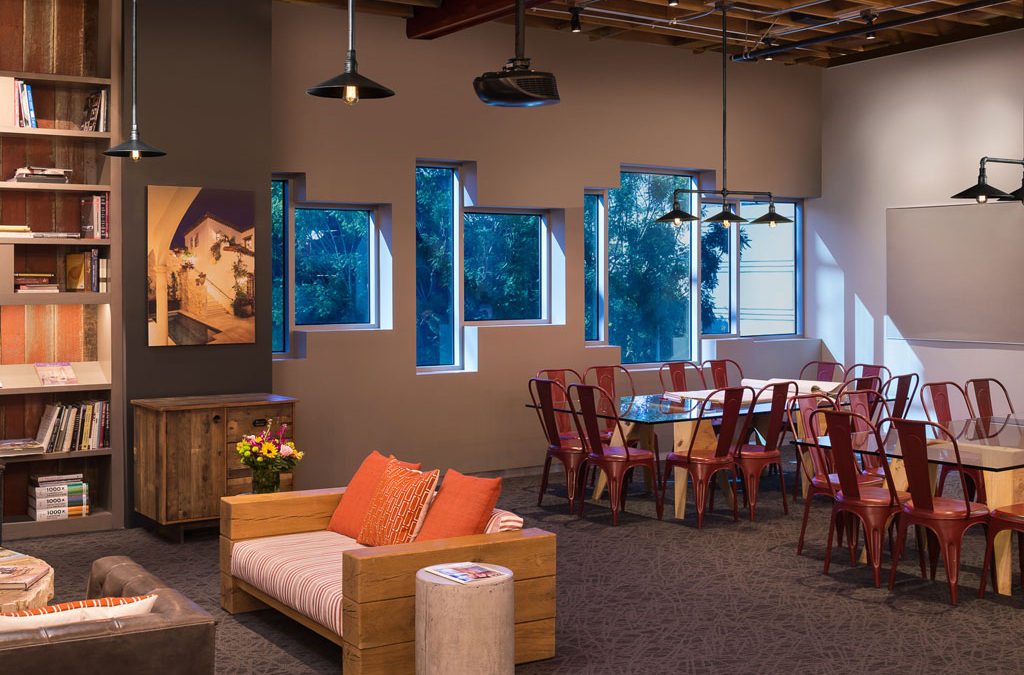 SageGlass®, the pioneer of the world's smartest electrochromic glass, announced three completed commercial office installations in Nebraska, Iowa and California. SageGlass, a product of Saint-Gobain, was chosen for its ability to control sunlight to optimize daylight, outdoor views and comfort while preventing glare, fading and overheating to create a productive and comfortable work environment.
read more
FMC Tower commercial interior. Photo by Chris Cooper Photographer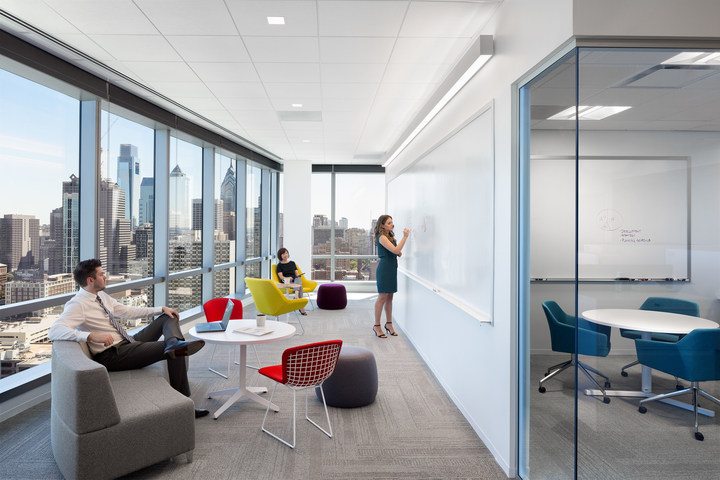 FMC Corporation announced that its new headquarters, located in FMC Tower at Cira Centre South in Philadelphia, Pennsylvania, has received LEED Gold certification for its commercial interior.
read more
Courtesy of 1 Hotel Brooklyn Bridge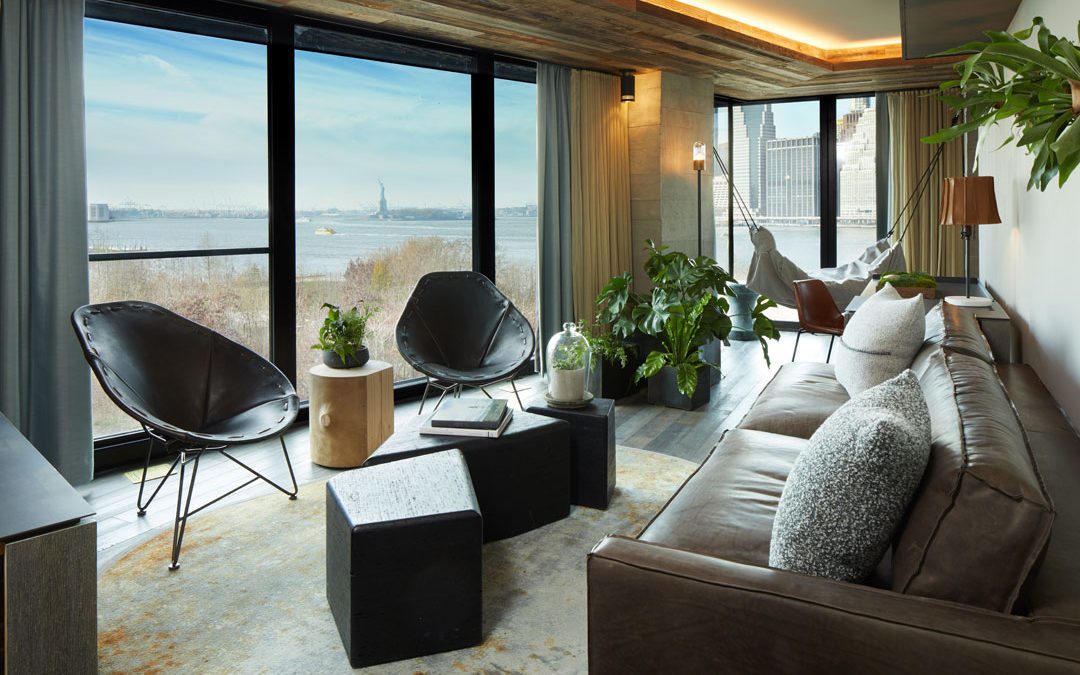 1 Hotels last week opened the doors of its third property and first ground-up development, 1 Hotel Brooklyn Bridge. Remaining true to 1 Hotels founder, Barry Sternlicht, core philosophy, "The world around us is beautiful, and we want to keep it that way." The property cultivates the best of eco-conscious design, sustainable architecture, cause-oriented partnerships, and unrivaled service.
read more
CityCenterDC office towers. Photo: Aker Imaging. Courtesy of Valspar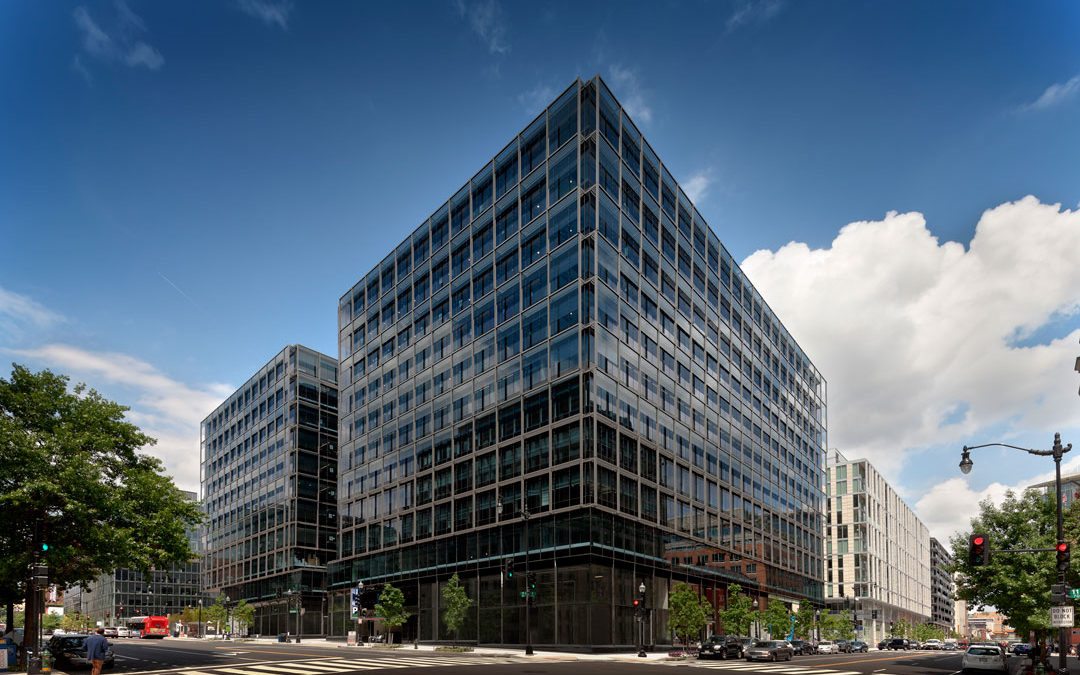 CityCenterDC offers a transit- and pedestrian-oriented neighborhood experience in downtown Washington, D.C., that blends 2.5 million square feet of shops, restaurants, apartments, condominiums, offices, a hotel and public spaces. One of the largest urban infill projects ever undertaken in the city, this 10-acre, mixed-use, LEED®-certified development occupies 3.5 city blocks and eight buildings. For the two office towers, Valspar's Fluropon® coating systems were selected to meet the project's aesthetic, performance and sustainability goals.
read more
Linetec finished the aluminum framing of Tubelite's curtainwall and entrance systems. ArtsQuest Center, Bethlehem, PA. Photo: Paul S. Bartholomew Photography, LLC. Courtesy of Tubelite Inc.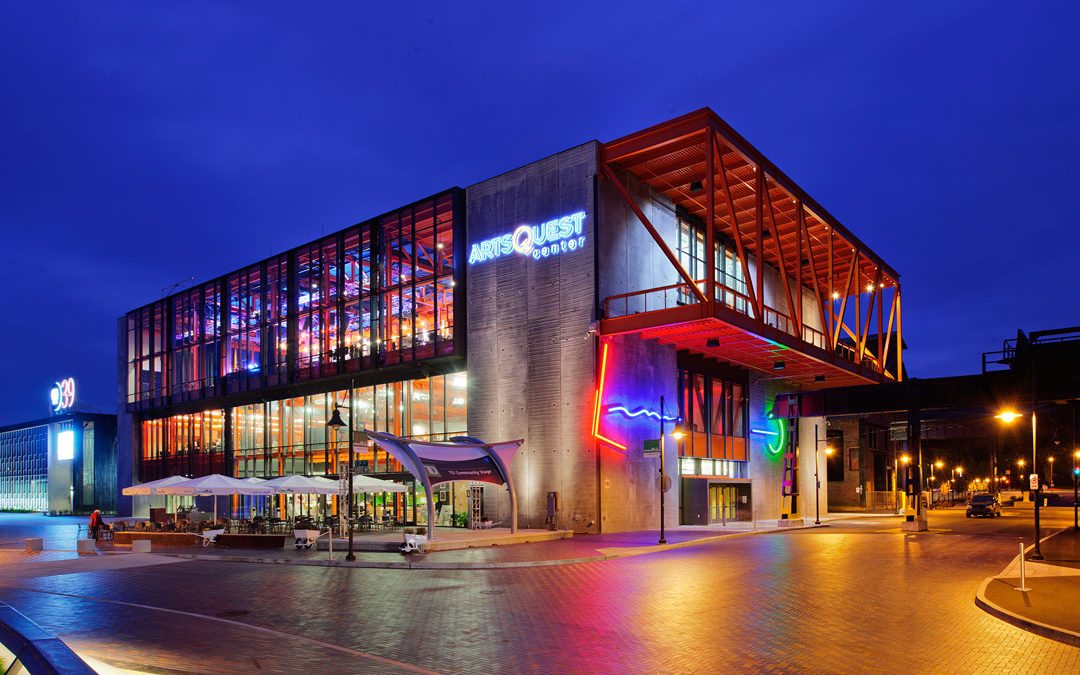 Pennsylvania's ArtsQuest Center at SteelStacks is a new 4.5 acre year-round art center located on a reclaimed brownfield at the western end of the 150-year-old Bethlehem Steel manufacturing site. Spillman Farmer Architects designed the 66,000-square-foot, $17.3 million arts facility as a transformative and transparent space, with an exterior featuring curtainwall and entrance systems from Tubelite Inc.
read more
Boston Logan International Airport. Each flapper panel was finished by Linetec in Class I clear anodize. Courtesy of EXTECH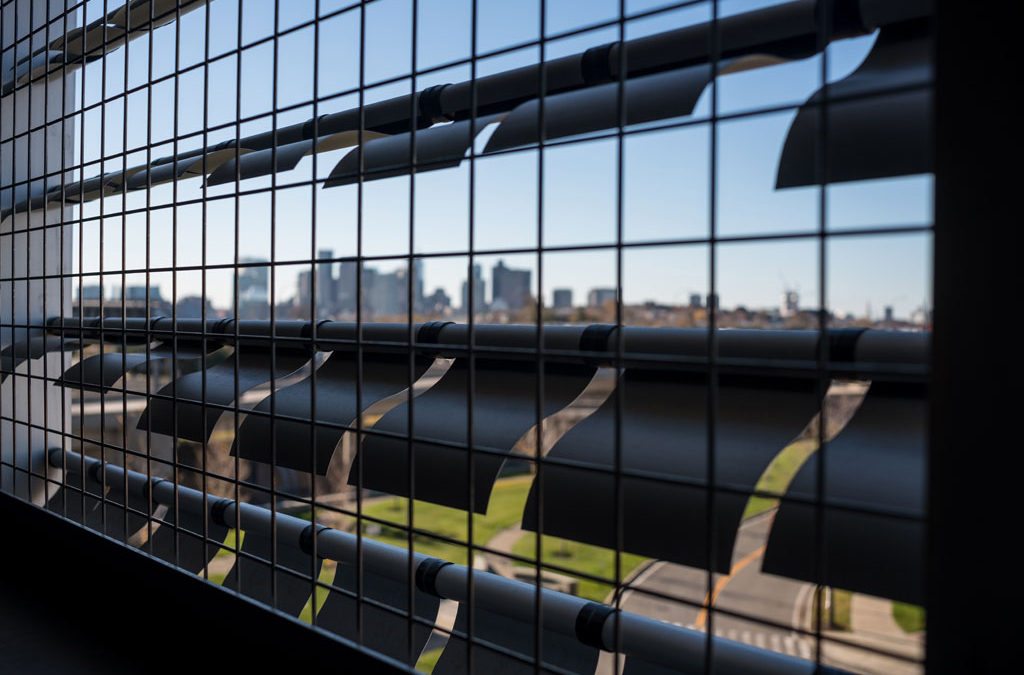 Boston Logan International Airport's new, 10-story West Garage Extension features an attractive, kinetic exterior to distinctively screen the facility. Designed by Arrowstreet Inc. and manufactured by EXTECH, the dynamic façade system consists of more than 48,000 aluminum flapper panels that move in response to wind currents. Each flapper panel was finished by Linetec in Class I clear anodize.
read more
432 Park Avenue in New York. Designed by noted architect Rafael Viñoly, the 96-story skyscraper features a lattice-like network of aluminum window wall systems finished with Duranar SUNSTORM® Gray Mica and Sunlight Silver coatings. Photo by Tom Kessler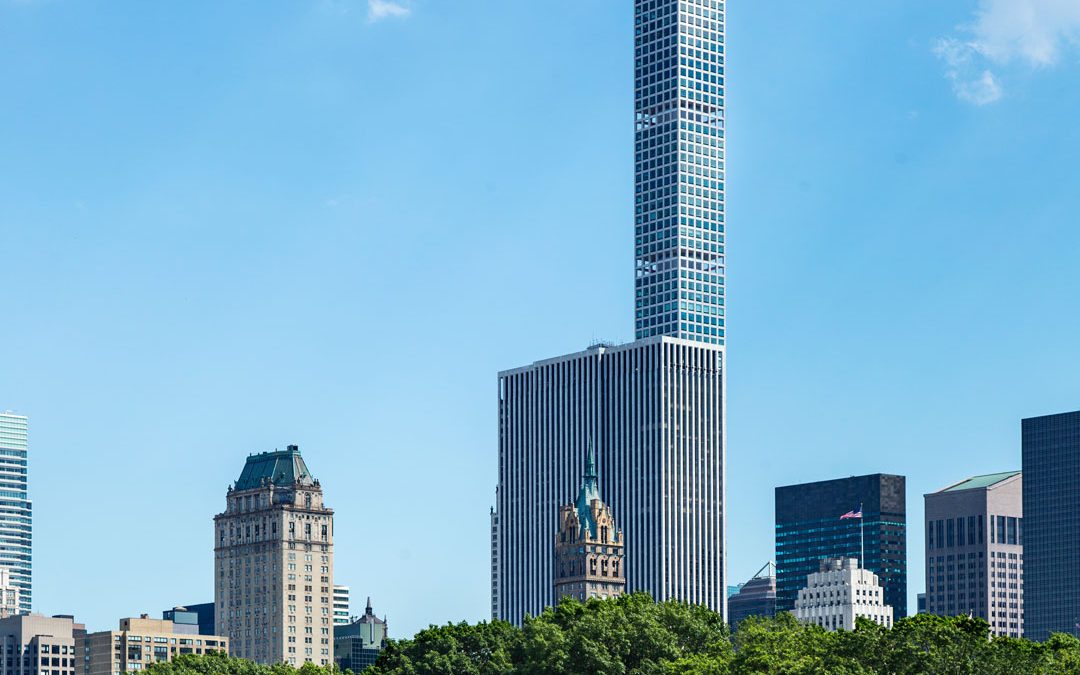 Designed by noted architect Rafael Viñoly, the 96-story skyscraper features a lattice-like network of aluminum window wall systems finished with Duranar SUNSTORM® Gray Mica and Sunlight Silver coatings applied by aluminum extruder and paint applicator Keymark Corp., Fonda, New York.
read more
Roof Coatings and Materials
The Rosslyn Hotel, Los Angeles, CA. Courtesy of Highland Commercial Roofing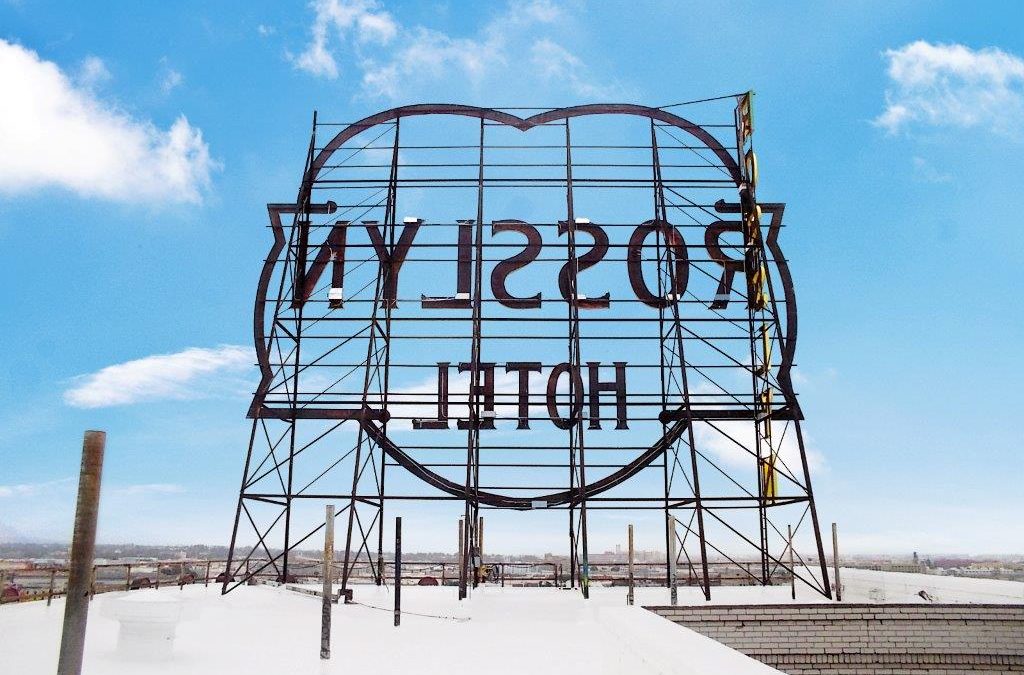 It was a "Million Dollar Hotel" with a century's worth of history, so when it came time to renovate the Rosslyn Hotel in downtown Los Angeles into affordable housing, developers turned to Highland Commercial Roofing to ensure its protection.
read more
The Hurlingham Racquet Centre, designed by David Morley Architects, has a sunken, low-profile shape and a curved green sedum roof to minimise the environmental impact of the building. Image by The Hurlingham Club, London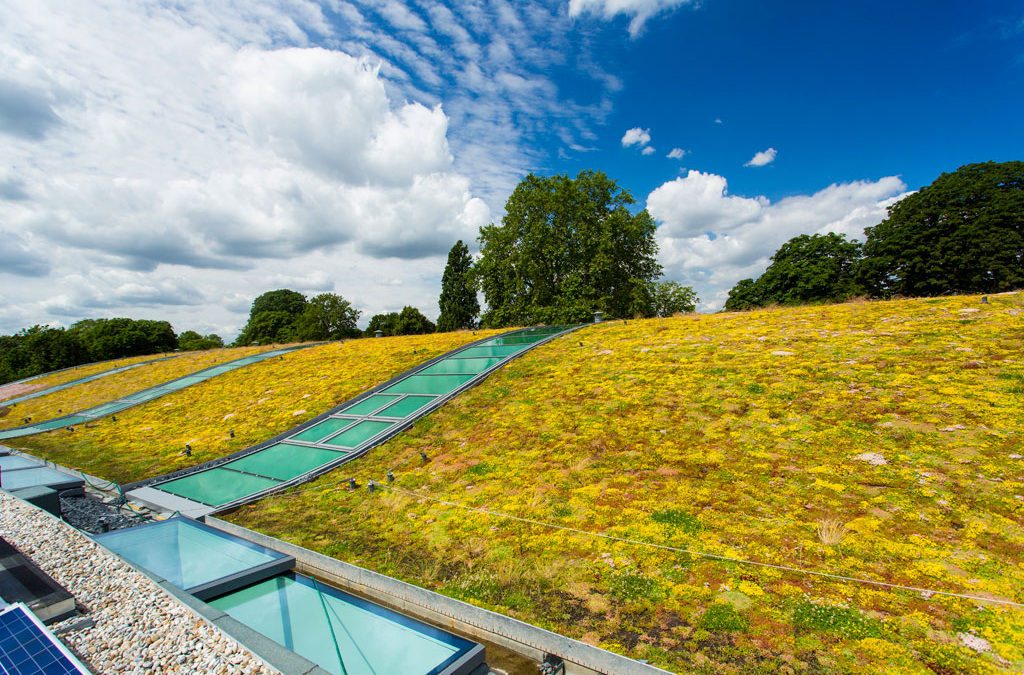 The Hurlingham project in London involved the construction of a sports complex including four indoor tennis courts and four squash courts. The racquet hall, designed by David Morley Architects, is 35 meters wide and 55 meters long. The main span consists of suspended steel beams. To give the courts space and reduce the costs, the beams are spaced with large gaps of 12.9 meters. To fill these gaps, the architect wanted to see wood.
read more
Standard Solar installs multi-building solar system featuring a carport, parking garage canopy and rooftop array for commercial real estate developer, DANAC. Credit: Standard Solar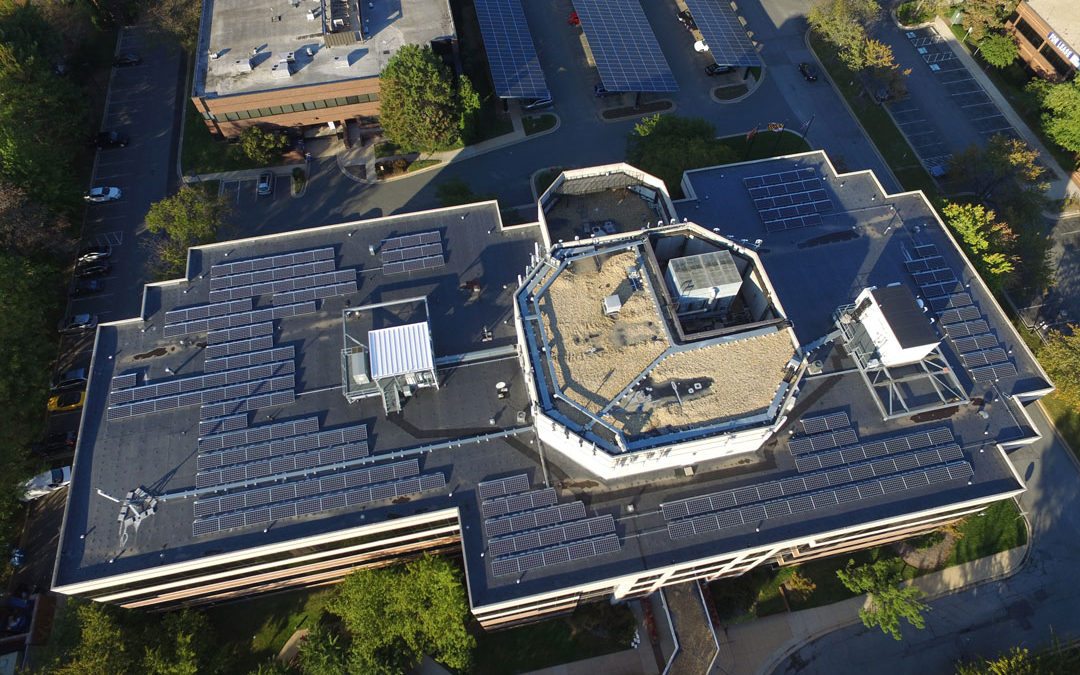 Standard Solar, Inc. announces the completion of a 708 kilowatt (kW) solar project for Montgomery County, MD-based commercial real estate developer, DANAC, LLC. The project, featuring a parking garage solar canopy, a solar carport and a rooftop system, was completed in late 2016 and was recently named a finalist for a 2016 Wintergreen Award for Excellence in Green Building.
read more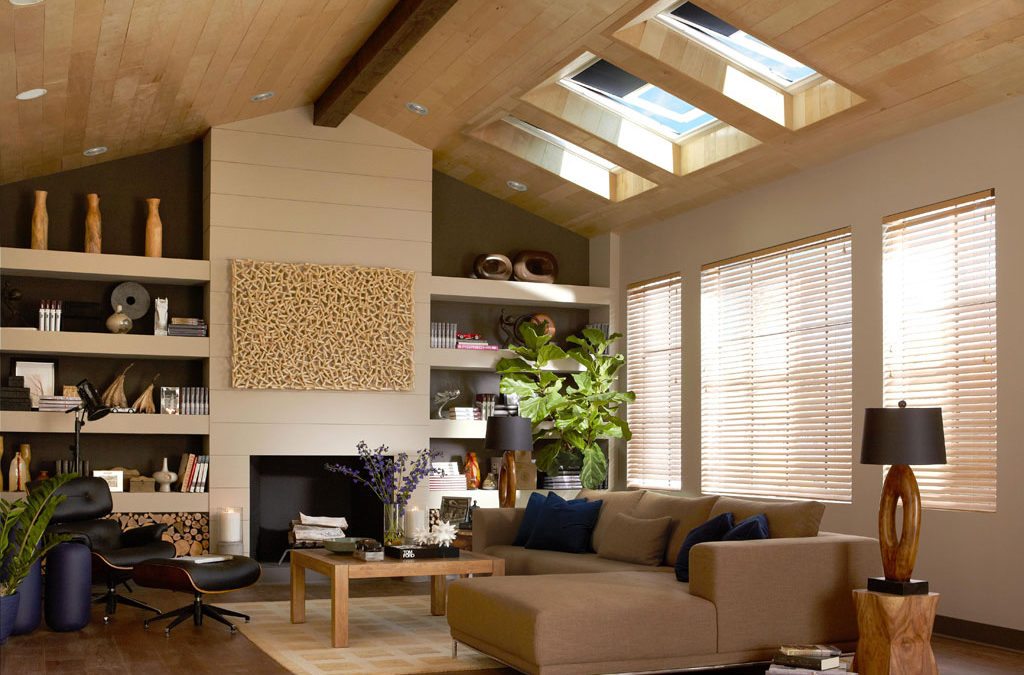 The American Architectural Manufacturers Association (AAMA) recently released a new document to provide guidance and sound technical information on the various aspects and considerations that need to be considered when applying plastic-glazed skylights and sloped glazing as an enhancement to a building design.
read more
Noteworthy news and projects
EYP Office. Courtesy of EYP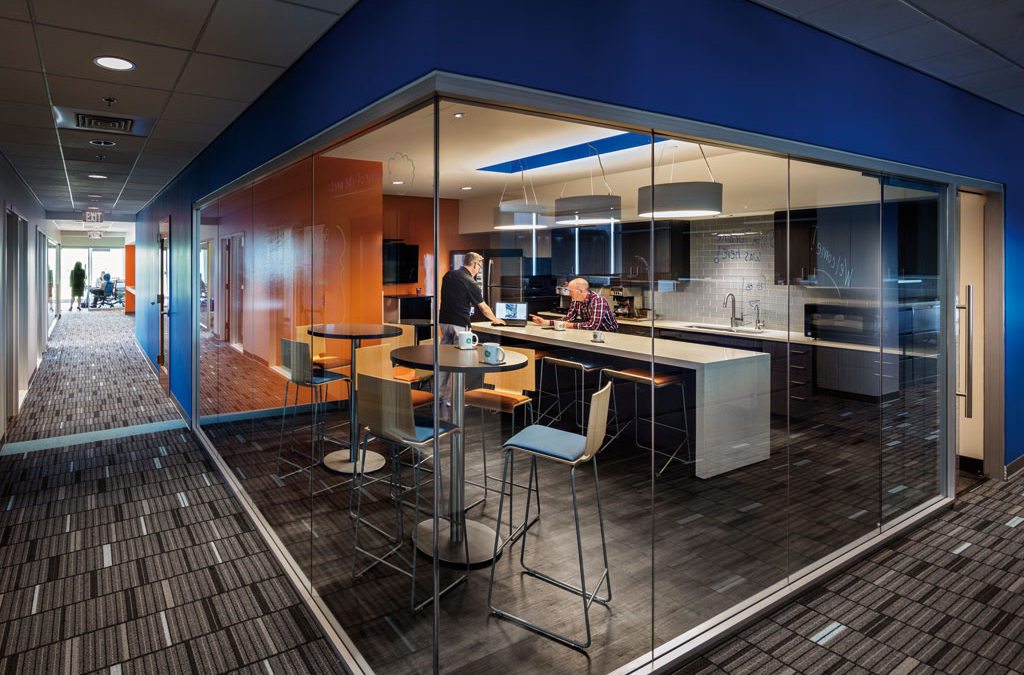 Fitwel has garnered significant market traction during its soft launch phase through its Champion and Ambassador programs and is recognized as a 2017 Most Innovative Company in Social Good by Fast Company
read more
Golden 1 Center celebrates Sacramento's climate and lifestyle with a unique indoor-outdoor design that reverses the typical introverted arena. The arena is revitalizing downtown Sacramento and is the world's first LEED Platinum certified indoor sports venue. Image courtesy of AECOM and caption courtesy of AECOM's Fact Sheet.*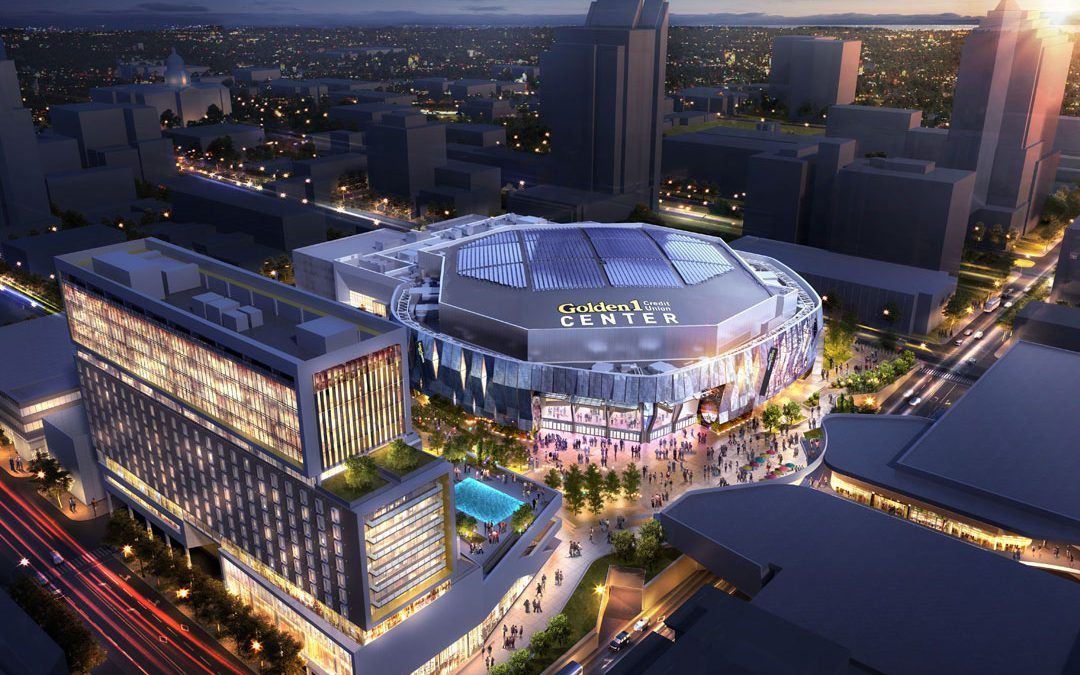 ACEC California named Sacramento's Golden 1 Center as its 2017 Golden State Award Winner for its exceptional and unique sustainable design features. The Golden 1 Center – home of the National Basketball Association's Sacramento Kings – was designed by AECOM in association with Henderson Engineering, Inc. and is the first indoor sports arena in the world to achieve LEED platinum certification. The Golden State Award is the highest honor ACEC California bestows as part of its Engineering Excellence Awards program.
read more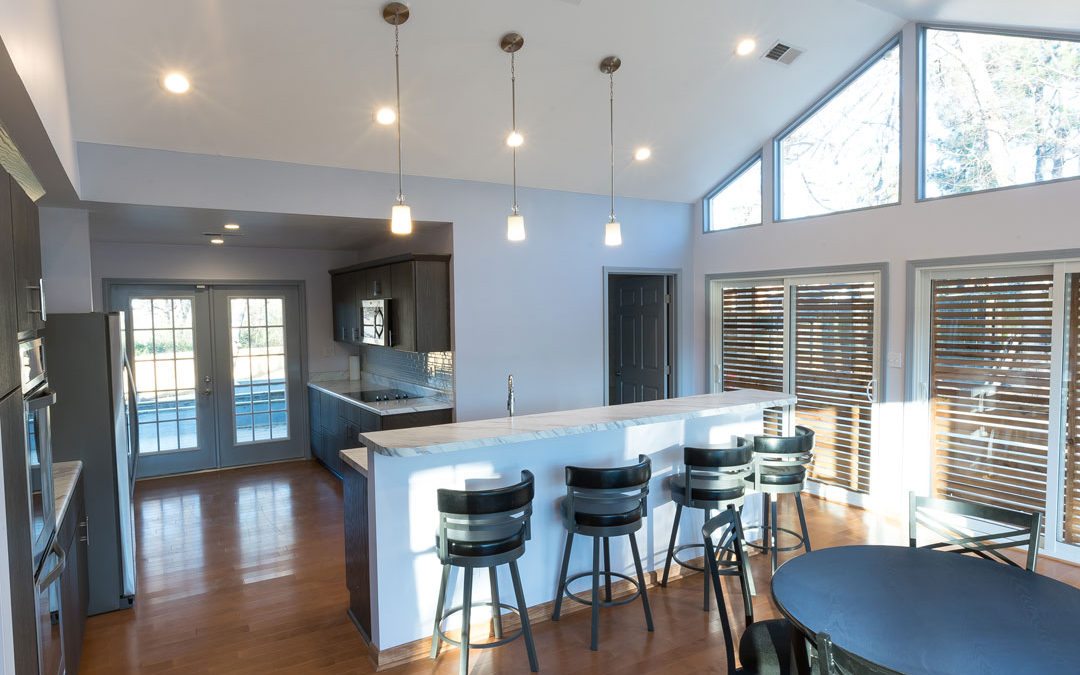 A first-of-its-kind home adhering to the standard of "ageless design" was unveiled February 2, 2017 in Memphis. The home is part of a groundbreaking effort by AARP, AARP Foundation, Home Matters and the Wells Fargo Housing Foundation, which challenged architects through a nationwide competition to create new standards in housing design that allow adults to stay in their homes throughout their lives.
read more
With Phase 1 of the Wharf nearing completion, 1.2 million additional square feet awarded to architects and designers for Phase 2 Construction. Photo: DC Regional Water Taxi at The Wharf, Phase 1. Credit: The Wharf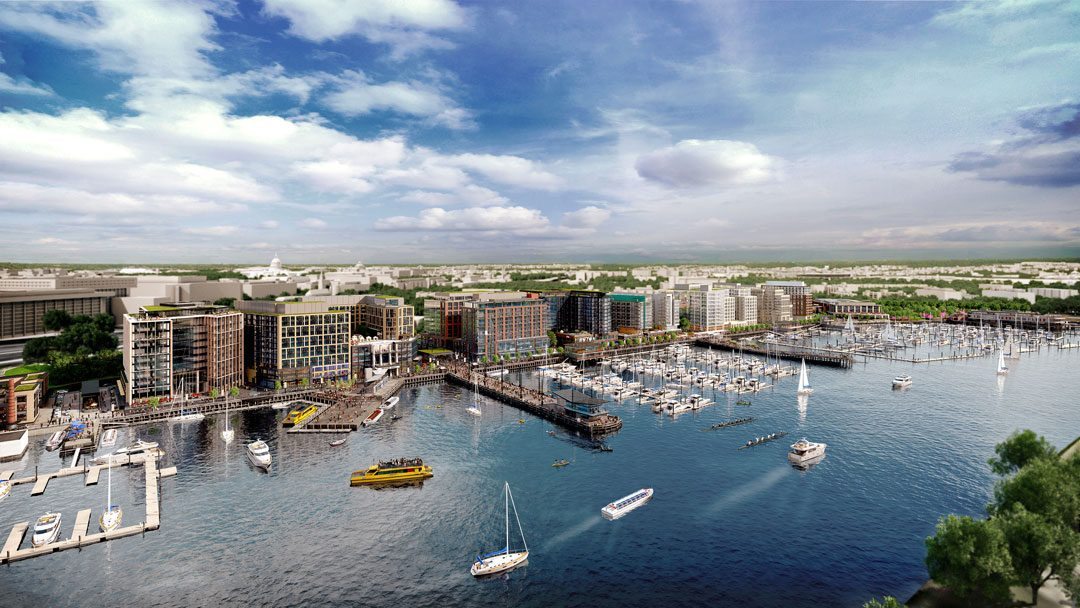 Hoffman-Madison Waterfront (HMW), the developer of The Wharf, a $2 billion, mile-long neighborhood located on DC's Southwest waterfront, January 31, 2017 announced the architects and designers selected to design Phase 2 of the site. Perkins Eastman DC will oversee a collective of eleven of the country's most prestigious architects and designers.
read more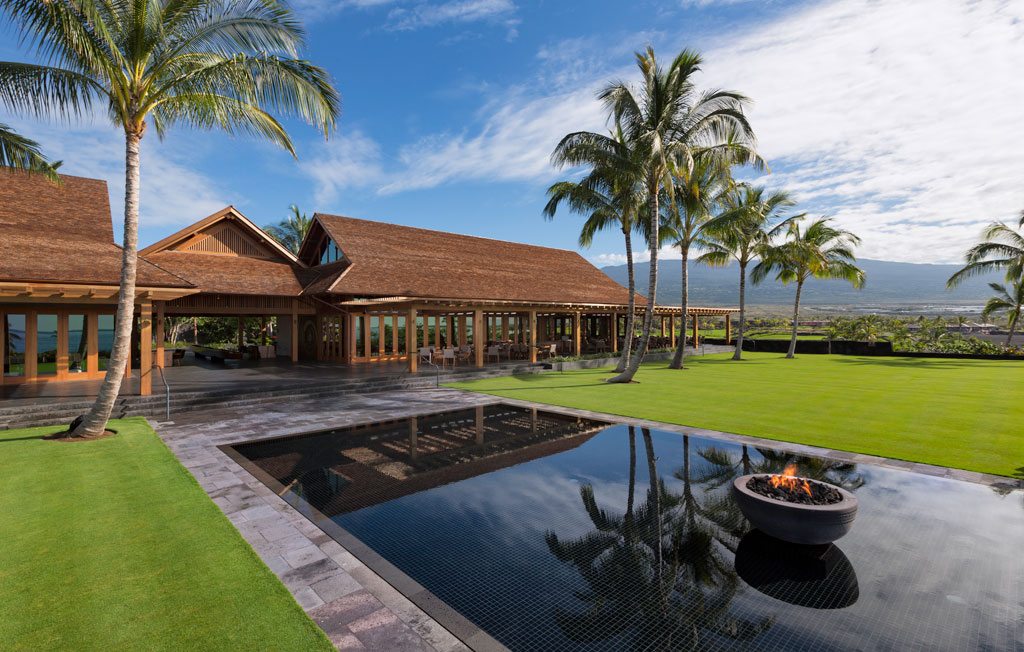 To celebrate the New Year, private residential community Kohanaiki on the Big Island of Hawaii has opened an impressive 67,000 square foot clubhouse for its members. Committed to cultural preservation and environmental restoration on the Kona Coast, Kohanaiki embraced its role as a steward of the land and has diligently ensured sustainable construction methods and practices were employed.
read more
Shanghai Cultural Center water view. Courtesy of Steven Holl Architects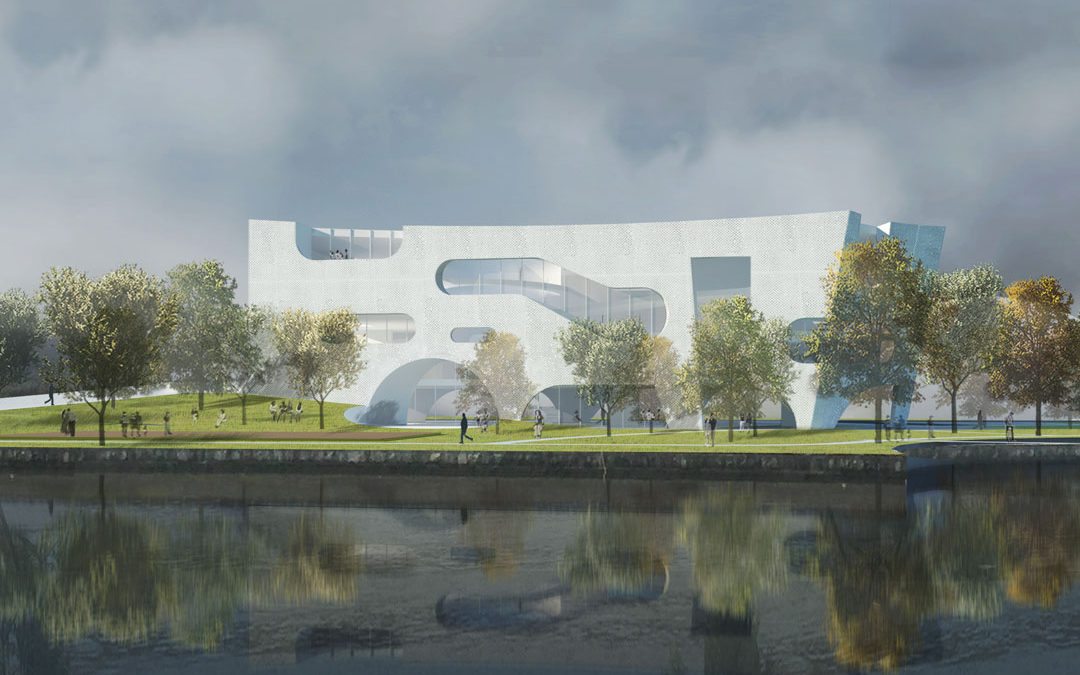 Steven Holl Architects' design for a new Cultural and Health Center in Shanghai was approved by COFCO, who commissioned the project in Summer 2016.
read more
Morris Avenue Apartments, Bronx, N.Y. Credit: Omni New York LLC.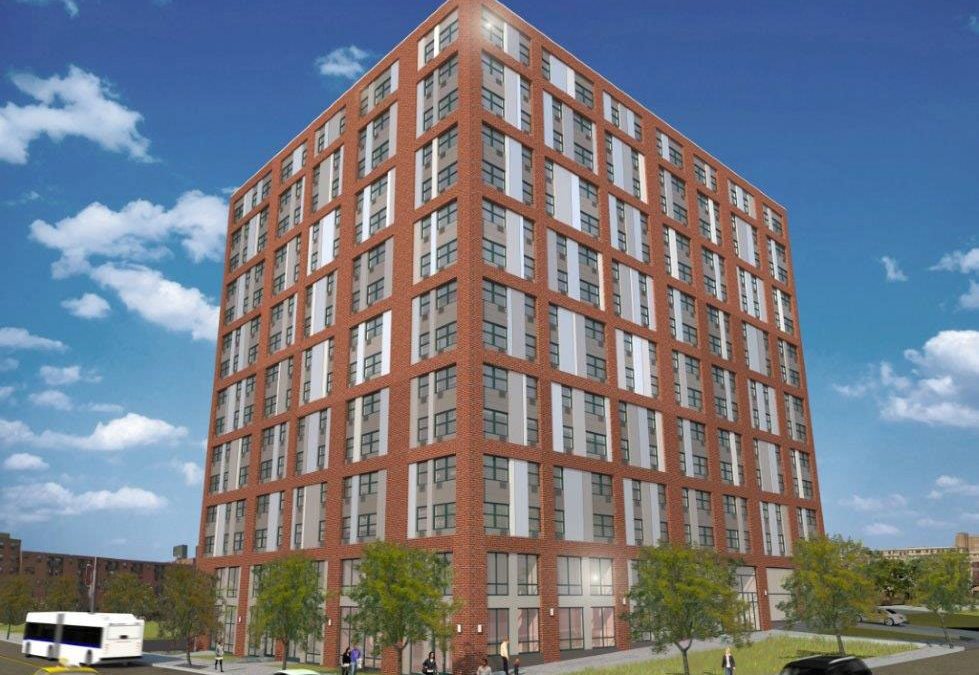 Omni New York LLC celebrated the opening of its Morris Avenue Apartments affordable housing complex located at 655 Morris Avenue in the Bronx, which will provide 176 new units of mixed income housing for New York families and formerly homeless, including formerly homeless veterans.
read more
Spaulding Rehabilitation Hospital Cape Cod. Credit: Warren Patterson Photography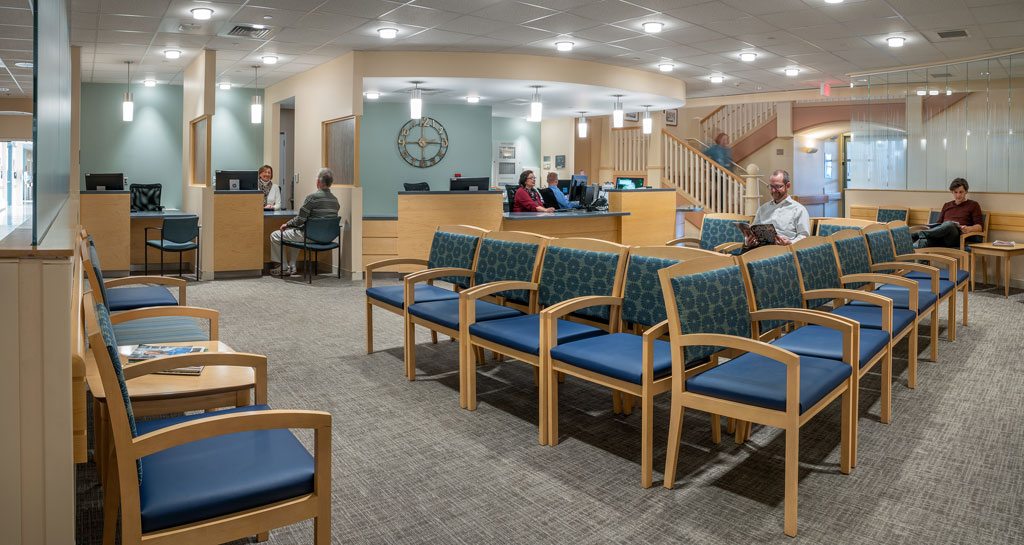 Margulies Perruzzi Architects (MPA) announced that is has completed the expansion and renovation of Spaulding Rehabilitation Hospital Cape Cod in Sandwich, Mass.
read more
El Monte Gateway. Courtesy of SVA Architects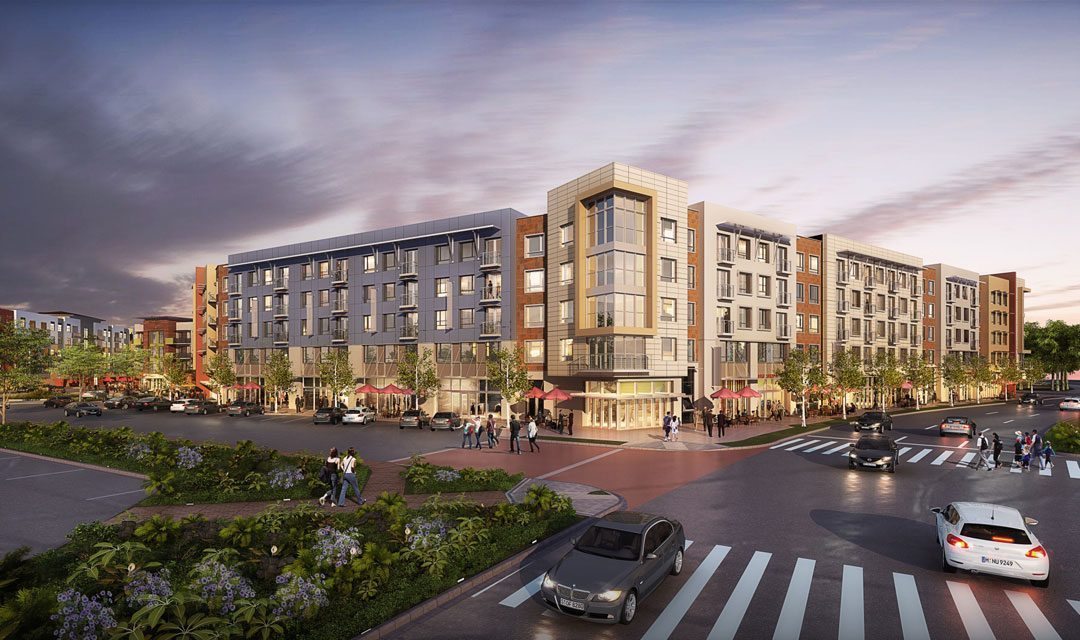 This month, El Monte Gateway celebrates a significant milestone in its ambitious transit-oriented development (TOD) realization.
read more
Common Ground High School in New Haven, Conn. Photo courtesy of David Sundberg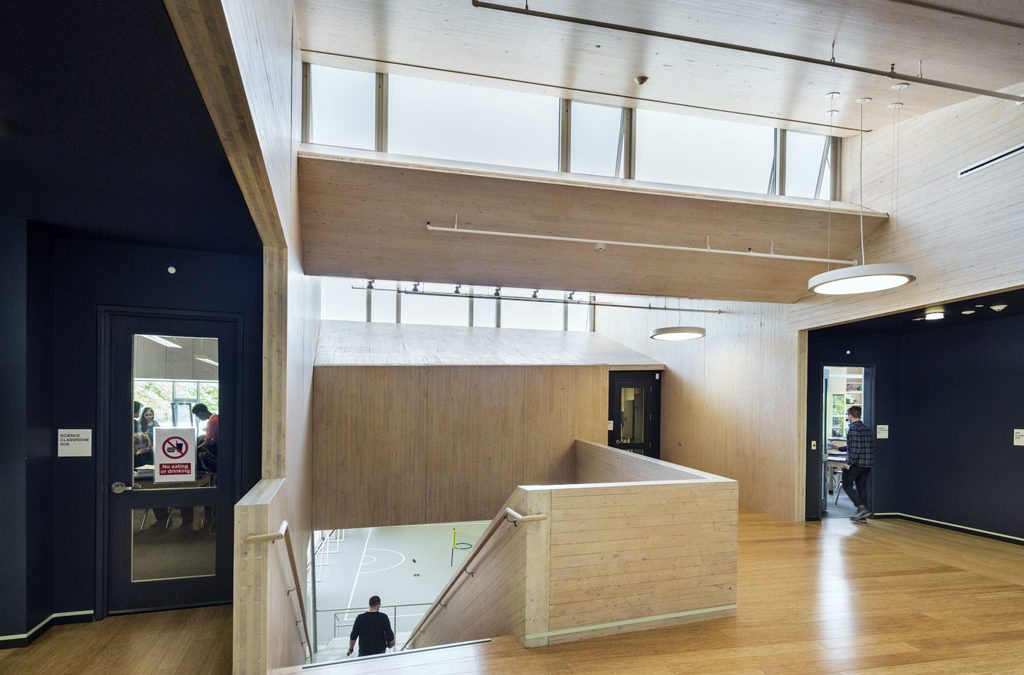 Designing with wood ensures safe, resilient and appealing structures that are ideal for educational facilities
read more
Vitro Architectural Glass (formerly PPG Glass) has added a new feature to the Vitro Glass "Construct" tool that enables users to quickly generate 3-part specifications in the Construction Specifiers Institute (CSI) format, which is the basis for all building construction documentation in North America.
read more
U.S. Steel Tower, Pittsburgh, PA. Courtesy of evolveEA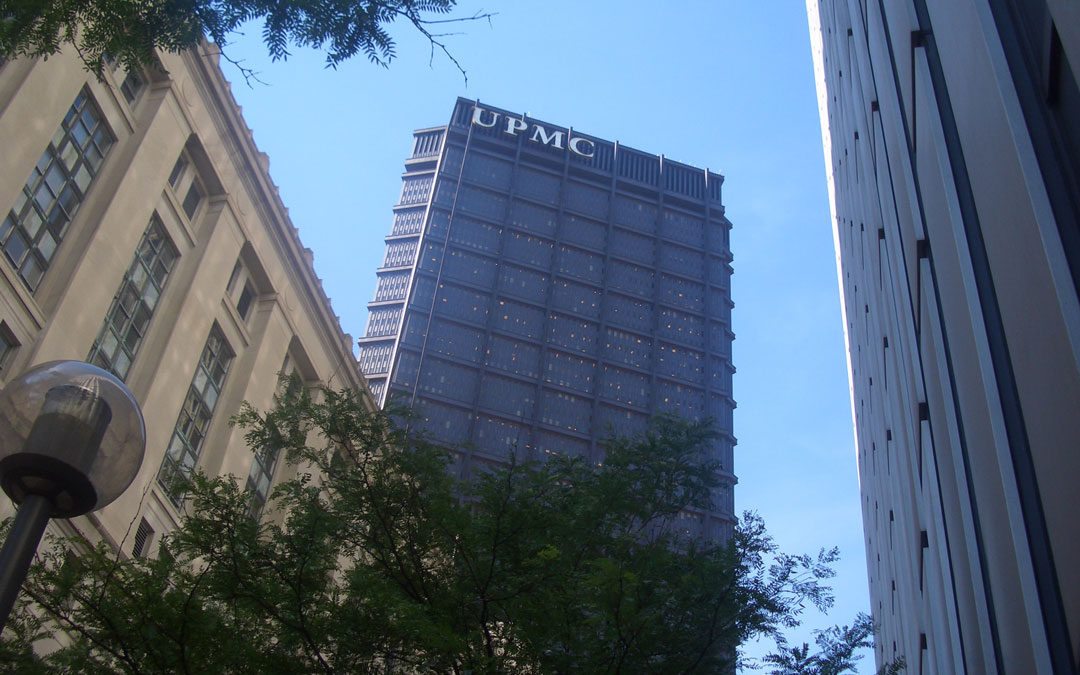 The tallest structure between Chicago and Philadelphia is the 64-floor U.S. Steel Tower in the heart of downtown Pittsburgh, which also ranks as the 7th largest high-rise office building in the United States by square footage. Through a series of retrofits to improve its energy efficiency, the iconic skyscraper built in 1970 recently achieved ENERGY STAR certification.
read more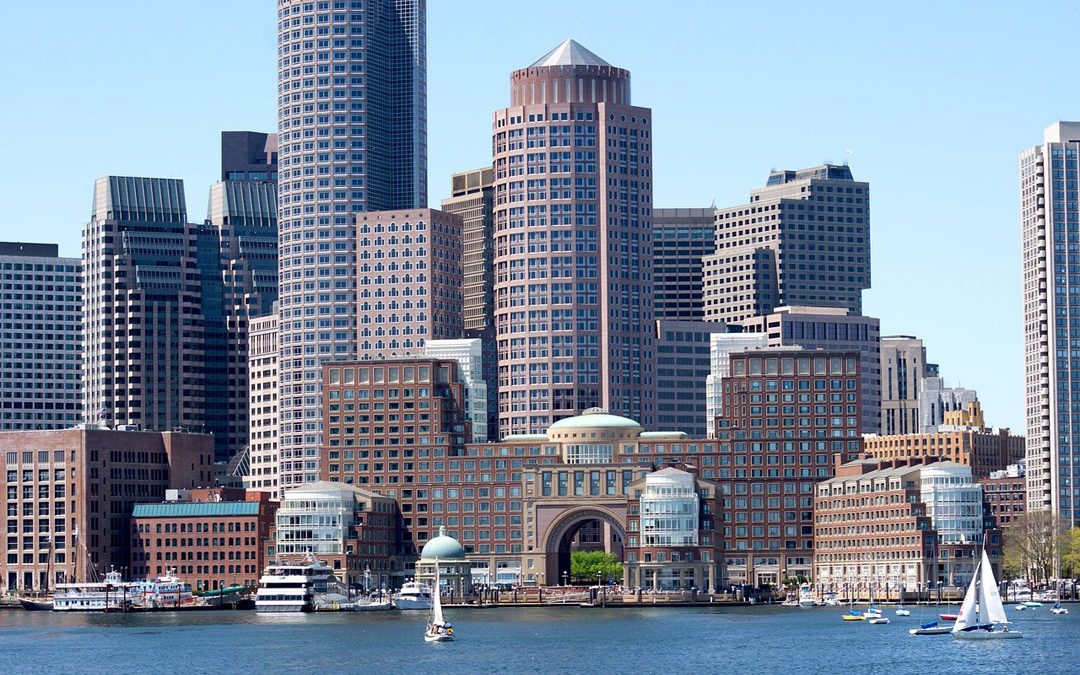 Massachusetts moves from the third to first; New York rejoins ranking The U.S. Green Building Council (USGBC) Jan. 25, 2017 announced the Top 10 States for LEED, an annual ranking that highlights states throughout the United States that made significant strides in...
read more
Kindred House. Credit: Christopher Mayer Photography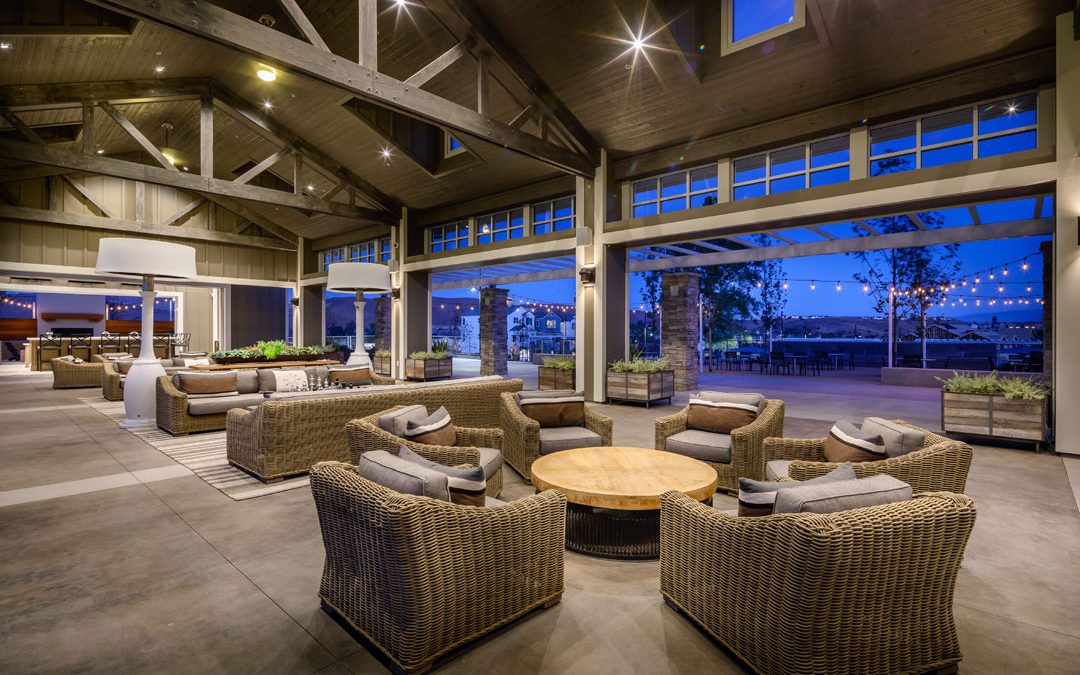 Trumark Communities is pleased to announce that Wallis Ranch has been named "Master Planned Community of the Year" by the 2017 National Association of Home Builders' (NAHB) Annual Sales & Marketing Awards presented by NAHB's National Sales and Marketing Council.
read more
GBA Oakland Green Roof Tour, Pittsburgh, PA. Credit: Green Building Alliance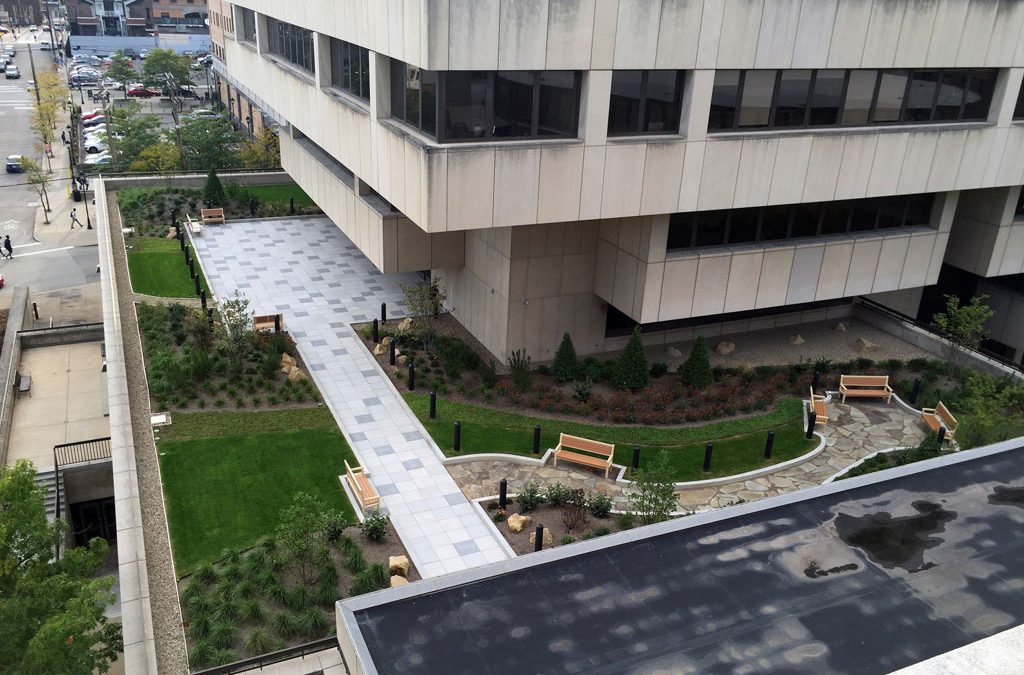 Pittsburgh's ongoing physical, economic, and environmental transformation has propelled a surge in sustainable development, green innovation, and collaboration across multiple sectors – from municipal government, private business, nonprofit agencies, and university-based initiatives to major infrastructure projects, technology manufacturing, and equitable development.
read more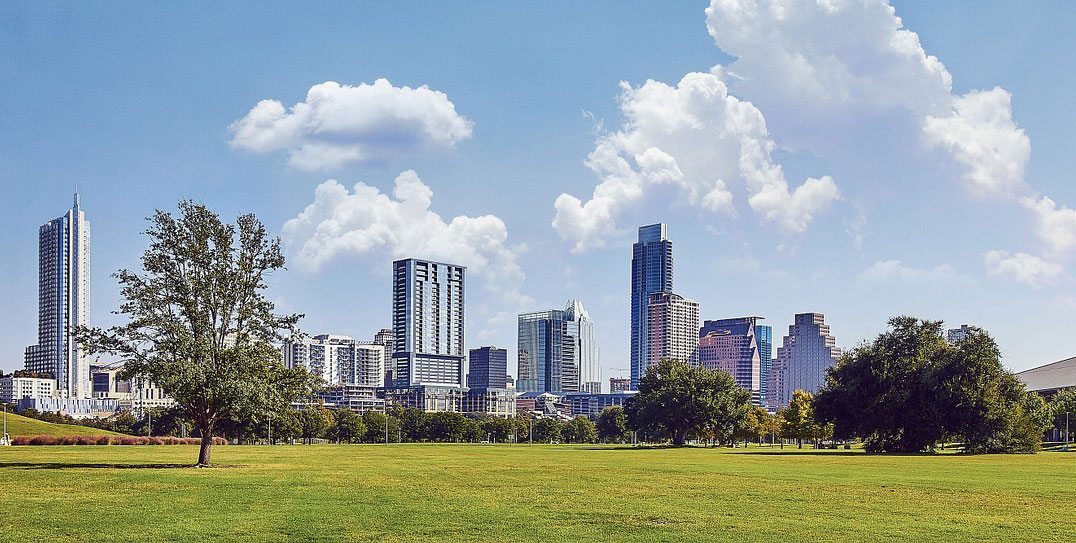 LEED in Motion: Venues report from U.S. Green Building Council highlights the impact LEED and green practices are having on venues' triple bottom line Washington, D.C. — Today, the U.S. Green Building Council released its LEED in Motion: Venues report, which...
read more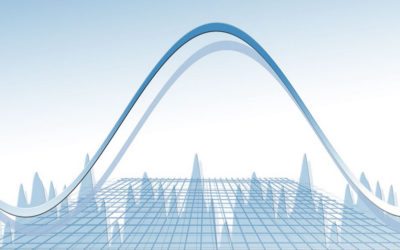 The value of new construction starts in January climbed 12% to a seasonally adjusted annual rate of $690.2 billion, according to Dodge Data & Analytics. After losing momentum during last year's fourth quarter, nonresidential building strengthened in January, with much of the lift coming from the start of the $3.4 billion Central Terminal Building at LaGuardia Airport in New York NY as well as groundbreaking for several other large airport terminal projects.
read more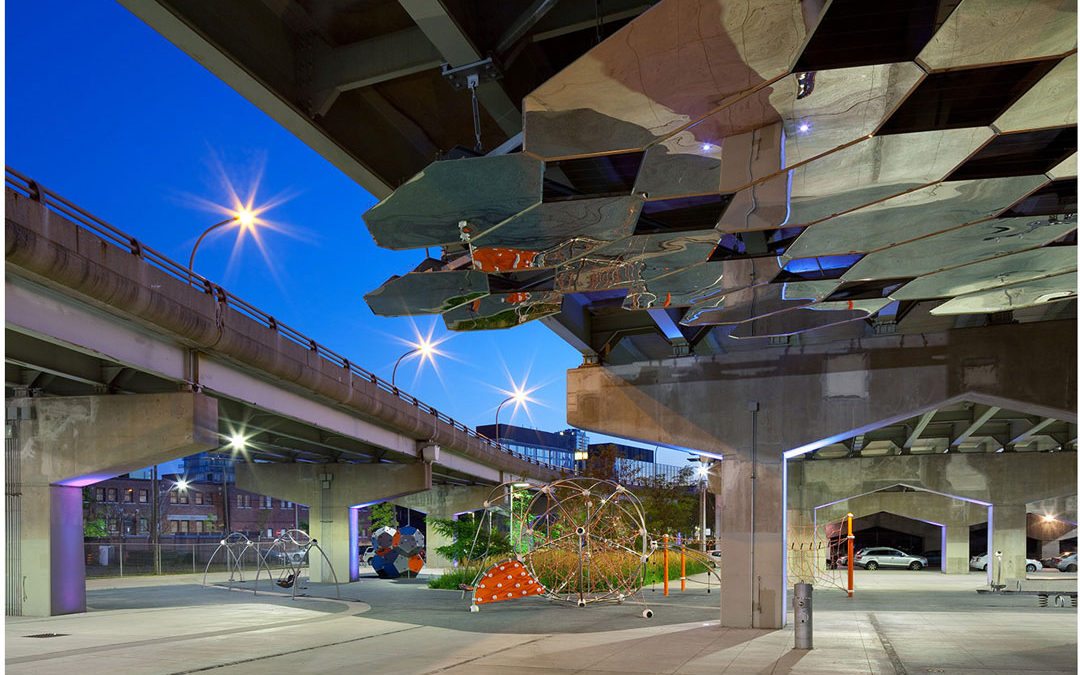 The American Society of Landscape Architects (ASLA) announces its calls for entries for the 2017 Professional and Student Awards, the world's most prestigious juried landscape architecture competition.
read more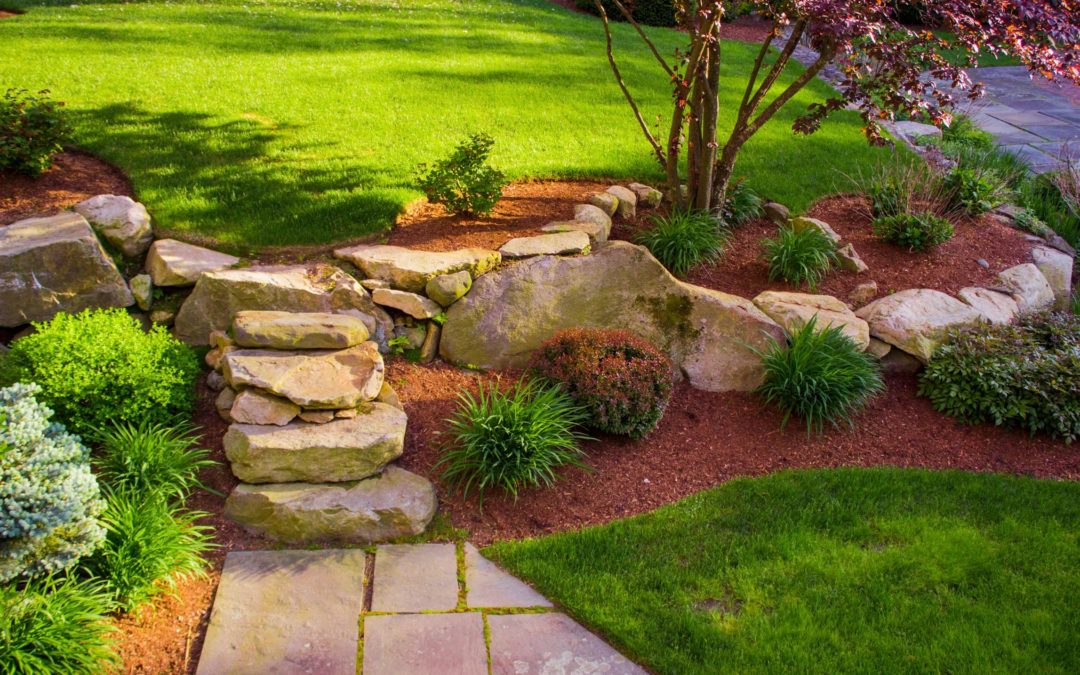 "Throughout the year, and particularly this month, we honor the unique contributions of African American landscape architects to the communities of this nation," says ASLA President Vaughn B. Rinner, FASLA. "We need to continually accelerate our ongoing efforts to introduce more African American youth to this creative and rewarding profession. Their perspectives lead to great design and engaged communities, truly benefiting all of us."
read more
The PPG coil and building products – exterior coatings group will exhibit its full complement of DURANAR®, DURASTAR® and DURAFORM® coatings at the 2017 Frame Building Expo in Nashville, Tennessee, March 8-10.
read more