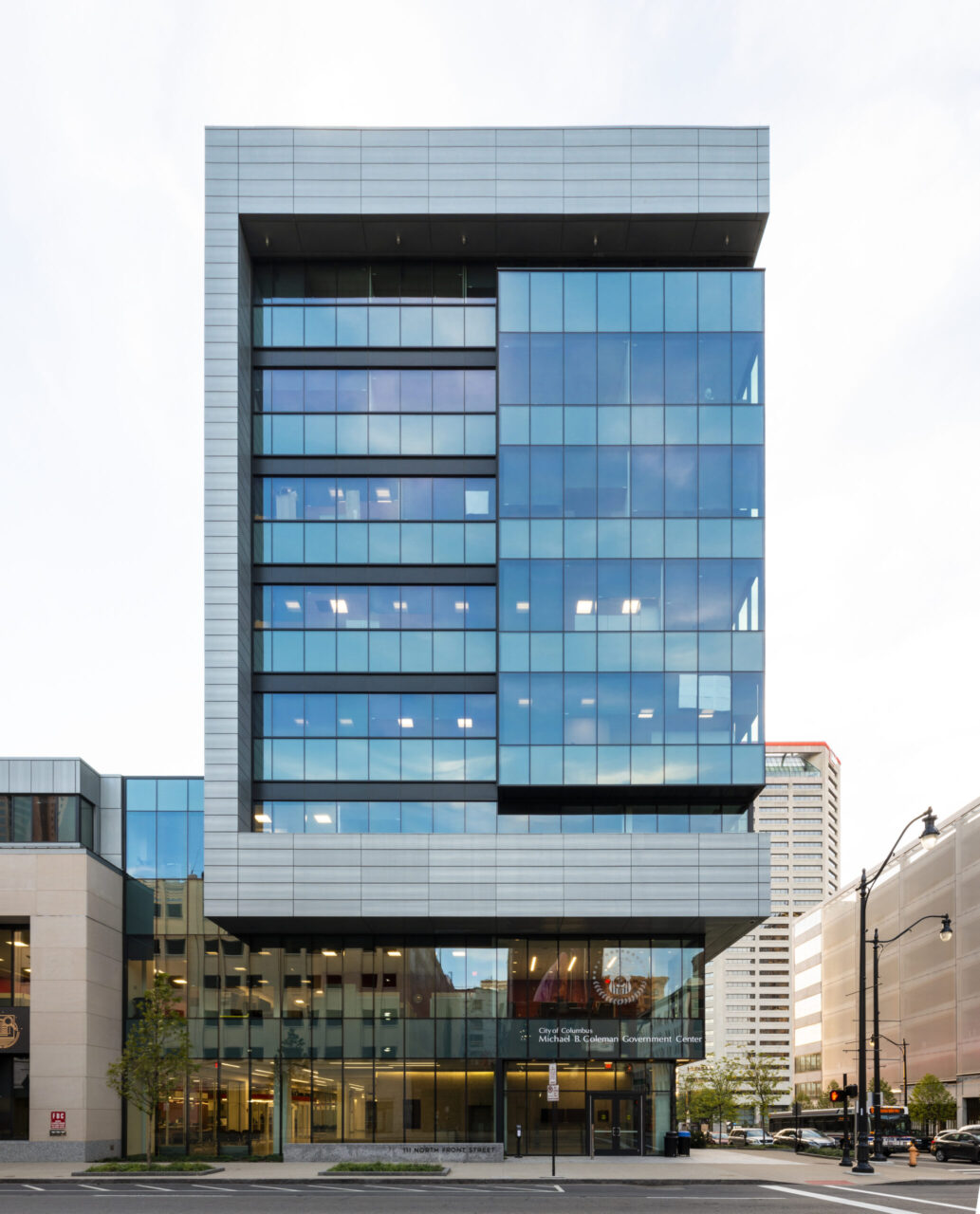 LEED Silver, Michael G. Coleman Center, Columbus, Ohio. Photo by Curt Clayton, Clayton Studio, courtesy of RHEINZINK
Architectural zinc
Healthier hotels
Wind-driven kinetic façade systems
Making education safer
2021 color trends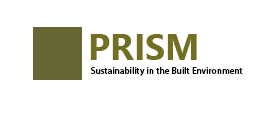 Architectural zinc façade and wall cladding systems offer sustainable advantage
by Brian Harpring, RHEINZINK America, Inc.
Designing dynamic building enclosures with wind-driven kinetic façade systems by Jim Leslie, general manager, and Kevin Smith, registered architect and director of product application and development, EXTECH/Exterior Technologies, Inc.
Making education safer by Darrell Smith, executive director of the International Window Film Association
5 strategies for creating safer, healthier hotel experiences by Duk Kim, Global Hospitality Leader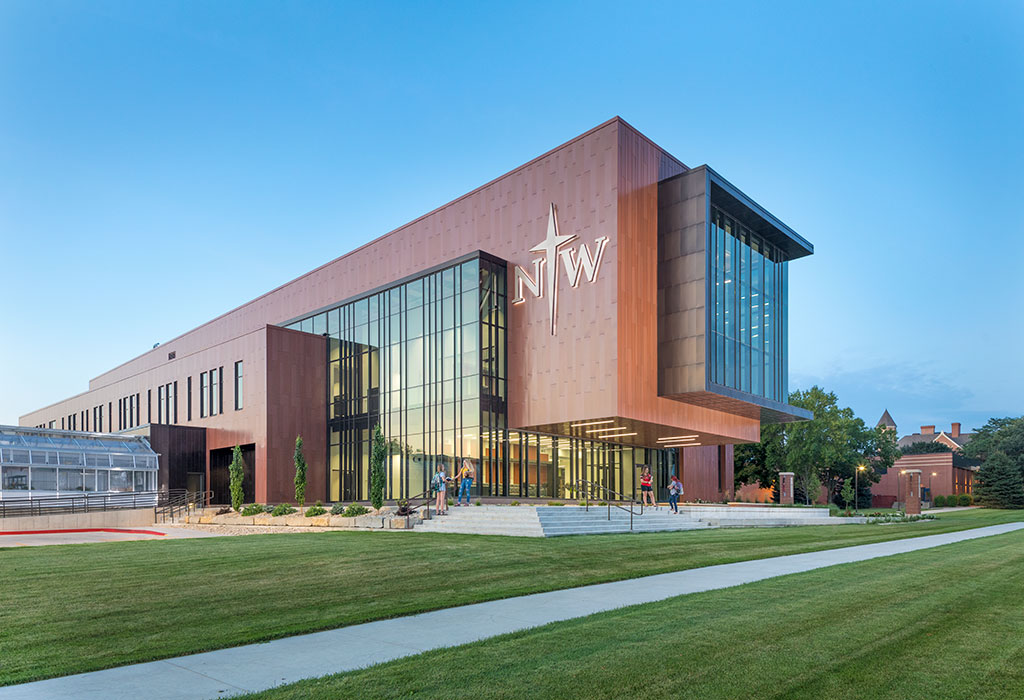 Northwestern's DeWitt Family Science Center in Orange City, Iowa. Photo courtesy of Sherwin-Williams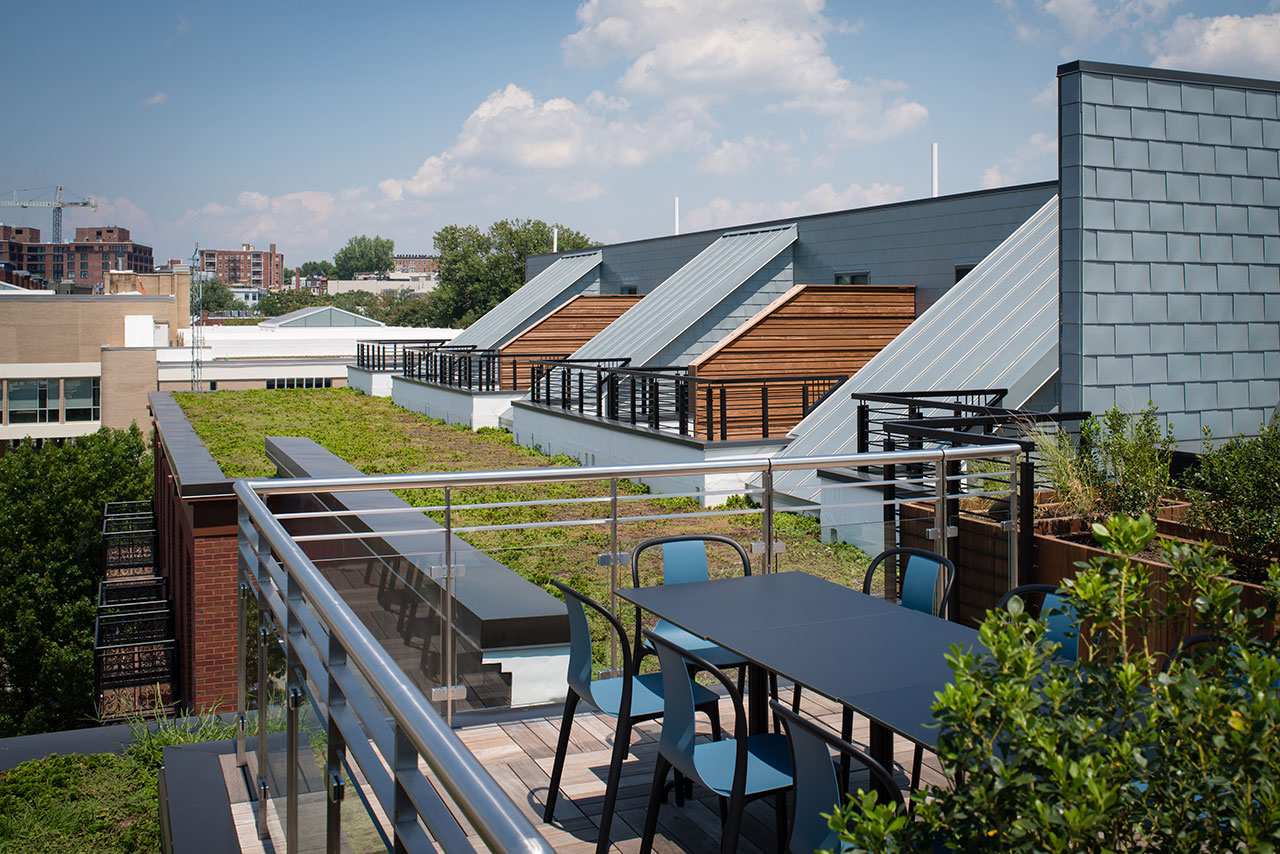 LEED Silver, Reed Row, Washington, D.C. Photo by John Cole, courtesy of RHEINZINK
Architectural zinc façade and wall cladding systems offer sustainable advantage
by Brian Harpring, RHEINZINK America, Inc.
Zinc has a long and well-developed history as a building material. For more than 200 years it has been used to clad and roof buildings in Europe. During the last several decades, it has gained popularity on North American buildings for its sustainability, resiliency, recyclability and versatility. The benefits of architectural zinc products support criteria for several state and federal green building initiatives, and programs including BREEAM® certification, the Cradle to Cradle Products Innovation Institute, the Green Globes system and the U.S. Green Building Council's LEED® rating system.
Architectural zinc façade and wall cladding systems are consistently chosen as an environmentally responsible, durable alternative to other exterior siding and panel materials. Zinc is efficient to produce and has almost no waste. In contrast to some synthetic materials used in façade applications, architectural grade zinc alloys contain none of the impurities that can leach heavy metals into the soil or release them into the atmosphere. Zinc is not combustible or harmed by UV rays; and it does not rot, rust or need repainting. Fabricated into wall cladding and façade systems, zinc requires no hazardous cleaning chemicals and little effort to maintain once it is installed on the facade.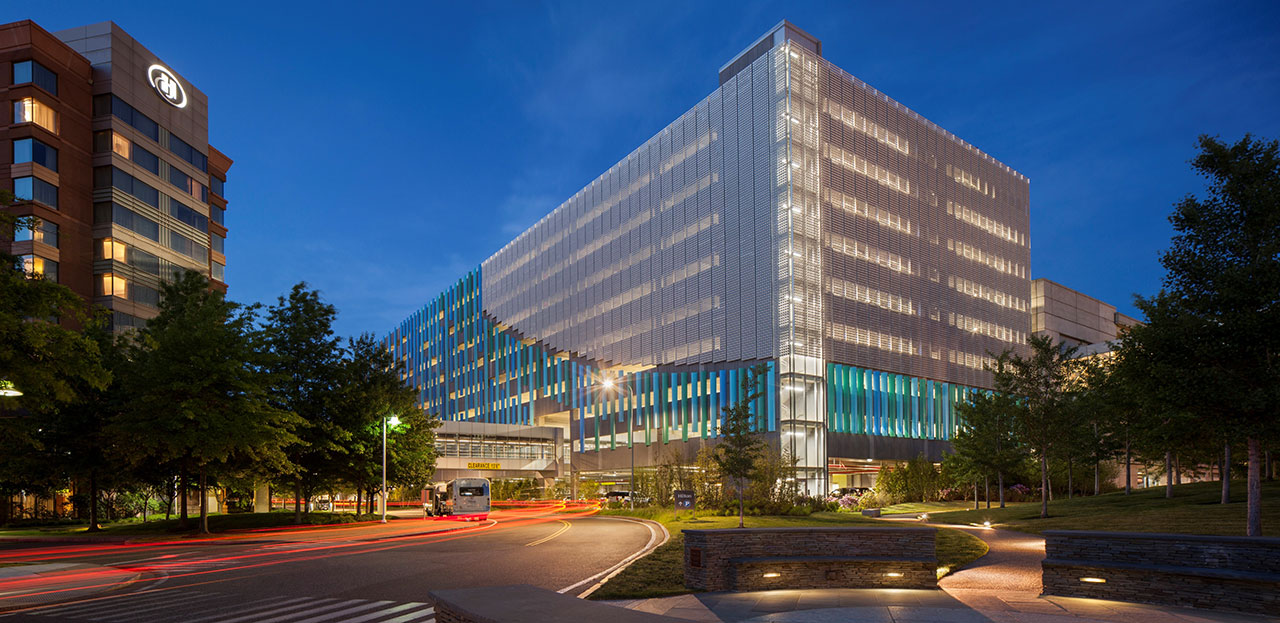 Logan International Airport, Walkway and West Garage. Client: Massport; design collaboration: Arrowstreet, Inc.; engineer: WSP| Parsons Brinckerhoff; general contractor: Turner Construction Company; façade manufacturer: EXTECH; façade installer: Ipswich Bay Glass Company; and façade finisher: Linetec. Photo credit: William Horne and EXTECH
Designing dynamic building enclosures with wind-driven kinetic façade systems
by Jim Leslie, general manager, and Kevin Smith, registered architect and director of product application and development, EXTECH/Exterior Technologies, Inc.
Wind-driven facade systems add dynamic movement to building enclosures and wall systems. Responding to air currents, the flapper-panel design creates the look of rolling waves across the wall. These systems are suitable for both small- and large-scale projects. Popular applications include transit and parking facilities, cultural institutions, entertainment venues, and artistic installations.
Planning considerations
The first step in considering a successful kinetic façade installation is to understand the position of the structure relative to the surrounding environment. The local geography, jurisdictional requirements and building orientation will all be key contributors.
Property and setback limitations, as well as zoning and code considerations, need to be assessed. The appropriate cadastral map and relevant property documentation should be consulted to ensure that the façade's flapper panels have enough clearance to exhibit a full range of motion without violating any setback requirements.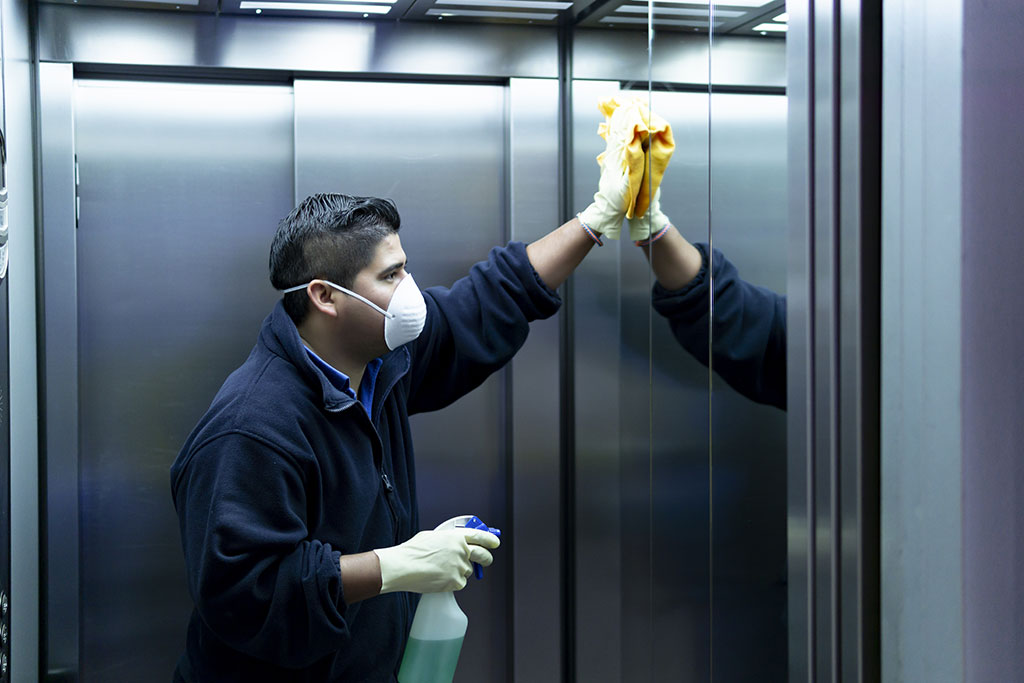 As hotels begin to reopen, the focus on health and safety takes priority while working to preserve the guest experience.
5 strategies for creating safer, healthier hotel experiences
by Duk Kim, Global Hospitality Leader
From retail-infused brands to Airbnb, the hospitality industry has seen its share of disruptors over the last several decades. These disruptors have been relatively gradual and allowed time for the savvy hotel brands to anticipate and react to change. The COVID-19 pandemic, however, arrived suddenly resulting in the abrupt shutdown of the entire industry. Brands and hotel owners were left scrambling to figure out how to react and strategize their next moves. Some hotels are taking a wait-and-see approach while others are implementing measures so that they can open as anticipated.
The impact of this pandemic is still developing so let's take a look at what strategies hotels can consider.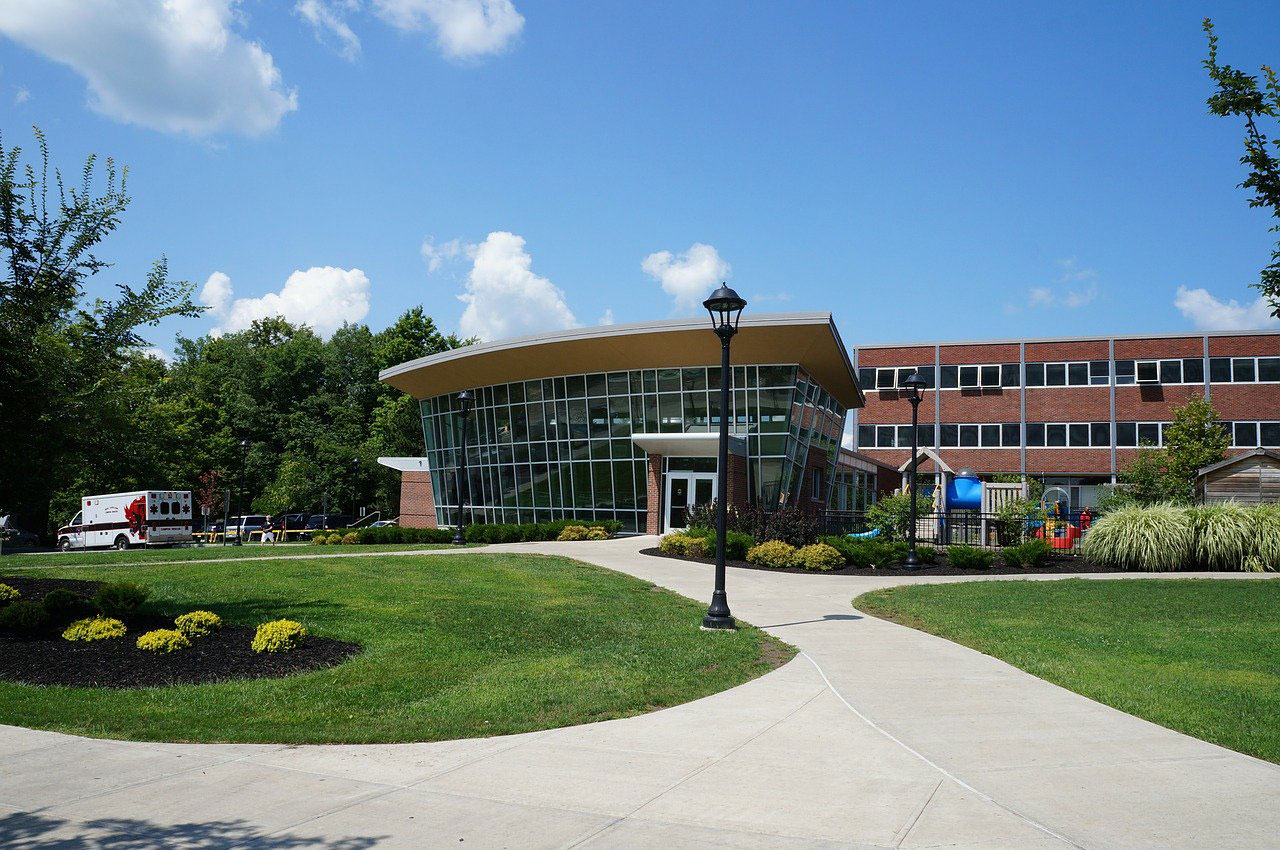 Window films from the International Window Film Association (IWFA) member manufacturers are rated for their performance by the National Fenestration Rating Council (NFRC) as are replacement windows. The IWFA is the largest nonprofit organization in the world with a mission of promoting the use of and educating the market about window films.
Making education safer
by Darrell Smith, Executive Director of the International Window Film Association
From large metropolitan universities to primary public school buildings in small towns, educational leaders seek to provide the safest environment possible for students and staff, while still working within tight budget considerations.
With a multitude of challenges being faced by these leaders, the conundrum they face is how to create a safer education environment amid the current health crisis, within current budget restraints? They also need to address other ongoing safety concerns such as terror attacks, violence and severe weather.
As far as the COVID-19 health crisis, some school leaders are opting for a layered approach to improving the safety of their facilities, such as staggered attendance with one day where learning is offered virtually and another day for in-person training; to separating seating spaces and desks by a recommended six-foot circumference; to installing clear plastic shields between student spaces in the interior of the learning spaces; to installing new, high-output ventilating systems to exchange the air in buildings.
Quebéc City eco-district 70-unit apartment employs green roof, structural thermal breaks
Un Toit Vert ("Green Roof") is a 70-unit, six-story residential apartment building being built in the Écoquartier D'Estimauville of Québec City — an "eco-district" dedicated to sustainability. The innovative building offers affordable housing, underground parking, a sun-splashed courtyard, and a flora-filled rooftop.
The concrete building was designed with Québec City's climate in mind: "It's a snowy, cold city, and the humidity is high," says Frédéric Allard, Vice President of Québec City-based Constructions Richard Arsenault and general contractor at Un Toit Vert.
M Moser Associates 'Living Lab' reimagines the workplace with high-performance technology, enhanced collaboration and flexibility
The​ American Society of Interior Designers (​ASID) has announced the latest case study in its Impact of Design Series:​ M Moser Associates Living Lab, designed by M Moser. A winner of the 2020 ASID Outcom​e of Design Awards in the "experimental impact" category, the New York project explores fresh ways of working with an entirely new workspace that speaks to its dedicated focus on post-occupancy research. The Impact of Design series puts a spotlight on projects that utilize evidence-based design, and M Moser's "Living Lab" puts this into action with a flexible, agile workspace that continually accommodates for client and employee needs.
UCSF Mission Hall Global Health Sciences Building
The new 266,000-sq. ft. mission hall global health sciences building at the University of California, San Francisco, is a defining project for the growing Mission Bay campus. In an effort to create stronger links between academic disciplines and campus sectors, the new building was envisioned as a "gateway," organized around a series of interior and exterior spaces that offer a flexible, changeable, and visible center for collaboration and campus access.
Completed in 2019, this eco-friendly and state-of-the-art 61,000 square-foot facility creates a grand entrance to the campus of Northwestern College in Orange City, Iowa. It serves the health science programs including biology, chemistry and the now on-campus nursing department, as it was previously housed in a nearby hospital.
Northwestern's DeWitt Family Science Center coated in Fluropon
Completed in 2019, this eco-friendly and state-of-the-art 61,000 square-foot facility creates a grand entrance to the campus of Northwestern College in Orange City, Iowa. It serves the health science programs including biology, chemistry and the now on-campus nursing department, as it was previously housed in a nearby hospital.
Christine E. Lynn University Center brings acoustic comfort to students
In May 2020, the new Christine E. Lynn University Center earned LEED® Silver certification through the U.S. Green Building Council. As Lynn University's third LEED-certified building, the center creates a warm, welcoming place for students to gather within the 115-acre campus in Boca Raton, Florida. Gensler's Tampa-based team selected Rockfon's acoustic stone wool panels, Chicago Metallic® suspension system and Infinity™ perimeter for a complete ceiling solution to meet the project's aesthetic, performance and sustainable design goals.
Reclad with StoTherm ci solves water intrusion problems for North Myrtle Beach condo community
The Edgewater Condominiums, with 260 units near the Atlantic Ocean in North Myrtle Beach, S.C., were built over a period of five years and completed 10 years ago. The Edgewater COA Board of Directors voted to replace the stucco on all buildings. A Level 4 Remove and Reclad was called for, and Jason Smith, AIA, Senior Architect of Construction Science and Engineering (CSE), knew exactly what to specify for the 10-building condo project.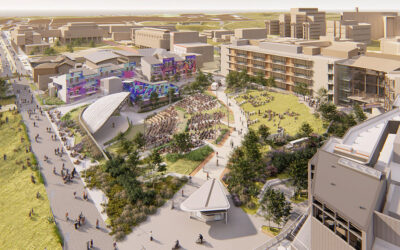 BNBuilders is making major strides in building a new "front door" for UC San Diego.  With the addition of two Light Rail Transit stations coming to the La Jolla, Calif. campus, a new grand entrance is underway featuring the $41 million Design and Innovation Building and the $50 million Pepper Canyon Amphitheater and Public Realm project. Ricardo Rabines, Founding Partner of Safdie Rabines Architects, says, "The challenge has been to convert a canyon into a park; to create a welcoming place of arrival, a place of gathering and cultural celebration, and to introduce a front door to the campus. The reinvention of Pepper Canyon has been a long journey and it is finally taking shape."
read more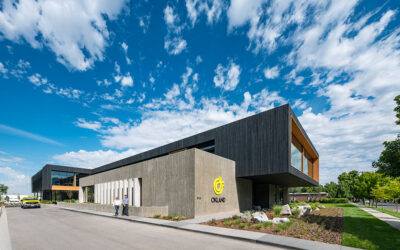 Okland hired WRNS Studio to renovate and expand their existing headquarters. Using LEED, Living Building Challenge, and WELL, WRNS worked with Okland to craft a healthy, inspirational workplace that connects employees with one another and their natural environment. Strategies focused on using healthy, regional materials, maximizing daylighting and views, and creating a warm and engaging sense of place.
read more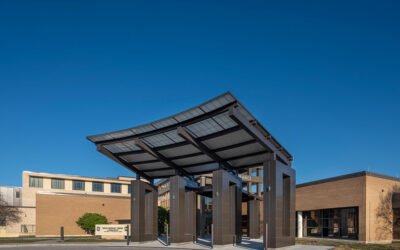 The newly modernized and expanded medical clinic and a new veterinary clinic at Tyndall Air Force Base in Panama City, Fla., have been designated LEED Silver by the U.S. Green Building Council (USGBC). The $53.4 million design-build project – completed by Hoefer Wysocki and JE Dunn Construction – included extensive renovations to the three-story, 69,044-sq. ft. medical clinic as well as the design and construction of a new 2,267-sq. ft. veterinary clinic, Building 1309, to provide essential care to Military Working Dogs and the pets of military families.
read more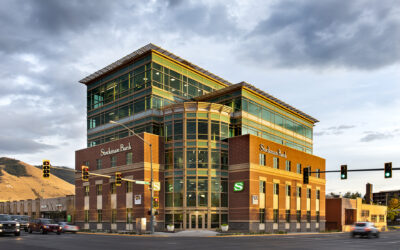 Recently certified LEED v4 Platinum, Stockman Bank Missoula Downtown, designed by Cushing Terrell, is the most energy-efficient building in Stockman Bank's portfolio. In addition to featuring high-performance glass and efficient lighting, energy-efficient elevators, and solar arrays, the facility achieves nearly a 70% reduction in water consumption thanks to an innovative on-site rainwater storage system providing 100% of average annual water use for toilet and urinal flushing.
read more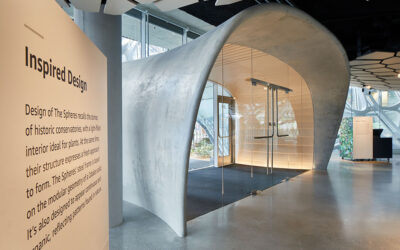 Understory at The Spheres is a multifunctional exhibit and visitor center designed to tell the story of The Spheres, Amazon's iconic and wholly unique insertion into the heart of Seattle. The exhibit unravels the complexity of the architecture and engineering and the very idea behind bringing people closer to nature on a daily basis in the heart of the city.
read more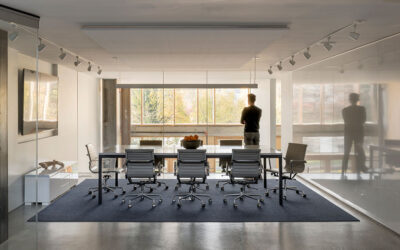 The Canal Street project, designed by Heliotrope Architects, takes a narrow, commercially-zoned, urban-infill lot with a small, rundown 1950s-era house and transforms it into a new, forward-thinking, 5,233 square foot, commercial office building for Turnstyle (a graphic design firm) and Stoke (a branding firm). The 30-foot-wide x 100-foot-deep lot is situated along a shoreline greenbelt across the street from the ship canal in the Fremont neighborhood of Seattle.
read more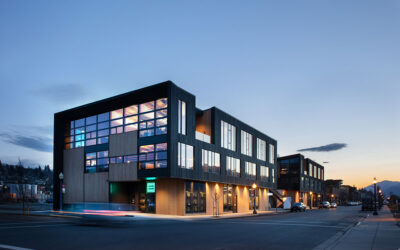 Skylab-designed Outpost is a phased, hybrid structure merging recreation, retail and work environments to foster and reinforce a sense of community in a developing section of Hood River. As part of the city's new Waterfront Masterplan, Outpost will eventually become a 60,000-square-foot development—a neighborhood of buildings that will functionally connect the city with the Columbia River waterfront. The site, formerly home to an industrial wastewater treatment and processing facility, largely underutilized the waterfront but will now become a new paradigm for future development in the region.
read more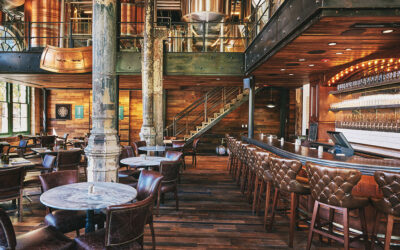 Southerleigh Fine Food and Brewery celebrates cross-cultural southern cuisine and craft beer within the former historic Pearl Brewery, an 1890s-era building located in the heart of what is now dubbed the Pearl in San Antonio. Clayton & Little worked to bring the gritty magnificence of the brewhouse back to life while adapting it for contemporary needs. Together with Joel Mozersky Design, the team designed Southerleigh as a 7,600-square-foot restaurant, bar and brewery complex (including 5,000-square foot of combination restaurant and bar and 2,600-square-foot brewery) to reuse brewery equipment and enhance the historic structure.
read more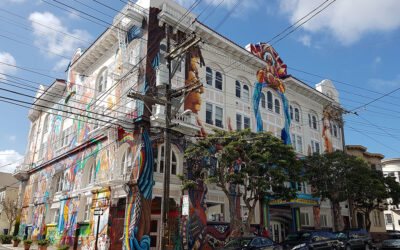 This year, as the nation marks the 100th anniversary of the 19th Amendment granting women the right to vote, Benjamin Moore and the National Trust for Historic Preservation are celebrating this historic milestone with a new program focused on the preservation of sites in America where women from all walks of life have made history. Together, Benjamin Moore and the National Trust identified sites rooted in women's history and will help restore these places to their former glory.
read more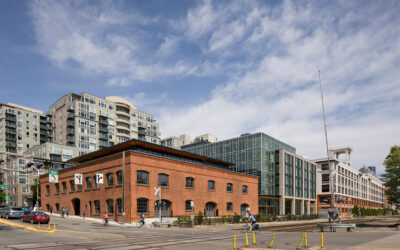 The historic Ainsworth & Dunn (A&D) Building was built in 1902 as a warehouse for the salmon packing company Ainsworth & Dunn. It embodies the historic relationship between industrial warehouses, their waterfront piers, and the railroad. When the building changed hands in 2015, its new owner sought to honor and preserve the warehouse while integrating it into a larger mixed-use development. The project included the adaptive re-use of, and third story addition to, the A&D Building, construction of a six-story mixed-use apartment building directly to its south, and pedestrian improvements on all sides.
read more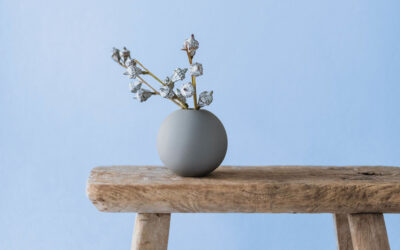 Dunn-Edwards Paints has announced its 2021 Color of the Year — Wild Blue Yonder — a light, airy and soothing pale blue. "Despite the significant impacts of the last year, Wild Blue Yonder reflects the emerging optimism for 2021, specifically for connection, and achieving personal and societal goals." said Sara McLean, Color Expert and Stylist for Dunn-Edwards.
read more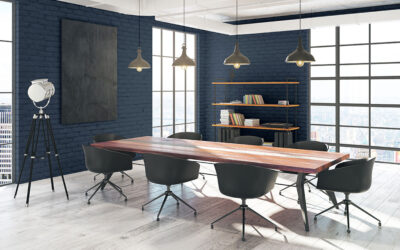 Based on Sherwin-Williams' 2021 Colormix® Forecast, four collections were translated to help professionals bring timely colors to interior and exterior residential and commercial spaces. "We strive to provide inspiration and resources to every professional to help them create functional and beautiful spaces for their clients," said Michael Plank, director of color marketing and design services at Sherwin-Williams. "From the front door of a new home to a hotel lobby or hospital waiting room, these color collections bring spaces to life through a balanced collection of inviting, on-trend and revitalizing colors."  
read more
Pantone, the global color authority and provider of professional color language standards and digital solutions for the design community, yesterday announced PANTONE 17-5104 Ultimate Gray and PANTONE 13-0647 Illuminating, as the Pantone® Color of the Year selection for 2021, two independent colors that come together to create an aspirational color pairing, conjoining deeper feelings of thoughtfulness with the optimistic promise of a sunshine filled day.
read more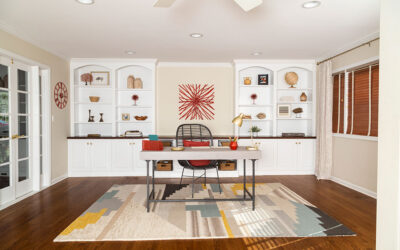 Rust-Oleum is announcing its Color of the Year and Color Palette for 2021. The colors were chosen with an emphasis on warmth, comfort, calm and relaxation — things many of us crave these days. Satin Paprika was picked as Color of the Year and anchors each of the collections.
read more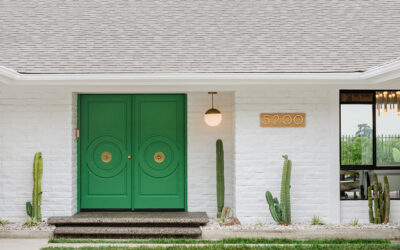 Dunn-Edwards Paints recently released its 2021 Color + Design Report, "An Exhibition of Color."  In creating this annual report, Dunn-Edwards Color Expert & Stylist, Sara McLean, identified and analyzed the dynamics that shape our lives – from global and regional events, to nature and technology, to history and pop culture, to food and fashion. The five trends for 2021 speak to our need for authenticity, balance, simplicity, connection, mystery, creativity and – yes – even joy and gratitude.
read more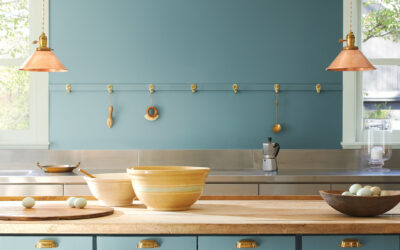 Benjamin Moore has just revealed its Color of the Year 2021 as Aegean Teal 2136-40 – an intriguing blue-green that creates natural harmony and invites us to reflect and reset. Rooted in the elegant, handspun textures of the home, the Color Trends 2021 palette comforts as it uplifts.
read more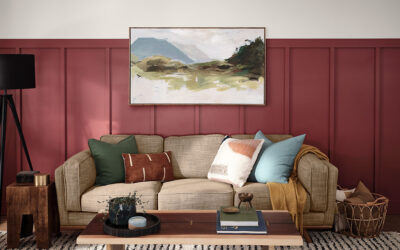 HGTV HOME® by Sherwin-Williams reveals its trending 2021 Color Collection of the Year and a distinguished 2021 Color of the Year. The Delightfully Daring Color Collection is composed of earthy tones inspired by nature with a dose of vibrancy providing a duality with shades that are both energizing and calming.
read more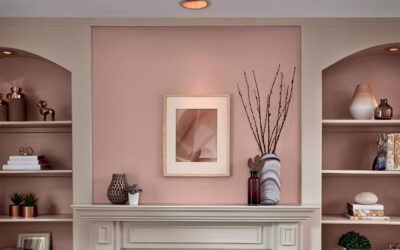 Valspar earlier this week announced its 2021 Colors of the Year with 12 livable shades the company says evoke calm, serenity and simplicity. When forecasting the 2021 Colors of the Year, the color experts at Valspar observed global lifestyle trends that have shifted significantly from last year. The rise in external stressors has correlated with consumer's increased interest for mindfulness and self-care activities. Since a physical space can directly impact your mindset, this year's colors have been selected to bring a sense of wellbeing to your walls, ultimately blending home improvement with self-improvement.
read more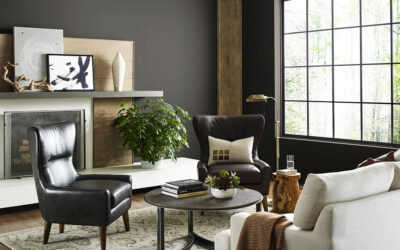 Sherwin-Williams announces its 2021 Color of the Year: Urbane Bronze SW 7048. "Urbane Bronze is just one more way to bring in nature through design and is a great color to accentuate window trim, columns and accent walls in commercial spaces," said Sue Wadden, director of color marketing at Sherwin-Williams. "It works well with other elements of biophilic design, including large, light-filled spaces and indoor greenery."
read more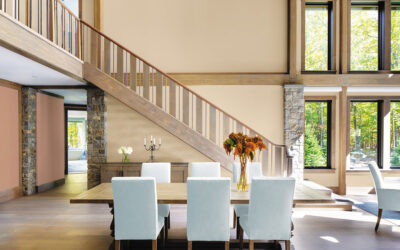 Emulating both the optimism felt in nature and soothing nostalgia, the PPG 2021 Palette of the Year "Be Well" was unveiled September 1, consisting of hues Transcend, Big Cypress and Misty Aqua. "With the world sheltering in place for the better half of the year, we have begun to crave human connection and embrace simple activities, including walking, hiking, baking and gardening," said Dee Schlotter, PPG senior color marketing manager, architectural and industrial coatings. "This organic and hopeful palette represents what we have been longing for after decades of overstimulation and overconsumption – simplicity and restfulness."
read more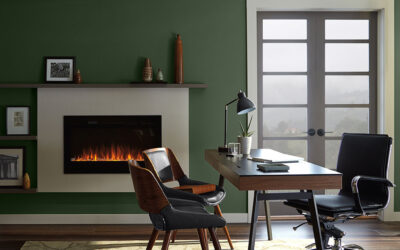 Behr Paint Company yesterday revealed the BEHR Color Trends 2021 Palette. "This has been a year of unpredictability and 2020 has significantly changed our relationship with our home. When our color team began exploring a palette for the coming year, we knew it needed to be grounded in what we've been craving: comfort and personalization," said Erika Woelfel, vice president of color at Behr. "A new, 'elevated' articulation of 'comfort' goes beyond traditional beige, gray and green hues, and embraces color in a way that can redefine and enhance any type of space inside or outside the home."
read more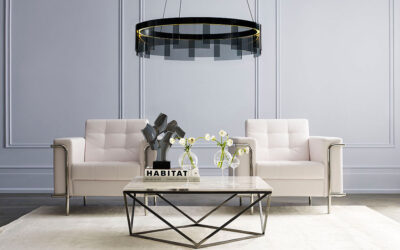 Sherwin-Williams is announcing its annual Colormix® Forecast, a collection of 40 hues across four palettes that celebrate the Rhythm of Color – the balance between fast and slow, quiet and expressive, and virtual and physical. The forecast is designed to bring the pulse of color to any space: Sanctuary, Encounter, Continuum and Tapestry.
read more
The Southern Cypress Manufacturers Association (SCMA) recently published new Cypress Siding Installation Guidelines. The updated resource—available as a 12-page guide or as quick-reference sheets—provides detailed information on what to know before getting started on a cypress siding project and how to properly install various patterns, rainscreen application, and corner treatments.
read more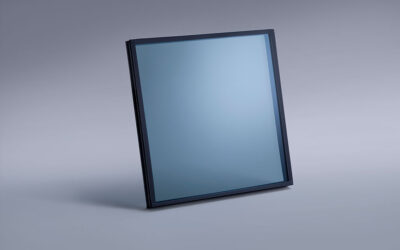 Guardian Glass North America announces Guardian SunGuard® SNE 50/25 HT, a high performance, low-E coated glass that gives architects a subtle, blue-gray color and mid-reflectivity aesthetic. Architect focus groups helped Guardian Glass deliver a product with a visible light transmission of 48 percent and low solar heat gain coefficient of 0.25 with a crisp, neutral, subtle blue reflected color in the mid-exterior reflective range.
read more
Sherwin-Williams is expanding its high-performing Pro Industrial™ line with the introduction of Pre-Catalyzed Waterbased Urethane, a new single-component coating. Offering tough, flexible protection for a variety of commercial projects, the company stated the new coating has comparable performance to a two-part waterbased urethane with the ease of a single-component product, eliminating the need for on-site measuring and mixing.
read more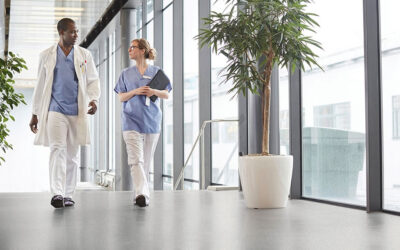 PPG last week announced the launch of PPG Flooring coatings, which is a comprehensive line of coating systems that include prime coats, base coats and topcoats and are tailored to provide optimum performance based on the specific work environment. Users can choose from four flooring coating systems – general purpose, wear resistant, chemical resistant and urethane cement – with additional customization options.
read more
LafargeHolcim family of companies in the U.S. has rebranded its portfolio of blended cements and supplementary cementitious materials (SCMs) as the Envirocore™ Series. LafargeHolcim is calling on architects, engineers, contractors and ready-mix producers to adopt more sustainable products in order to lower the industry's carbon footprint.
read more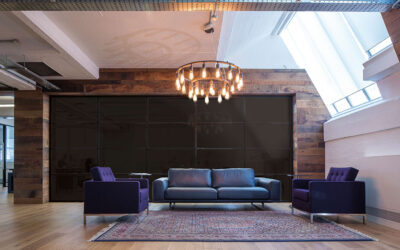 CARVART and Kinestral Technologies, Inc. today announced that they have entered a partnership to combine CARVART's leading architectural products, custom engineering, and hardware systems with Kinestral's Halio® smart-tinting glass. CARVART powered by Halio encompasses a seamless integration of CARVART products with Halio smart-tinting technology and is available as glassTINT and glassTINT > Plus.
read more
CHRYSO announces its partnership with Solidia Technologies, a start-up inventor of revolutionary technology for green cement and concrete. The two companies will collaborate to improve the sustainability performance and material properties of Solidia® ultra-low CO2 concrete through their combined chemical expertise.
read more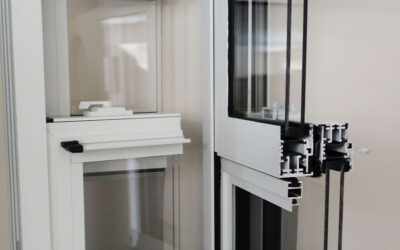 St. Cloud Window Inc. announces a new SCW4000 Series window. The SCW4000 Series is designed to accommodate the increasing demand for acoustic performance and high thermal efficiency to both buildings and occupants and is available in a vertical sliding, horizontal sliding, and fixed configuration.
read more
Suited for commercial environments and healthcare facilities, Benjamin Moore's Eco Spec® WB Silver is a low odor, zero-VOC interior paint that won't interfere with a facility's existing cleaning protocols. The company stated the easy-to-apply Eco Spec® WB Silver creates a durable, long-lasting coating and extends the life of the paint by controlling deterioration. The fast-drying feature allows for same-day return-to-service, and the antimicrobial properties remain even after wear and repeated washing.
read more
Rodda Paint Company announces the release of SharkSkin Primer/Sealer — a new flexible, semi-elastomeric, acrylic water-based Primer/Sealer designed to stabilize surfaces and increase the adhesion of solid top coats, such as SharkSkin Solid Hide stain. SharkSkin Primer/Sealer is formulated to promote adhesion to structurally sound surfaces, such as CMU, plaster and concrete as well as horizontal and vertical wood surfaces.
read more
Oak Ridge National Laboratory announced researchers used additive manufacturing to build a first-of-its kind smart wall called EMPOWER. The wall, designed for a building's interior, also functions as a cooling system to optimize energy use and lower overall cost.
read more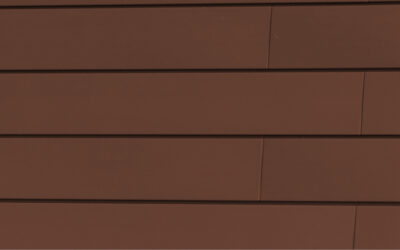 RHEINZINK continues to expand its product portfolio and color palette with the introduction of RHEINZINK-PRISMO® – color-coated, architectural-grade zinc options for roofing, façade cladding and wall products.
read more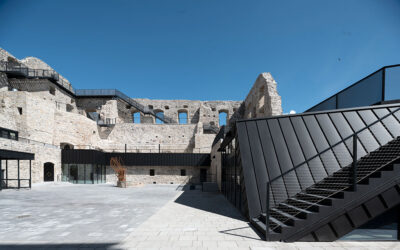 RHEINZINK expands its portfolio of architectural grade zinc options with the introduction of RHEINZINK-GRANUM® in a dark gray Basalte and lighter Skygrey matte finishes for roofing, façade cladding and wall products.
read more
Owens Corning announced last week that it has a new product line: FOAMULAR® NGX (Next Generation Extruded). The proprietary blowing agent in this new line of extruded polystyrene (XPS) foam products delivers a 90% reduction in global warming potential (GWP) without sacrificing product performance, the company stated.
read more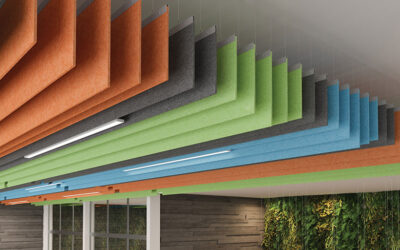 CertainTeed has expanded its felt ceilings offerings with the introduction of two new product lines: Felt Baffles and Open Cell ceiling systems by Hunter Douglas Ceiling & Wall Products and Techstyle® Felt Acoustical Ceilings.
read more
The VersaFlex Family of Companies, in collaboration with Resdev Limited announces the formation of the joint venture, Resdev VF LLC. This new company will bring together RESDEV's specialty flooring, parking deck, and concrete repair systems with VersaFlex's specialty coatings, linings & technical foams portfolio. 
read more
ROCKWOOL, North American stone wool manufacturer, has extended its Comfortbatt™ line with products available in several new R-values—R13/R21/R38, designed to provide customers with more options. In addition, ROCKWOOL has released AFB® for wood stud applications—an acoustical fire batt that is now available in new dimensions designed for wood stud cavities.
read more
CENTRIA®, manufacturer of building envelope wall and roof panels, announces the introduction of the Versawall H+® Insulated Metal Panel. It is the latest expansion to CENTRIA's Versawall product line, a family of commercial and industrial insulated metal panels.
read more
Florock® Polymer Flooring, manufacturer of commercial, institutional and industrial coating systems for concrete floors, has launched the latest addition to its hygienic FloroStone™ decorative epoxy flooring line, the FloroStone™ Cove System.
read more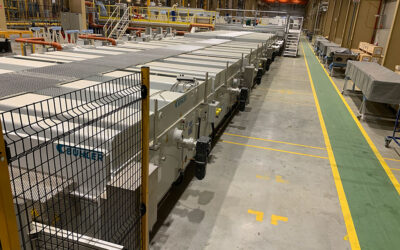 Guardian Glass started full production on a technologically advanced new glass coater, July 6, at its second facility in Czestochowa, Poland. The company says the state-of-the-art coater uses advanced technology for turning standard float glass into high performance, value-added glass. It will enable the plant to expand production of low-emissivity (low-E), solar control glass products for residential (Guardian ClimaGuard®) and commercial (Guardian SunGuard®) applications.
read more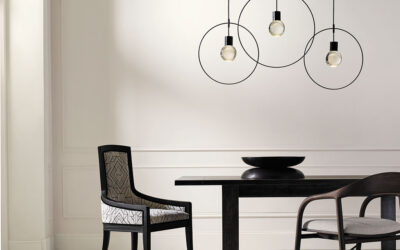 Sherwin-Williams last month announced the introduction of new Emerald® Rain Refresh™ Exterior Acrylic Latex with Self-Cleaning Technology™, a coating designed to be self-cleaning by shedding dirt upon contact with rain or water, and Emerald® Designer Edition Interior Latex™.
read more
ICP Building Solutions Group has launched its new Polyset® PVC Spray Contact Adhesive, designed as a portable, self-containing, single component solution, and is engineered to adhere most PVC membranes to most vertical walls and substrates for commercial low slope roofing applications.
read more
Technoform introduces a new, shearless polyamide thermal barrier for windows, doors and façade systems. The company said this new thermal barrier solution significantly reduces the deformation caused by uneven thermal expansion in aluminum framing members and minimizes thermal conductivity to improve energy performance.
read more
DuPont™ has announced the phased launch of a new, reduced global warming potential (GWP) Styrofoam™ Brand Insulation. Beginning January 1, 2021, the Styrofoam™ Brand Insulation family of products will include lower GWP options, complying with adopted and upcoming state and provincial hydrofluorocarbon (HFC) regulations throughout the United States and Canada.
read more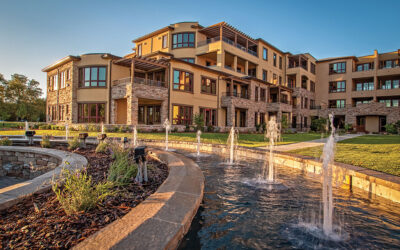 Sto Corp. announced yesterday that it has relaunched two solutions to protect stucco exteriors – Sto Crack Defense and Sto DrainScreen®. Sto Crack Defense is a fortification layer that minimizes surface cracking in stucco wall systems while Sto DrainScreen works under veneers to evacuate moisture away from wall sheathing materials.
read more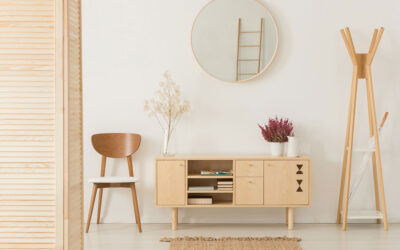 Dunn-Edwards® unveils EXQUISITE™ Matte, a stain-resistant, washable interior matte paint. EXQUISITE is an ultra-low-VOC, 100%-acrylic, interior matte that incorporates the company's proprietary ChromaStay™ Technology, making it durable and long lasting. The company says it is ideal for use on high-end, custom residential and upscale commercial projects — as well as homes, schools, hospitals, commercial spaces and other high-use areas where ultra-low-VOC products are desired.
read more
The National Institute of Building Sciences Building Seismic Safety Council (BSSC) recently updated seismic provisions for the National Earthquake Hazards Reduction Program (NEHRP). The 2020 NEHRP Provisions (FEMA P-2082) were developed by BSSC and published by the Federal Emergency Management Agency as part of an ongoing program to advance national seismic design standards and model building codes.
read more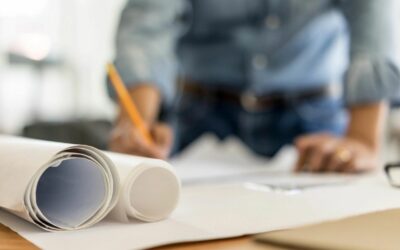 A slight improvement in business conditions has led to fewer architecture firms reporting declining billings, according to a new report today from The American Institute of Architects (AIA).
read more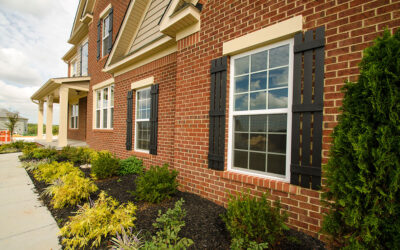 The Fenestration Manufacturers Association (FMA), the Fenestration and Glazing Industry Alliance (FGIA) and the Window & Door Manufacturers Association (WDMA) have released a new document focused on replacement windows. FMA/AAMA/WDMA 2710-20, Guidelines for the Full Frame Replacement of Windows without Removal of Exterior Brick Veneer, covers the replacement of windows in residential and light commercial buildings of not more than three stories above grade in height, utilizing a membrane/drainage system, a surface barrier drainage or a wall system without a reliable membrane drainage system.
read more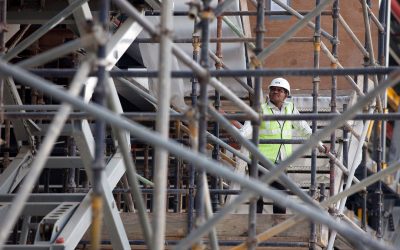 Dodge Data & Analytics reported today that total construction starts dipped 18% in September to a seasonally adjusted annual rate of $667.7 billion, essentially taking back August's gain. While some of this decline is certainly payback from several large projects entering start in August, the drop in activity brought total construction starts below levels seen in June and July.
read more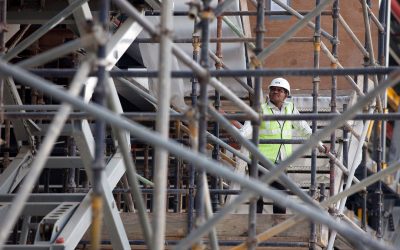 The Dodge Momentum Index, issued by Dodge Data & Analytics, rose 3.7% in September. The Momentum Index has made steady, albeit slow, progress since hitting a nadir in June. In the third quarter, the Momentum Index gained 2.2% over the previous three months.
read more
The Cool Roof Rating Council (CRRC) Board of Directors affirmed the organization's commitment to urban heat island mitigation and building energy efficiency in its approval of a new CRRC rating program for exterior wall products on September 24, 2020. The CRRC Wall Product Program will be the first rating system in the world for exterior wall products. The CRRC is working in collaboration with industry and end users on the development of the program, including the testing and weathering protocols that are appropriately suited for exterior paints, vinyl siding, and other wall claddings.
read more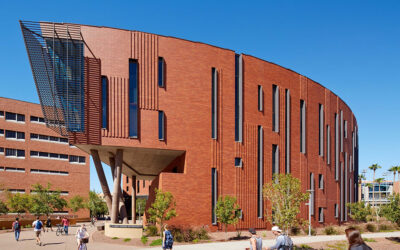 The Brick Industry Association (BIA) has opened entries for the 2020 Brick in Architecture Awards — launching a new overall Craftsmanship Award honoring exceptionally artful installation. "There's no limit to brick's unmatched design freedom and its integral role in sustainable design," said BIA President Ray Leonhard.
read more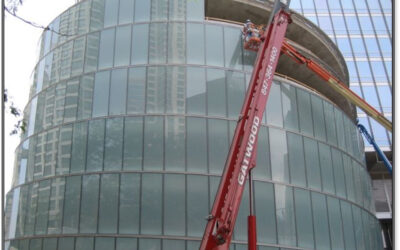 The Fenestration and Glazing Industry Alliance (FGIA) has updated two documents addressing fenestration anchorage. This is the first update to AAMA 2501-20, "Voluntary Guide for Engineering Analysis of Anchorage Systems for Fenestration Products" Included in NAFS, since it was originally written in 2006.
read more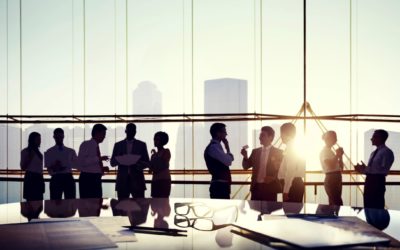 The American Institute of Architects (AIA) announced today that architects and engineers participating in the AIA's 2030 Commitment are reporting the greatest reduction in predicted energy use (pEUI) in the program's 10-year history. The report—2030 by the Numbers: The 2019 Summary of the AIA 2030 Commitment—amalgamates predicted energy use data in buildings from 311 companies participating in the 2030 Commitment and analyzes design phase data from more than 20,300 projects.
read more
The Fenestration and Glazing Industry Alliance (FGIA) will hold its 2021 Annual Conference virtually due to the continued health concerns around the spread of COVID-19. This event, previously scheduled to be held at Omni Plantation in Amelia Island, Florida, will be hosted on Zoom for the convenience of participants. The event dates remain largely unchanged with the conference taking place Tuesday, February 23 through Thursday, February 25.
read more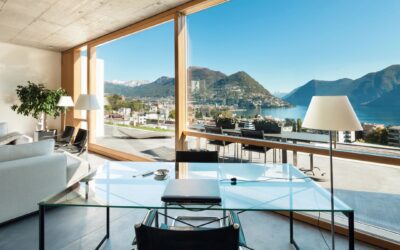 Following two years of extensive development, in-use application and review, the International WELL Building Institute (IWBI) last week formally launched the latest version of the WELL Building Standard – WELL v2. WELL v2 is a vehicle for buildings and organizations to deliver more thoughtful and intentional spaces that contribute to improved human health and well-being. It includes a set of strategies that aim to enhance human health through design interventions, operational protocols and policies and a commitment to fostering a culture of health and well-being.
read more
The U.S. Green Building Council (USGBC) and Informa Connect are proud to announce that Christiana Figueres, former executive secretary of the United Nations Framework Convention on Climate Change (UNFCCC) will headline the 2020 Greenbuild International Conference and Expo. This year's virtual Greenbuild experience will take place November 10-12 with three virtual summits focused on green business, resilience and global health and wellness, taking place September 10, October 1 and October 22 as a lead up to the main event. Registration is now open.
read more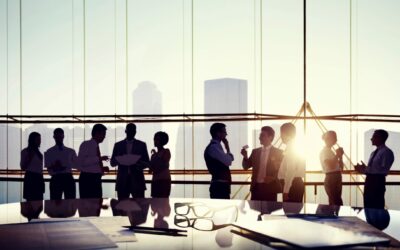 The American Institute of Architects (AIA) is launching a new program to promote ethnically diverse women into leadership positions within the AIA. Next2Lead was initiated by AIA Resolution 18-3 which was intended to ensure that the AIA is developing education, systems and processes that are inclusive for the short and long term. Within the AIA, ethnically diverse women make up only five percent of the total membership and 0.4 percent of the entire profession in the U.S.
read more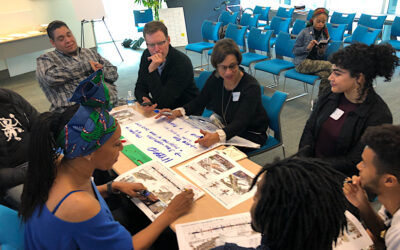 Bringing the transformative power of design to the forefront, Design Museum Everywhere goes virtual with its groundbreaking exhibition, We Design: People. Practice. Progress.  Highlighting the lack of racial and gender diversity in the design field first and foremost, We Design demands change in the industry and encourages the next generation of designers to make an impact through design. We Design begins with the words of Marian Wright Edleman, "You can't be what you can't see."
read more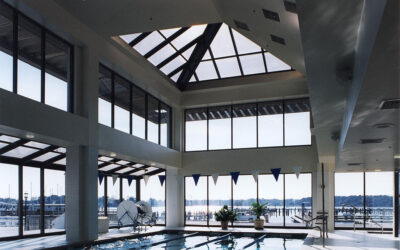 The Fenestration and Glazing Industry Alliance (FGIA) has updated a document intended to help one understand the value and effective application of plastic glazed skylights and sloped glazing in a building design as well as the features and benefits of different plastic glazing materials. This is the second update to AAMA PSSG-20, "Selection and Application Guide for Plastic Glazed Skylights and Sloped Glazing," originally published in 2016.
read more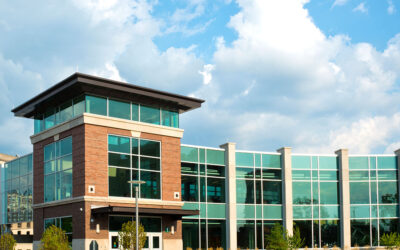 The Fenestration and Glazing Industry Alliance (FGIA) has updated a technical document intended to aid in the selection, use and application of sealants commonly used in fenestration systems. AAMA 851, "Fenestration Sealants Guide for Windows, Window Walls and Curtain Walls," an FGIA standard, is the first update to this document, originally published in 2009.
read more
The Air Barrier Association of America (ABAA), an international trade organization, is pleased to announce the appointment of a new Executive Advisor, Mr. Roy Schauffele, FCSI, CCPR, FABAA, CABS. The Executive Advisor will further ABAA's goals by providing a resource to the construction community to assist in areas of education, building codes, construction details, specifications, and the ABAA quality assurance program. Roy Schauffele, is an internationally published author and speaker in the fields of energy conservation and sustainable building envelopes, including insulation, air barrier technology, roofing & waterproofing, and vegetative & cool roofing.
read more
The International Code Council recently published "Recommended Practices for Remote Virtual Inspections," a guideline document that governmental jurisdictions should consider for an effective and consistent remote virtual inspections program.
read more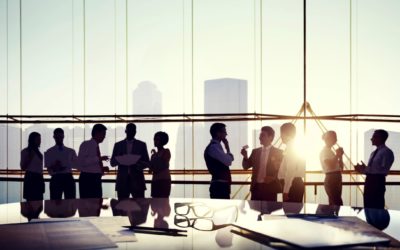 The American Institute of Architects (AIA) is releasing a new report today detailing strategies that can help mitigate risk of COVID-19 in multifamily housing. "Strategies for Safer Multifamily Housing" includes a seven-step Risk Management Plan for Buildings that multifamily housing owners and operators can utilize to assess hazards, apply architectural or engineering strategies, and reduce risk of virus transmission in buildings.
read more
The seventh edition of the Florida Building Code (FBC) was recently released for review and now references the American Concrete Institute's, ACI 562-19 Code Requirements for the Assessment, Repair and Rehabilitation of Existing Concrete Structures. The code change establishes minimum requirements for the design, construction, repair, and rehabilitation of concrete structural elements in buildings for various levels of desired performance as deemed appropriate for the project.  In addition to improved life safety, the requirements clearly define objectives and anticipated performance for the code official, owners, designers, contractors, and installers. 
read more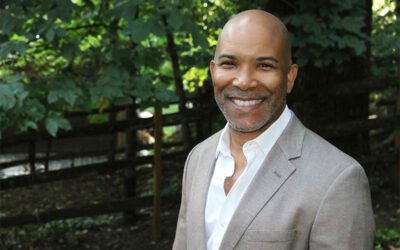 "On behalf of the Executive Committee of the American Society of Landscape Architects, we are thrilled to have Torey join us," said ASLA President Wendy Miller, FASLA. "Torey brings to ASLA a wealth of experience in organizational management and strategic planning, a fresh outlook, tremendous energy, and a lifetime of committed advocacy for a more just society. From the climate crisis, to racial injustice, to diversity and inclusion – Torey has the strategic vision necessary to tackle the tough issues facing the Society, the profession, and the entire design industry. Torey is, without a doubt, the creative, innovative, committed leader we need at this moment to move the Society and the profession forward."
read more
The American Wood Council (AWC) and International Code Council have released a joint publication, Mass Timber Buildings and the IBC, providing an overview of requirements for mass timber construction as found in the 2015, 2018, and 2021 International Building Code (IBC).
read more
"With shotcrete continuing to grow in use and demand in concrete construction projects, ACI developed this program as a means to certify personnel who prove they have advanced knowledge of shotcrete inspection practices and can help bring enhanced quality to shotcrete construction," said Randle Emmrich, Chair, ACI C661 – Shotcrete Inspector.
read more
In direct response to expressed industry need for building code requirements that address the unique aspects of post-tensioned concrete design, the American Concrete Institute and the Post-Tensioning Institute are pleased to announce a new, expanded partnership to increase efficiency for design of structural post-tensioned concrete structures.
read more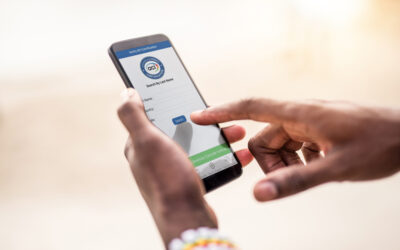 The American Concrete Institute (ACI) recently announced the addition of several new certification programs, marking a total of more than 30 certification program offerings now available. To keep pace with the growing demand for ACI-certified personnel on various concrete construction projects, the Institute has launched the ACI Certification Verify app to help supervisors verify the status of ACI-certified individuals on a jobsite.
read more
Fitwel®, the healthy building certification system operated by The Center for Active Design (CfAD), announced the launch of its Viral Response module, which provides annual, third-party building certification of policies and practices informed by the latest public health research on mitigating the spread of infectious diseases. Fitwel will provide recognition for implementation of the Viral Response module at a company level and/or within individual assets.
read more
The American Society of Interior Designers (ASID​)​ is leading the profession in the fight against COVID-19, using the rich experience and knowledge of its membership and other stakeholders to form two new task forces: the ASID Adaptive Living Task Force and the ASID IMPACT Review Task Force. Focused on studying design and construction issues related to the pandemic and how the future of design will change as a result, the task forces fall under the Society's member-led Advocate by Design Council, which advises ASID's Government & Public Affairs Department on matters of federal, state, local and regulatory public policies that protect and advance the practice and industry.
read more
The American Society of Landscape Architects (ASLA) has elevated 19 members to the ASLA Council of Fellows for their exceptional contributions to the landscape architecture profession and society at large. Election to the ASLA Council of Fellows is among the highest honors the ASLA bestows and is based on their works, leadership, management, knowledge, and service.
read more
Due to local, state, and federal regulations, and to protect the health and safety of attendees, the American Concrete Institute announces the transition of the ACI Concrete Convention from an in-person event in Raleigh, NC, USA, this October, to a 100% virtual event.  The ACI Virtual Concrete Convention will be held over similar dates at the end of October.  Attendees to the ACI Virtual Concrete Convention will collaborate on advancing concrete codes, specifications, and practices during hundreds of committee meetings.
read more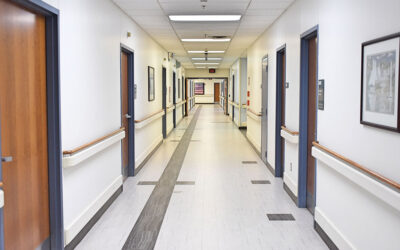 INSTALL, aligned with the United Brotherhood of Carpenters and Joiners of America (UBC), assist the architecture, design and construction community with industry-leading education and training to combat the spread of COVID-19. From specialized courses on infection prevention and control to cleaning and disinfection practices developed by healthcare experts, the organizations have worked to ensure the safe specification and installation of floorcovering throughout the pandemic.
read more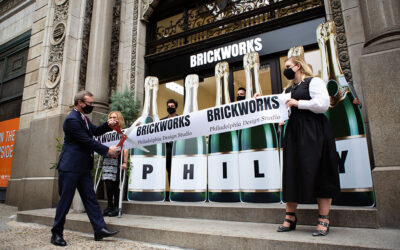 Brickworks North America Corporation, the parent company of Glen-Gery Corporation, announced Tuesday the Grand Opening of its first North American Design Studio located in Philadelphia. "We're incredibly thrilled to debut our first North American Brickworks Design Studio in Philadelphia to meet the contemporary style needs of today's architects and designers," said Mark Ellenor, President, Brickworks North America. "An increasing number of design-focused professionals are choosing brick because of its limitless creative potential. Available in a variety of colors, textures, sizes, and shapes, brick is a multi-dimensional building material that can add history and personality to any project."
read more
Vitro Architectural Glass (formerly PPG Glass) last week announced that Michael Shettler has been appointed as commercial account manager for the Mid-South region. Shettler will provide sales and service coverage to the non-residential, commercial construction market for Vitro Architectural Glass.
read more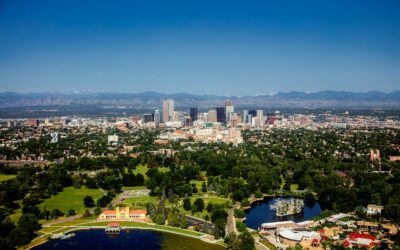 Sasaki announced the opening of a dedicated office in Denver, Colorado to better serve clients throughout the Western United States and Canada. "Sasaki has been working in the West since the 1960s — from creating the University of Colorado at Boulder Campus Master Plan to the Denver Game Plan for Parks and Recreation to projects for the University of Wyoming and the NineRails Creative District in Utah," said Sasaki CEO and Principal James Miner. "This work has served to reinforce our commitment to growing our presence in the West, and we look forward to putting down roots in Denver."
read more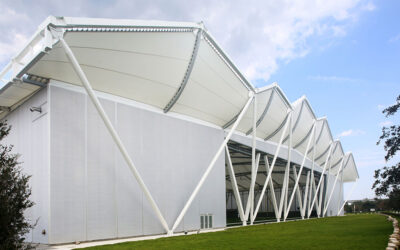 Walter P Moore announces two key changes within the firm's Enclosure Engineering team. Erik Verboon, AIA, Principal, has been promoted to Practice Area Leader of Walter P Moore's national Enclosure Engineering team, which is primarily responsible for a building's facades, roofing systems, and subsystems, each of which influence aesthetics and life-cycle performance.
read more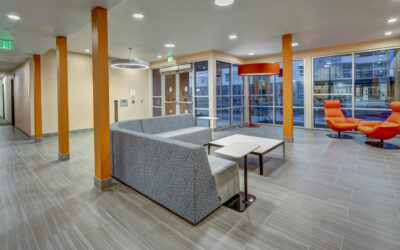 The University of California, Davis (UC Davis) opened the first phase of The Green at West Village student housing project, adding more than 1,000 beds to the University's West Village neighborhood. The Michaels Organization is working with Stantec, which is providing lead architectural, interiors, buildings engineering, and landscape architecture services for the project. CBG Building Company is the general contractor.
read more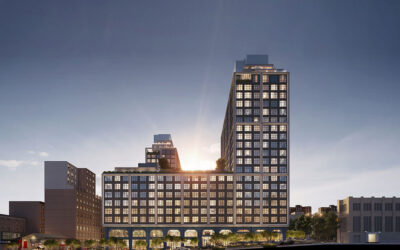 Front & York, mixed-use development in Brooklyn's DUMBO neighborhood, recently celebrated its official topping out, with each of its two residential towers reaching 21 stories. Designed by architect Morris Adjmi, the development has views of the neighborhood's Historic District, the East River and the entire Manhattan skyline from the Statue of Liberty up to the skyscrapers of Midtown. Front & York's development is centered on one of the city's largest private parks, a 25,000-square-foot space designed by Michael Van Valkenburg Associates.
read more
Rust-Oleum last week announced Bill Spaulding has been named President of the company, replacing retiring President & CEO, Ed Voorhees. This transition was effective on August 31, 2020.
read more
Chicago-based Sheehan Nagle Hartray Architects (SNHA) is pleased to announce the appointment of Catherine Murray as Principal. Murray comes to SNHA from O2 Design (formerly oslund.and.assoc.) where she served as principal of the Chicago office. With over 30 years of experience in urban design, planning and landscape architecture, her ability to creatively tackle complex design challenges has produced award-winning solutions nationally and internationally.  
read more
Hannah Mey, BSN, RN, has joined the Hoefer Wysocki team as Associate Vice President, Senior Technology Specialist. Leveraging her nursing education, caregiver experience, and expertise in applying technology to the healthcare environment, Hannah will be a vital connection between the clinician and the design team to integrate essential technology solutions into healthcare facilities across the U.S.
read more
Vitro Architectural Glass has appointed Martin Bracamonte to the newly created post of vice president, marketing and innovation. In his new role, Bracamonte will oversee marketing efforts for Vitro Glass throughout the U.S. and Canada while also leading a range of value creation efforts across all aspects of the business.
read more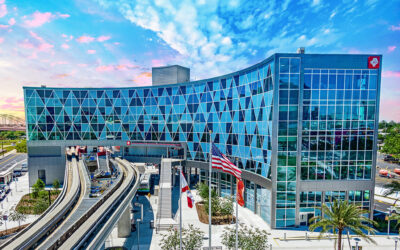 Balfour Beatty has been recognized by The Associated Builders and Contractors (ABC) of Florida, First Coast Chapter with its "Project of the Year" and  Eagle Award in the institutional $25 million to $100 million category for the recent completion of Jacksonville Transportation Authority's (JTA), Jacksonville Regional Transportation Center (JRTC) at LaVilla. The multi-modal JRTC at La Villa development project includes a 10,000-square-foot, LEED Silver certified Intercity Bus Terminal (IBT) linked to a five-story, 67,000-square-foot transportation hub via an overhead pedestrian bridge.
read more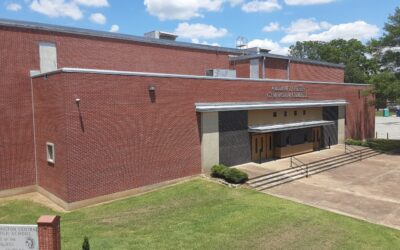 Western Specialty Contractors was recently contracted through The Garland Company to restore Millington High School's gymnasium. Once the repairs were complete, crews sealed the entire façade with Garland's Seal-A-Pore™, a clear sealer that forms an invisible water repellent surface over exterior masonry substrates that allows the building to maintain its original appearance.
read more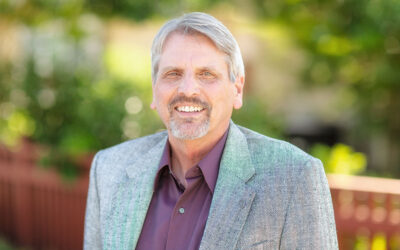 Architectural services firm AO today announces the launch of a new design studio, AO Science + Technology, following its acquisition of WHL Architects, a Sunnyvale-based science and technology design firm founded in 1987 by Douglas White, AIA, NCARB.
read more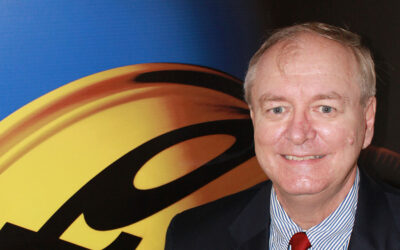 Sto Corp., has announced that Randall Steven Johnson will join Sto Americas in the role of CFO effective August 5, replacing Torben Wetche, who announced his planned retirement earlier this year. Johnson will oversee all the company's financial functions, including accounting, audit, treasury, as well as information technology, and will report to Jose Berlingeri, President and CEO, Sto Americas.
read more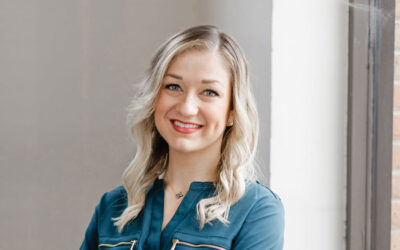 KAI Design last week announced  the hiring of Sanja A. Zilic, LEED AP BD+C as Senior Interior Designer at its Dallas-Fort Worth office. In her new position, Zilic will be responsible for developing and supervising the interior design team and guiding them through all stages of the design and construction process, which includes interpreting program requirements, surveying building interiors, developing working plans, making material and furniture selections and reviewing specifications and contracts for services and sustainable design.
read more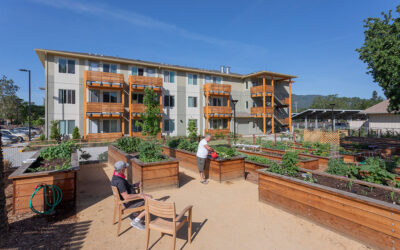 MBH Architects announced that they have been named a Grand Award Winner at the 57th annual Gold Nugget Awards. MBH was recognized in the "Best Affordable Housing Community – Under 30 du/acre" category for their work on the Fetters Apartments and Celestina Garden Apartments development in the San Francisco Bay Area.
read more
Stantec has promoted two industry veterans to positions within the Commercial Sector leadership team. Duk Kim has been appointed to head the hospitality team and Jay Baptista will lead the retail team. "Duk and Jay have demonstrated a proven ability to lead complex projects from design to delivery for an array of global clients while managing integrated teams from across our company. Their transition to our leadership team will help shape and grow our hospitality and retail sectors," said Darren Burns, vice president and Commercial Sector leader at Stantec.
read more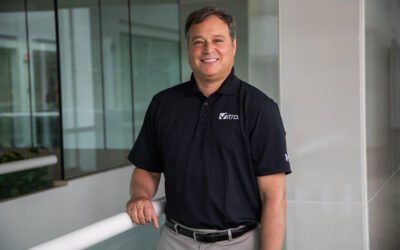 Vitro Architectural Glass (formerly PPG Glass) announced that Daniel Plotnick has been appointed as commercial account manager for the New England/Metro New York City region in the U.S. as well as all of Europe. "Daniel has vast experience building sales teams across multiple geographies," said Dan Stipetich, sales director, eastern region, Vitro Architectural Glass. "His strong commercial background, combined with his skill in sales and marketing in the curtainwall and commercial building markets will provide immediate impact in his sales regions."
read more
Walter P Moore announces the opening of its new office in Denver, Colorado, appointing Bart Miller as the Managing Director for the firm's Structures Group, which encompasses the integrated design services of structural engineering, enclosure engineering, construction engineering, secure design, and parking consulting.
read more
ICP Building Solutions Group has named Jay Doubman its new Division President. "Jay is a tremendous addition to our leadership team, and I'm confident in his ability to lead our organization as we continue developing professional innovative products and solutions," said Doug Mattscheck, President and CEO, ICP Group. "Adding Jay's expertise will be invaluable in our pursuit of new growth in revenue and profitability."
read more
YKK AP America announced that it has hired Tyler Quinn as architectural sales representative for the Southeast market. He is now responsible for servicing architects and glazing contractors in the Louisiana and Mississippi markets to build and maintain long-term relationships.
read more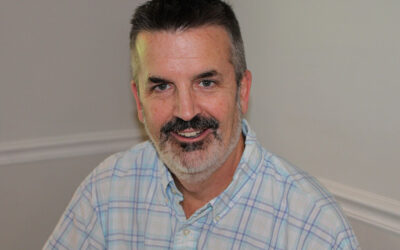 Chris Beahan has been named the newest sales representative for Kalwall Corporation. Beahan's territory will cover eastern Pennsylvania and Delaware. He brings more than 20 years of manufacturing and architectural experience to the position and has a deep understanding of the region.
read more
Armstrong World Industries, Inc. today announced it has acquired Turf Design, Inc., a Chicago-based commercial interiors design house and maker of custom felt ceiling and wall solutions with annual revenues of approximately $25 million. 
read more
ChemMasters, Inc. has announced the acquisition of Philadelphia-based concrete chemical manufacturer Vexcon Chemicals. Founded in 1974, Vexcon manufactures a broad line of concrete chemicals including both water and solvent borne cure & seals, highway cures, sealers, water repellents, densifiers, hardeners and treatments sold under brands such as Certi-Vex®, Certi-Vex Envio® Cure, Certi-Vex Penseal, PowerSeal®, and StarSeal®.
read more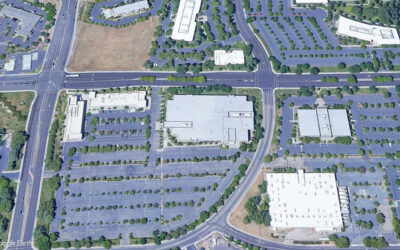 Stantec and Northern California based General Contractor XL Construction have been selected by UC Davis Health to lead the forward-looking design and construction of new administrative office spaces. The building will be designed in support of LEED Gold and University of California Carbon Neutrality guidelines.
read more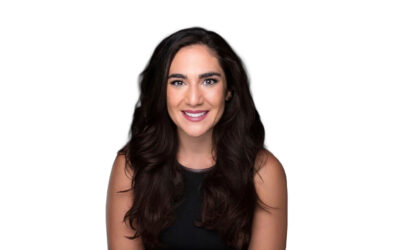 SmithGroup has hired Samantha Spadaro, as a director of business development in the firm's Phoenix office. In her new position, Spadaro will work to enhance the firm's presence in the Rocky Mountain region focusing on the healthcare and science and technology sectors.
read more
Jonce Walker, LEED AP, Certified Sustainable Building Advisor, and Fitwel Ambassador, has officially joined HLW as Director of Sustainability and Wellness, operating out of the firm's New York City office. Bringing a strong background in place-based urban design to the team, Walker's portfolio spans more than 14 years of high performance sustainability work across a wide array of project typologies including airports, institutional buildings, multi-family residential, commercial high-rise and interiors, master planned communities, and higher education facilities.
read more
The UP Companies (UPCO) is proud to announce that its Kansas City Regional location is now open with an office and warehouse in Lenexa, Kansas. UPCO is strategically located to serve a few-hour radius for all commercial, institutional, healthcare, K-12, warehouse and other various project types. Headquartered in St. Louis, The UP Companies is one of the largest full-service, minority-owned contracting companies in the region.
read more