How the larger commercial design landscape is influencing ceiling products, designs and specifications
Whether you are motivated by biophilic design to integrate natural looks into your project, working to enhance the wellbeing of a space's occupants or simply looking to make a bold design statement, there is a ceiling trend to inspire. Influenced by larger trends in commercial design, ceilings play an integral role in achieving the overall design vision of any space. As we rapidly approach 2020, here is a look at some key trends driving commercial ceilings.
1. Wood Visuals
As larger trends such as biophilic and resimercial design continue to grow in influence, the warmth of wood and wood looks have naturally grown in popularity – in flooring, wall coverings and furniture as well as ceilings. There are now multiple options for achieving a wood ceiling aesthetic, with or without acoustical properties, and at a variety of price points.
Toward the high end of the budget spectrum, custom micro-perforated acoustic wood panels and planks merge the elegance of natural wood with superior sound absorption. Micro perforations virtually disappear at a distance, giving the luxurious appearance of a solid wood panel for prestigious spaces like executive office suites and four-star restaurants.
To achieve a wood look with acoustical control for schools and other budget-conscious projects, there are products that feature high definition wood grain visuals printed on fabric-covered fiberglass panels.
Architectural metal ceilings with natural wood veneer or decorated wood-look options created with powder-coat paint finishes can also bring an element of warmth in the shape of planks of large wooden beams.
No matter what the project, space or budget, there is a way to achieve that warm wood look overhead.
2. Sculptural Shapes
Far from the flat white expanses associated with old school cubicle farms, designers have found creative ways to embrace the fifth wall as a design focal point. One of the most striking is the use of uniquely shaped clouds and baffles to create three-dimensional designs.
In order to provide architects and designers with more freedom and flexibility, manufacturers are adding multiple curves, waves and zig zag shapes that can be combined to bring dynamic sculptural looks and a sense of motion to a space.
Featuring excellent sound absorption properties, these products are prime examples of how designers can create custom visuals through the creative arrangement of standard product sizes and shapes.
3. Color & Pattern
In addition to sculptural shapes, customizing with color and pattern has become another way for designers to transform the ceiling space. Whether for aesthetic reasons or practical ones like wayfinding and branding, a pop of color or a custom pattern can change the entire tone of the space.
These creative looks are made possible by products such as large-format ceiling panels composed of a channeled honeycomb fiberglass core for acoustical performance, then covered in a high-definition printed fabric surface. The ultra-smooth premium surface is designed to absorb inks in a manner that delivers highly vivid colors and faithfully reproduces details patters, whether abstract geometrics, logos or nature-inspired visual textures.
4. Integrated Lighting
Architects and interior lighting consultants are always on the hunt for more control over indoor lighting and sound quality. After all, the right interior lighting and acoustics go a long way toward increasing employee concentration in the workplace, student engagement at school, and can even reduce hospital stays by creating a more natural healing environment
One of the most subtle and elegant ways to fully integrate lighting into the ceiling is translucent fabric ceiling systems. Consisting of a precision monofilament fabric membrane stretched over an extruded aluminum frame, advanced systems provide designers with modular, accessible panels that offer light transmission rates of at least 80 percent along with high NRC values.
A fabric layer optimizes artificial and natural light transmission without color shift, giving an even illumination. Furthermore, new and advanced fabric technologies can deliver superior acoustical performance, so designers no longer have to choose between light transmission and sound reduction when selecting ceiling and wall finishes.
5. Sustainability & Wellness
Sustainable building is a trend that is here to stay, and with new attention placed on the role products play in enhancing occupants' overall mental and physical wellbeing, ceilings selections that support wellness and sustainability is always top of mind.
Supporting wellness through a balance of design and acoustic control, designers can turn to ceiling products that blend acoustic performance, light reflectance and a focus on air quality.  Key features to look for include:
• NRC of 0.80 or higher indicates a superior level of sound absorption. Some ceiling products have NRC ratings as high as 0.95.
• Low VOC emissions – a variety of certifications indicate low VOC emission levels, including Greenguard Gold and compliance with California Department of Public Health CDPH/EHLB/Standard Method Version 1.1, 2010 or Version 1.2, 2017.
• Light reflectance of 80% or higher, to better diffuse ambient lighting, including daylight.
There is even a line of gypsum-based acoustical ceiling products that features a proprietary formaldehyde-scavenging formulation that actually removes formaldehyde-based VOCs from the air.
About the author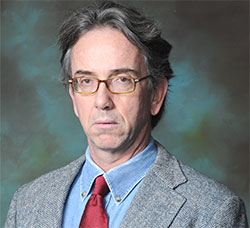 Robert Marshall
Senior Technical Manager, CertainTeed Ceilings
Robert Marshall is the senior technical manager for CertainTeed Ceilings and a lifelong participant in the commercial ceiling industry. Robert is the product of one of world's first acoustic ceiling contracting businesses; a company founded by his family in 1927.He can be reached at: robert.l.marshall@saint-gobain.com