Sherwin-Williams announced Wednesday that they have introduced the next generation Tuff Surface™ Premium Texture Finish. The company says that it delivers an even more appealing knockdown, splatter or orange peel texture finish to hide imperfections, helping to create inviting spaces and save professionals time. The mildew-resistant coating is applied with airless and conventional texture spray equipment, which the company states is ideal for hotels and other high-traffic spaces.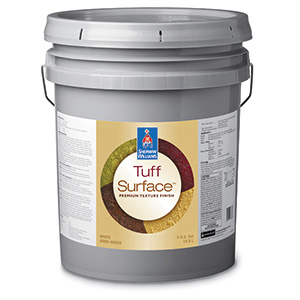 "Pros who work on projects in segments such as hospitality are asking for a coating that creates a scrubbable premium knockdown texture quickly and easily," said Rick Watson, director of product information and technical services at Sherwin-Williams. "The next generation Tuff Surface coating does exactly that while covering up blemishes for striking results in every type of space, from a lobby to a gym."
Available in flat and eg-shel sheens, Tuff Surface is tintable and can be used as a level five finish Tuff Surface Premium Texture Finish is ULGREENGUARD Gold certified for low chemical emissions into indoor air during product usage and meets the most stringent VOC regulations with <50 g/L VOC. Sherwin-Williams states the finish offers quality performance, especially over uneven or damaged surfaces, and has antimicrobial agents which inhibit mildew growth on the surface of the paint film.
Tuff Surface is available at Sherwin-Williams stores nationwide. For more information, visit www.Sherwin-Williams.com.