Glen-Gery's Children's Hospital of Michigan project was awarded the Silver in the Healthcare Category at this year's Brick in Architecture Awards from the Brick Industry Association (BIA). A combination of child-focused design and energy-efficiency, this project delivers a sustainable environment in both form and function.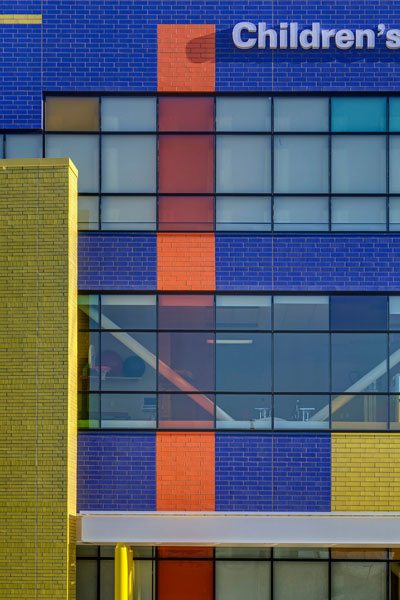 The critically significant services performed within the Children's Hospital of Michigan are very serious and frankly scary to most young patients, their parents, family and friends. The three-story Children's Hospital was conceived as a colorful organization of toy blocks that delineate functions and movement within a friendly, non-institutional, environment that transforms the typical medical experience.
Project Overview
The playful composition identifies the primary service functions and support spaces within the main three story blue block, the two story yellow block denotes the main entrance lobby and the one story red block identifies the emergency entrance and associated functions. These simple moves of color, geometry and scale create a welcoming memorable image while providing a necessary visual way-finding tool for the anxious parent as they arrive with their ill child.
From the prominent playful exterior design through the friendly and welcoming interior planning and design, a child-focused environment is created just for kids and their unique needs. Color, materiality, detailing, spacial organization and lighting reinforce the concept of creating a transformational experience for children with special medical needs that appears more suited as a big toy than a medical facility.
Aesthetics
The design composition of functional colorful building blocks, including the integration of mechanical screens, creates a multicolored facility with seven different colors of glazed brick, specifically selected for the small unit scale and six different colors of glass. The use of simple color for these basic functions creates a fun memorable image not found in healthcare design while establishing a powerful branded image.
Seen as an animated visual beacon at night along a mostly dark stretch of road, during the day, the glass throughout the building is a colorful composition that not only coordinates with the masonry but brings the interior environment to life with a kaleidoscope of color, lighting and pattern creating a vibrant healing environment that nourishes the human spirit. The interior layout and planning was purposely designed to provide people movement along the perimeter to enhance the experience of both patients and visitors.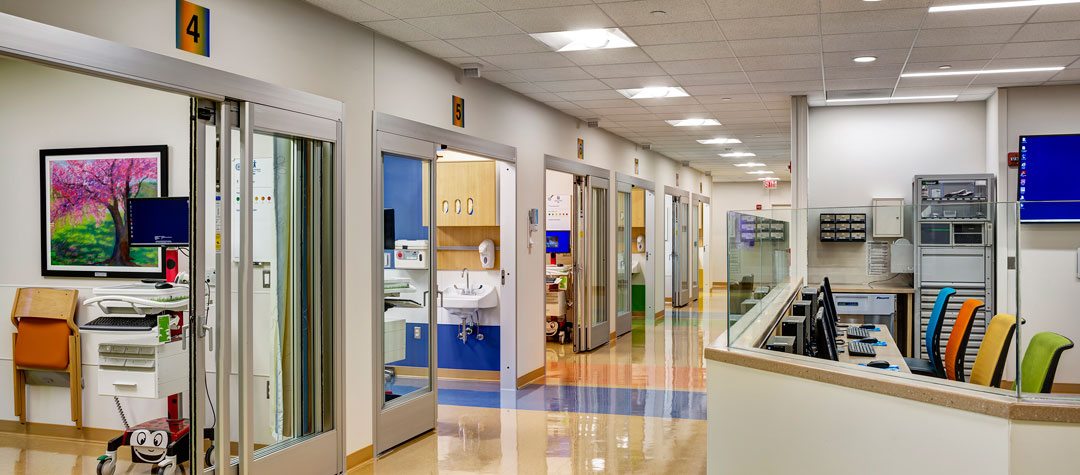 Green building
The design of the Children's Hospital of Michigan's facility achieved an energy savings of 28% better than the baseline systems defined in the state energy code. To that end the strategies adopted were to design a high performing HVAC system, reduced lighting density for both interior and exterior environments, access to daylight and an energy-efficient building exterior envelope.
The energy conservation measures used included variable air volume distribution; air cooled chiller, condensing boiler, and condensing domestic hot water heaters. Lighting strategies which included use of LED lighting provided a 33.7% reduction in the building lighting power density than the baseline systems defined in the state energy code
The masonry veneer rain screen system was selected largely because of its aesthetics and the dramatic color palette but also for its versatility, durability and its inherent thermal mass. The system which comprises glazed brick as veneer over 3 inches of rigid insulation, a well-sealed air/vapor barrier over gypsum sheathing that is supported over steel stud framing provides a composite continuous R-value of 18 and performs 5% better than the baseline systems defined in the state energy code.
Project details: Children's Hospital of Michigan in Troy, Michigan
This project was one of eight projects Glen-Gery took home at this year's Brick in Architecture Awards. Together with the Children's Hospital of Michigan, Glen-Gery won a total of three awards for projects in the Healthcare Category. The other two projects included a Gold for the Hazeldon Campus Expansion in St. Paul, Minnesota/HGA Architects and Engineers; and a Bronze for the Great River Orthopedic and Rehabilitation Expansion in West Burlington, Iowa/INVISION Architecture.
Judged by a jury of peers, 32 Best in Class, Gold, Silver and Bronze winners in 17 states and Canada were awarded in seven categories: Commercial, Educational (Higher Education), Educational (K-12), Healthcare, Municipal/Government, Residential (Multifamily) and Residential (Single Family).
The criteria for entering a project included any work of architecture completed since January 1, 2011, in which new clay brick products comprised over 50 percent of the exterior building or paving material. These include face or hollow brick, building brick, thin brick, paving brick, glazed brick, structural glazed facing tile, new clay brick products in special shapes and/or a combination of any of these aforementioned units.
The Brick Industry Association has sponsored the Brick in Architecture Awards since 1989. As the only national association to represent both manufacturers and distributors, BIA is the authority in the clay brick industry. As such, the Brick in Architecture Awards has become the nation's premiere architectural award featuring clay brick.
Founded in 1934, BIA at www.gobrick.com is the nationally recognized authority on clay brick construction representing the nation's distributors and manufacturers of clay brick and suppliers of related products. Twitter: @BrickIndustry https://twitter.com/BrickIndustry. YouTube: http://www.youtube.com/user/BrickIndustry Telephone: 703-620-0010.