Designed by Best Practice Architecture, Cloud Studios is located in the historic Pike Baker Linen Building in Seattle's Capitol Hill neighborhood – and next to the newly developed Chophouse Row.
This 4,600-square-foot recording and music practice facility takes advantage of an unused basement that connects to the building next door through a garage. The facility has access to a freight elevator from street level, making it ideal for musicians who need to move heavy gear in and out.
Small practice rooms and recording studios, ranging from 150 to 260 square feet, are arranged around a central hang out space, perfect for gatherings and impromptu concerts. In laying out the space, the programmatic part of the design was ultimately an exercise in creating good organization.
Each room is associated with a door color (CMYK logic) and the main space is covered in Seattle Photographer Spike Mafford's photos of original neighborhood band practice spaces that have since vanished. In specifying materials, the significant material choice of collaging old photos on the walls was a 'must' in the space for the architects as the custom collage walls offer a great story of this space from its previous location in the building next door.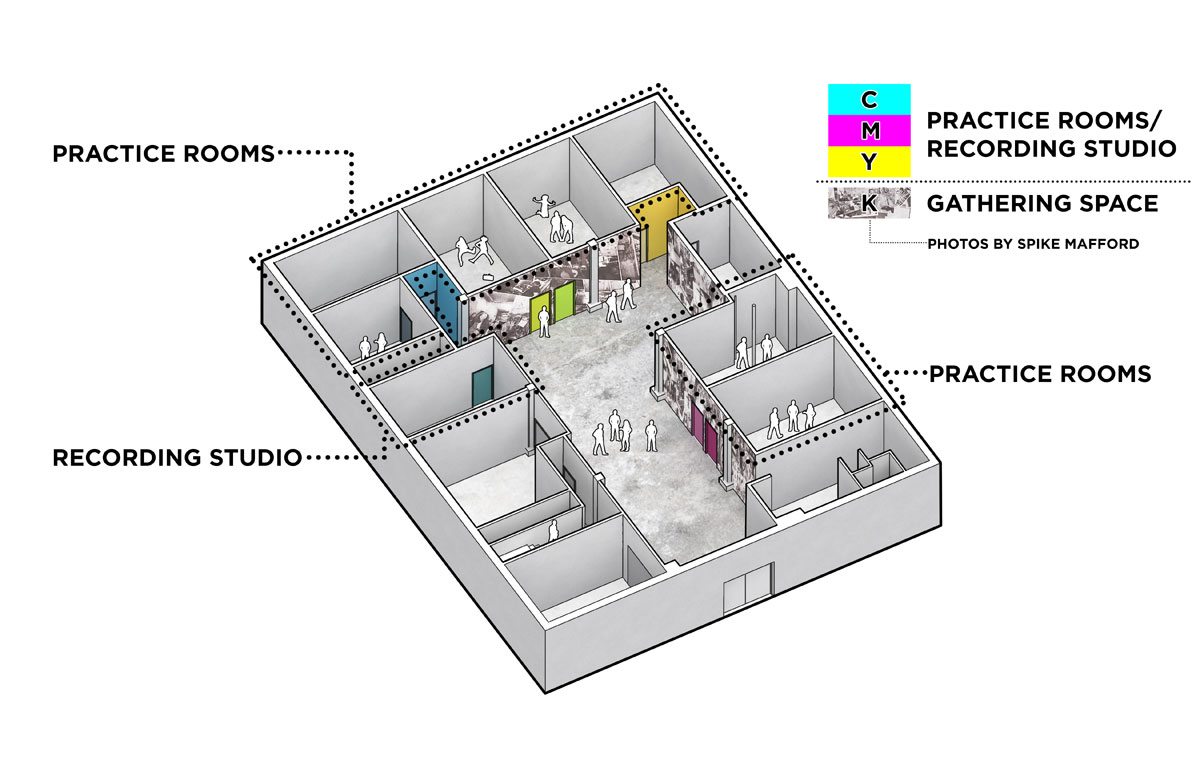 Sustainable building aspects include the use of Zero VOC paint and LED lamps throughout the project, as well as using salvaged light fixtures wherever possible. In designing the studios, the architects left as much as possible untouched to maintain the raw yet elegant look of the space.
Given that the Cloud Studios are located in the basement of a 100-year-old mixed use building that had been used as ad-hoc storage for the building's owner and tenants for most of its life, there was a significant effort to make it feel like more than a dingy old basement. To overcome this design challenge, the architects utilized good lighting and colorful details.
When asked what moved the architects most about the project, Best Practice's Ian Butcher comments that "It was great to see how the building owner was able to create an affordable, fun and inviting space in the middle of the city for aspiring musicians and bands. Too often these spaces are limited to garages and basements in residential or industrial areas not close to the heart of the city."
The project comes at an interesting time in the life of a rapidly changing city where creative places are being turned into high-end developments. This modest program seeks to maintain and support local music and musicians by providing sought after practice space in the heart of the city.
Project team
Best Practice Architecture (architecture and interiors)
Dunn & Hobbes (client/owner/collaborator)
Spike Mafford (collaborator/photo mural photographer)
Arup Consulting Engineers (engineering collaborator)
Metropolitan Construction (contractor)
Best Practice Architecture design team       
Ian Butcher, Kailin Gregga, Dain Susman
Photography
Rafael Soldi