NEW YORK – October 6, 2017 – The Dodge Momentum Index fell in September, moving 8.4% lower to 116.4 (2000=100) from the revised August reading of 127.1. The Momentum Index is a monthly measure of the first (or initial) report for nonresidential building projects in planning, which have been shown to lead construction spending for nonresidential buildings by a full year. Both components of the Momentum Index declined in September.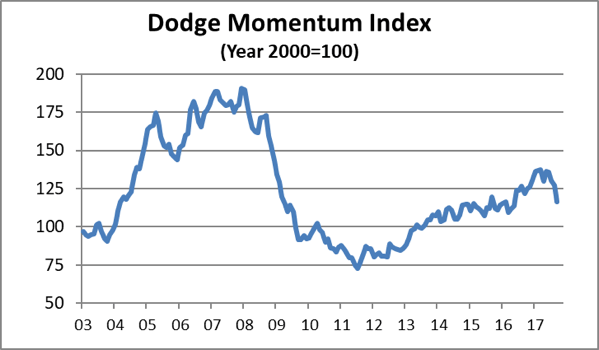 The institutional building component fell 11.5% from August, while the commercial building component fell 6.1%. While the overall Momentum Index has lost ground for four consecutive months, this should not be seen, in and of itself, as a predictor of a turn in building markets. Prior to the previous peak of the Momentum Index in January 2008 it had suffered similar significant declines, only to rebound and post strong gains in subsequent months in line with overall economic growth.
Similarly, the Momentum Index posted healthy gains from late-2016 through early 2017. Economic growth remains solid, and building market fundamentals are supportive of further growth in construction activity.
In September, 10 projects entered planning each with a value of $100 million or more. For the commercial building sector, the leading projects were a $200 million office complex in San Jose CA and a $200 million mall in Staten Island NY. The leading institutional projects were a $400 million civic complex in Los Angeles CA and a $100 million casino in Tulalip WA.
About Dodge Data & Analytics: Dodge Data & Analytics is North America's leading provider of analytics and software-based workflow integration solutions for the construction industry. Building product manufacturers, architects, engineers, contractors, and service providers leverage Dodge to identify and pursue unseen growth opportunities and execute on those opportunities for enhanced business performance. Whether it's on a local, regional or national level, Dodge makes the hidden obvious, empowering its clients to better understand their markets, uncover key relationships, size growth opportunities, and pursue those opportunities with success. The company's construction project information is the most comprehensive and verified in the industry. Dodge is leveraging its 100-year-old legacy of continuous innovation to help the industry meet the building challenges of the future.  To learn more, visit www.construction.com.