Dallas, Texas – Industry professionals full of energy and excitement filled the Rhode Island Convention Center to take part in three days of education, networking and a bustling tradeshow floor at CONSTRUCT 2017.  CSI also hosted their 61st Annual Convention in conjunction with the event.  Taking place from September 13-15, in Providence, RI, USA, the annual tradeshow and education program drew a total attendance of nearly 2,000 AEC professionals.
Participants came from all segments of the building industry. Some included both commercial and residential architects, specifiers, building engineers, contractors, project managers, product representatives/manufacturers, building owners/managers and other related industry professionals. Glenn DeSimone, President of PRIME DESIGN SYSTEMS, INC. stated that CONSTRUCT 2017 was "perfectly tailored to my professional needs."
"It was a pleasure to host the professionals who attended from around the country," says Douglas Lugo, Show Director of CONSTRUCT. "Thank you to our attendees, official partners, exhibitors, sponsors, affiliates and to all participants, for making 2017 another enjoyable event for the industry."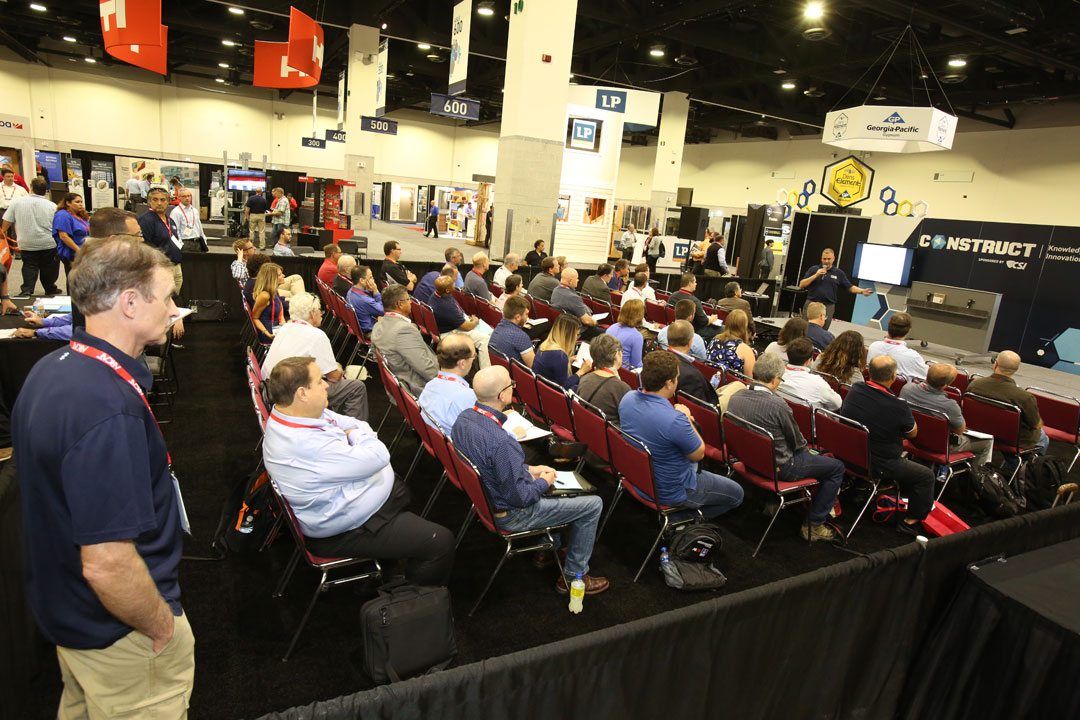 In attendance were representatives from 11 of the top 25 architecture firms, including Gensler, Perkins+Will, Jacobs, HOK, HDR, Perkins Eastman, CannonDesign, SmithGroupJJR, PageSoutherlandPage, Flad Architects, RSP Architects, LTD.
First-time registrants made up 60% of all attendees, indicating that CONSTRUCT continues to attract new members of the AEC team.  Meridyth Cutler an Associate at MG2 exclaimed "I really enjoyed my first CONSTRUCT!"
"As a senior architect but new to CSI and Construction, I love how focused CONSTRUCT is for the specifying community" said Jill Goedken, Architect/Specifier for SPECcetera "Nice venues, relevant workshops with lots of CEU opportunities and great networking."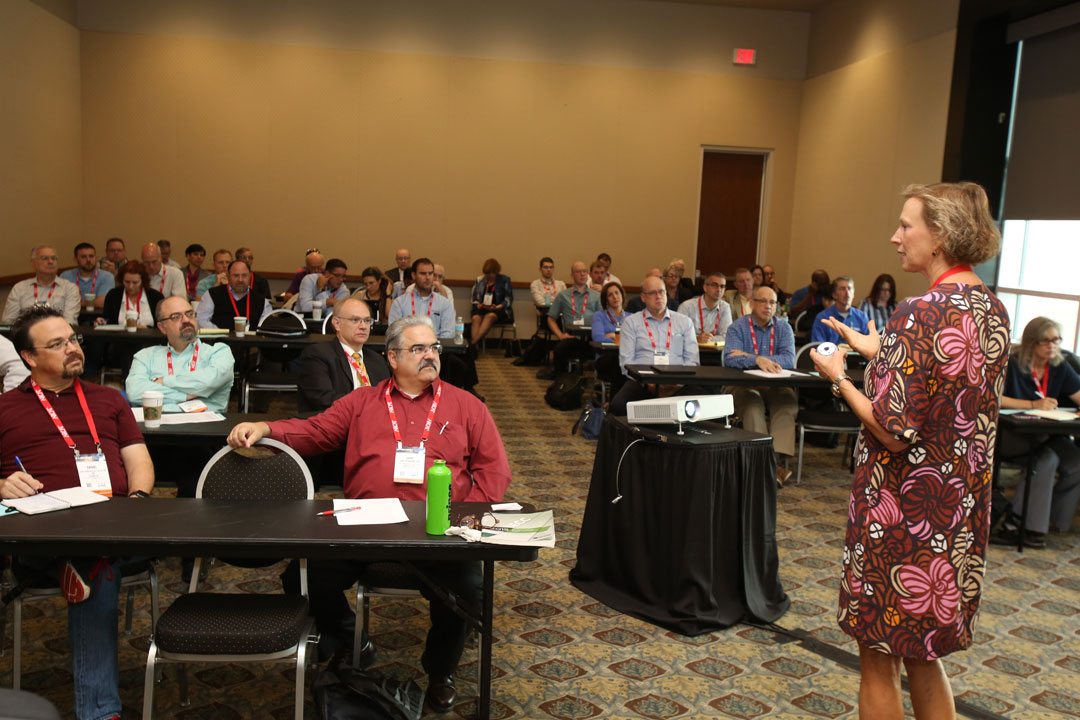 "[CONSTRUCT] gives me a broader range of knowledge about the industry and product offerings," said Cameron Carris of Ketchum Walton. "Come to CONSTRUCT [2018] because you can learn about the manufacturer's, new developments, the products and the offerings that they have."
"As an architect, I'm always hungry for CEUs.  Working in a university-setting, I like to see new products, new systems and new ways of doing things. [Coming to CONSTRUCT] is a great way to stay on top of what is cutting-edge.  Go to [CONSTRUCT 2018] to see the new products and check out the CEU opportunities," said Kenny Tyler, Director of Engineering & Planning Services at the University of Tennessee at Chattanooga
Exhibit Hall
The tradeshow floor was comprised of hundreds of booths from some of the top brands in the industry. Some of these included ARCAT, Behr Process Corporation, Benjamin Moore Paints, ClarkDietrich Building Systems, Dow Chemical Company, DuPont, Firestone Building Products, Hilti, Louisiana Pacific Corp. and Sherwin-Williams.  These companies showcased their new, value-added services and innovative ideas for the built environment on the show floor. Included in these offerings were building envelope, building systems, roofing, codes and standards, finishes, thermal/moisture protection, windows/skylights, coatings, insulation, curtain wall, doors, flooring, concrete, caulks/sealants, glass, paint, exterior products, masonry, hardware and much more.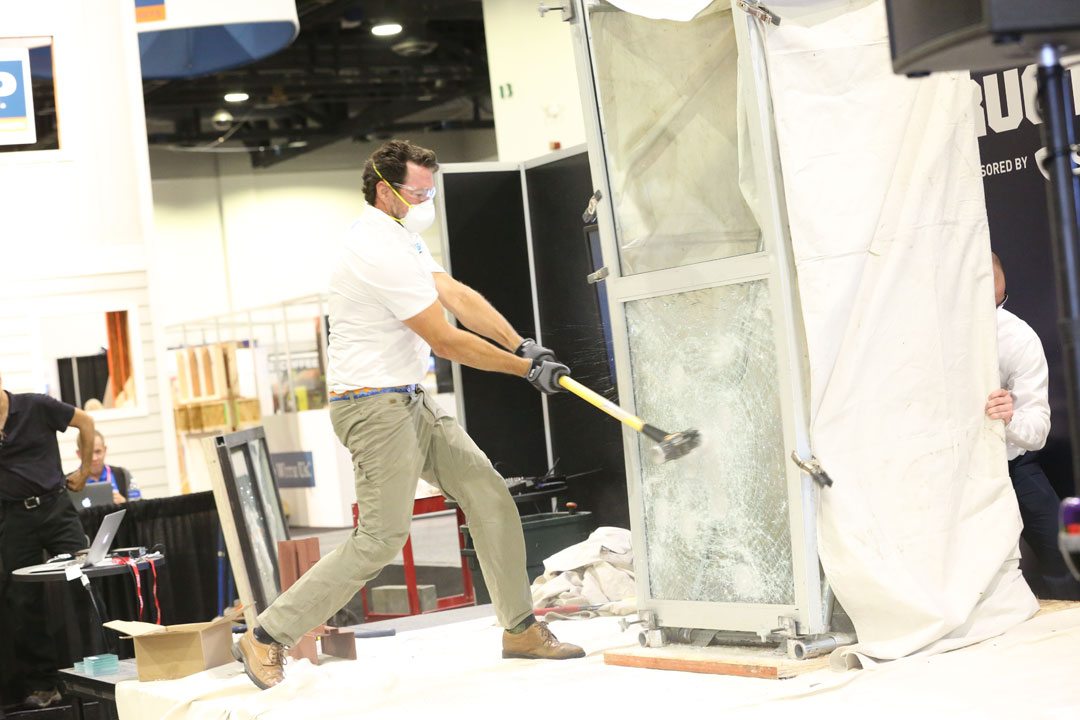 20% of exhibiting companies were first-time exhibitors, including D&P Custom Lights and Wiring Systems, Green Link, Innovative Access Solutions, National Comfort Products, Northern Facades and School Guard Glass, just to name a few.
Attendee, Kathy Proctor an Architect for Little River Studio said "There is nothing better than wandering through the trade show floor and meeting former colleagues or students that you only see once a year."
"CONSTRUCT was a fantastic opportunity to meet with people interested in seeing the latest revolution of new products, and markets, by expanding the knowledge of their field," said Matt Jacobsohn of School Guard Glass. "The camaraderie among folks from all over the country showed that everyone had one simple goal, to learn."
"This year I was a speaker and my company had a booth at the expo.  I attend a large number of tradeshows and CONSTRUCT 2017 was one of the best events I have been to in 40 years," said Richard Filloramo of International Masonry Institute.  "Show management is organized, offered great customer service and ultimately exceeded my expectations. The attendees they bring to the event are high quality, qualified industry professionals.  I highly recommend attending or exhibiting at future CONSTRUCT events!"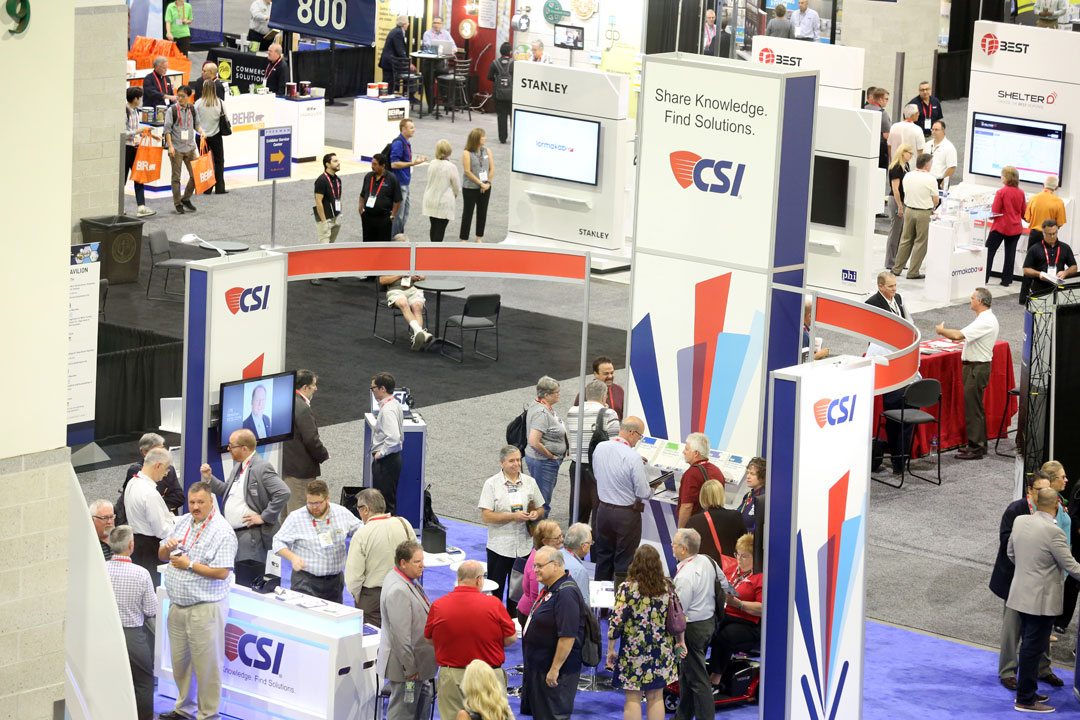 Educational Offerings
In addition to the show floor activity, the education program featured over 40 sessions addressing a variety of industry topics from delegated design to moisture mitigation, sustainability to emerging technologies.
Divided into nine educational tracks, the program featured offerings for Architects/Designers, Specifiers, Building Owners/Managers, Contractors, Engineers, Interior Designers, Manufacturer's Reps/Product Reps, Project Managers and Students/Young Professionals.  In additional, each session provided Continuing Education Credits from AIA, BOMI, GBCI, and/or ICC.
Kenny Tyler, Director of Engineering & Planning Services at the University of Tennessee at Chattanooga exclaimed "The technical tour of the John J. Sbrega Health & Science Building is what brought me to CONSTRUCT 2017.  The technical tour was a big hit!"
"I primarily came to CONSTRUCT for the education and to network with other industry professionals and learn about what I can do to further my career," explained Lauren Conners Anderson of the Conners Sales Group, Inc.  "CONSTRUCT is the single best industry conference for Young Professionals, in my opinion.  It marries all the different project team participants and there are no other events that combine every project team role.  You get the opportunity at CONSTRUCT to meet with mentors who have a significant amount of experience in the industry that you may not otherwise meet in your day-to-day work life.  I would highly recommend CONSTRUCT to YPs for the mentorship, the networking and the ability to learn in a more casual environment.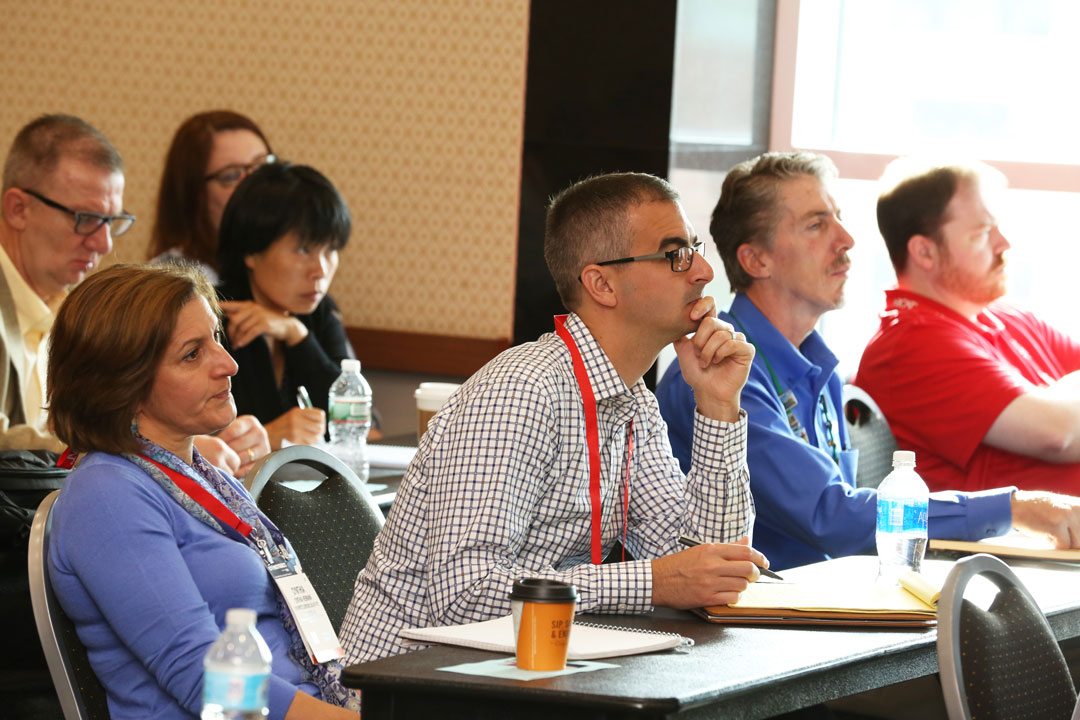 Show Floor Highlights and Special Events
On the show floor attendees found new products and ideas, while taking advantage of the additional education opportunities and product demonstrations in the Learning Pavilion and the Learning Lounges.
Free education was available at the Learning Pavilion and in the Learning Lounges in which AIA and/or ICC credits could be earned.  The Learning Pavilion was revamped to include a 30-minute presentation and a 15-minute product demonstration. Behr, Hohmann & Barnard Inc., Sherwin-Williams, School Guard Glass and Tamlyn held sessions once a day over the course of the two open exhibit days.  In addition, Benjamin Moore and LP Building Products hosted learning lounges, which featured three one-hour sessions per day during the expo.
The highlights of the general session included an appearance by Laura Briggs, Dean of Architecture at the Rhode Island School of Design and a few of her students, as she described upcoming RISD projects.  CONSTRUCT selected RISD as the beneficiary of their charitable donations for 2017 and donated $2,000 to the CSI Foundation in a joint effort to support RISD (Rhode Island School of Design). This contribution became part of a larger donation made to RISD by CSI.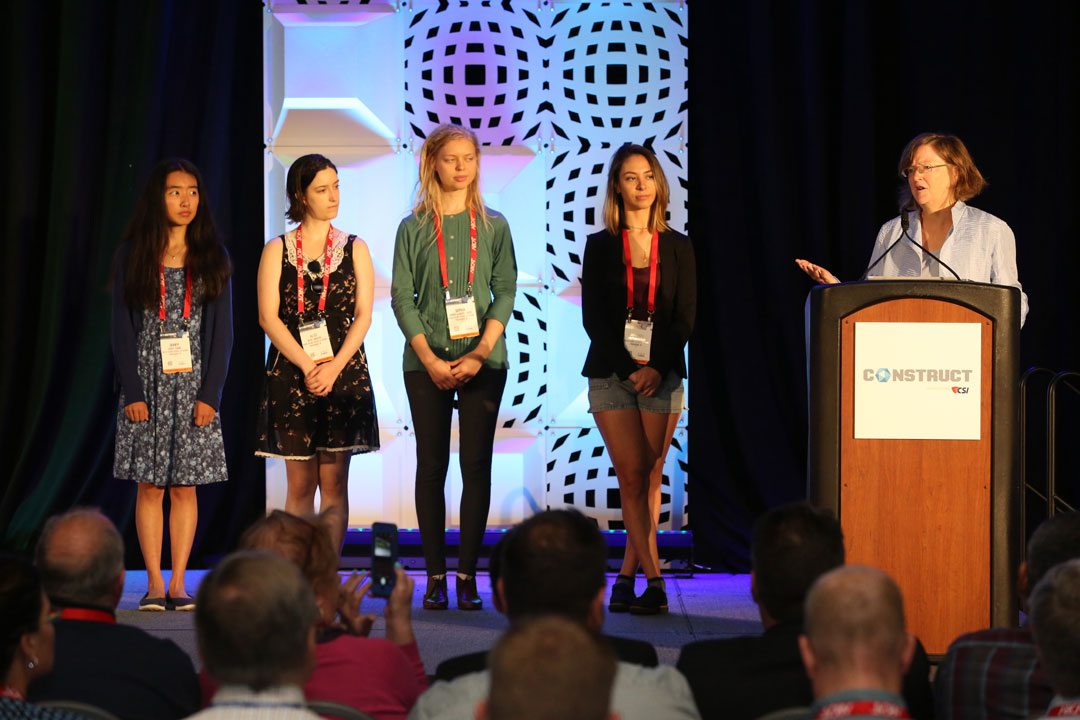 The keynote was presented by prominent architect, Thomas Mayne of Morphosis.  He inspired participants with a look inside the process he and his team employs to take his clients' vision to reality.
On closing day, the Game Changer session was presented by Paul Doherty with the Digit Group.  Paul enchanted participants as he discussed the challenges of integrating our buildings and infrastructure into the urban fabric of Smart City initiatives and innovations.  "The Paul Doherty presentation was enlightening and energizing about the future of the construction and utility industry," said Jonnie Cox, a Portfolio Project Manager at TVA.
There were a variety of events in which participants could network and socialize, including the Newcomer Reception, the daily Happy Hours that took place on the show floor and both the CSI Welcome Reception and CSI Night Out that was open to both members and nonmembers.
"Networking and connecting with my peers at CONSTRUCT this year was especially great" stated Rosa Cheney Owner of Rosa D Cheney AIA, PLLC.  "I left feeling rejuvenated and full of energy and excitement about the work I do."

Save the Date for 2018
CONSTRUCT 2018 will be held October 3-5, at the Long Beach Convention & Entertainment Center in Long Beach, California USA. Hotel reservations can be made now online and online attendee registration will open in late May.
Architectural Sales Representative, Lauren Conners Anderson recommends "that people come to CONSTRUCT 2018 because I believe there will be fantastic sessions, building on the technology and the new and interesting features that we learned about at CONSTRUCT 2017.  I also think next year we are going to see an advancement in specifications, so it's important that people come and get the knowledge and the education they need."
Additional show information:
• Facebook at http://www.facebook.com/CONSTRUCTevent
• LinkedIn at https://www.linkedin.com/groups/8304223
• Twitter at http://www.twitter.com/CONSTRUCTShow
• Instagram at http://www.instagram.com/CONSTRUCTevent
• YouTube at http://www.youtube.com/c/hwconstructshow
• Twitter users can follow the show using #CONSTRUCT or @CONSTRUCTshow. Show photos can be accessed at https://www.flickr.com/photos/constructevent
About the Event
CONSTRUCT is your most cost effective strategy for combining educational opportunities with practical, real-world, product and service solutions for your business success.  This event is dedicated to the institutional, industrial and commercial building industry. If you design, build, specify, engineer, renovate or operate in the built environment, this is your event. The show is owned and produced by Informa Exhibitions U.S., Construction & Real Estate.  For additional information, contact CONSTRUCT at P.O. Box 612128, Dallas, Texas 75261-2128; call the main show line at (866) 475-6707 or (972) 536-6450.  To learn more visit, www.constructshow.com.
About the Sponsor
Construction Specifications Institute (CSI) is a national association dedicated to improving the documentation, management and communication of building information utilized by the construction community.  CSI accomplishes its mission through the development of construction standards and formats such as MasterFormat and UniFormat; the promulgation of those formats through master guide specifications and building information management (BIM) software; training and certificate/certification programs, including the Construction Documents Technology (CDT), Certified Construction Specifier (CCS), Certified Construction Contract Administrator (CCCA) and the Certified Construction Product Representative (CCPR) exams; publication of Construction Specifier magazine; and an ever-expanding membership of decision-makers who identify and specify building product solutions.  CSI members include a cross-section of specifiers, architects, contractors, suppliers and other construction project professionals who are involved in touched by construction documentation.
About Informa Exhibitions U.S., Construction & Real Estate
Informa operates at the heart of the Knowledge and Information economy. It is one of the world's leading business intelligence, knowledge and events businesses with more than 6,000 employees in over 100 offices across 25 countries. The Dallas Exhibitions team produces a portfolio of 15 trade shows in various sectors of the construction and real estate industry. To learn more, visit www.informaexhibitions.com.