Saint-Gobain in partnership with YouthBuild Philadelphia Charter School announced the completed renovation of two side-by-side homes that are set to achieve the U.S. Green Building Council's Leadership in Energy and Environmental Design (LEED®) Platinum certification. Over three years, approximately 180 YouthBuild Philadelphia students and the Saint-Gobain Corporation Foundation transformed the once-dilapidated properties into models of affordable, sustainable urban living.
The following materials were selected to help YouthBuild Philadelphia achieve its energy-efficiency, sustainability, indoor environmental quality, and affordability goals include. These include insulation, drywall and roofing products.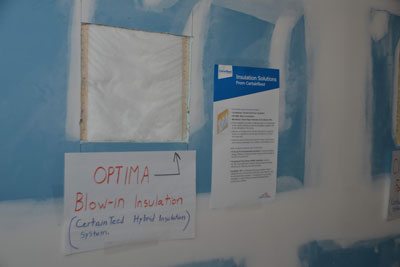 A Hybrid Insulation System consisting of CertaSpray® Closed Cell Foam and OPTIMA® Blow-in Insulation System and MemBrain™ Continuous Air Barrier & Smart Vapor Retarder from CertainTeed that:
Creates a foam insulation that provides an effective seal on the backside of the home's sheathing, while the fiberglass insulation fills in the remainder of the cavity.
Delivers an R-value that is almost equivalent to a passive house at a significant cost savings compared to a foam-only approach.
Improves sound control and reduces energy consumption and moisture penetration for a healthy, comfortable home.
A variety of drywall solutions from CertainTeed: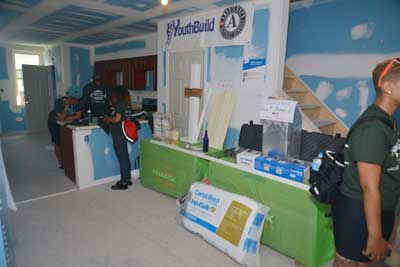 Roofing solutions from CertainTeed:
Other products from CertainTeed that contributed to the home's sustainability and aesthetics include:
See Saint-Gobain and YouthBuild Philadelphia complete LEED Platinum home renovations for more information about these projects.
For more information about Saint-Gobain Corporation Foundation's partnership with YouthBuild USA, please visit www.buildingourfuturetogether.com.
About Saint-Gobain in North America
Saint-Gobain, the world leader in sustainable environments, has designed and manufactured high-performance building materials that improve the lives of people all over the world. From the Hall of Mirrors at Versailles and the glass pyramid at the Louvre, to the Statue of Liberty and the World Trade Center, and even components that allow the Mars Rover Curiosity to seek out life on another planet, Saint-Gobain has been a part of the fabric of human history, advancement and improvement.
In North America, the company upholds this rich history of innovation by making a material difference in the spaces where people work, live, play, heal and learn. Along with its North American headquarters in Malvern, Pennsylvania, Saint-Gobain has more than 150 locations in North America and approximately 14,000 employees. In the United States and Canada, Saint-Gobain reported sales of approximately $5.7 billion in 2015. Experience our innovation, wonders and advancements by visiting www.saint-gobain-northamerica.com and connect with Saint-Gobain North America on Facebook and Twitter.
About CertainTeed
Through the responsible development of innovative and sustainable building products, CertainTeed, headquartered in Malvern, Pennsylvania, has helped shape the building products industry for more than 110 years. Founded in 1904 as General Roofing Manufacturing Company, the firm's slogan "Quality Made Certain, Satisfaction Guaranteed," quickly inspired the name CertainTeed. Today, CertainTeed® is North America's leading brand of exterior and interior building products, including roofing, siding, fencing, decking, railing, trim, insulation, gypsum and ceilings.
A subsidiary of Saint-Gobain, one of the world's largest and oldest building products companies, CertainTeed and its affiliates have more than 5,700 employees and more than 60 manufacturing facilities throughout the United States and Canada. The group had total sales of approximately $3.3 billion in 2015. www.certainteed.com
About YouthBuild Philadelphia Charter School
YouthBuild Philadelphia Charter School provides out-of-school youths in Philadelphia with the broadest range of tools, supports and opportunities available to become self-sufficient, responsible and productive citizens. YouthBuild Philadelphia is an innovative alternative education program that blends a rigorous academic curriculum with on-the-job training through community service. Students at YouthBuild Philadelphia earn their high school diplomas and make successful transitions to full-time jobs and post-secondary educational programs. For more information, visit www.youthbuildphilly.org.
About YouthBuild USA
YouthBuild USA leads an international network of 360 local YouthBuild programs in the USA and 21 countries that help youth transform their own lives while transforming their communities. YouthBuild programs address critical issues facing low-income communities – housing, education, employment, crime prevention and leadership development.
In the United States, local YouthBuild programs are sponsored by local community- and faith-based organizations, government agencies, and community colleges. In other countries, YouthBuild programs are sponsored by NGOs, government agencies, international development institutions, and global companies.