DENVER, Colo., July 9, 2018 — OZ Architecture, an award-winning, national architecture and design firm, has announced that construction has begun on The Lodge at Grand Junction, a Rocky Mountain Senior Housing and WellAge senior living community in Grand Junction, on Colorado's Western Slope.
The one/two story building site is located across the street from St. Mary's Medical Center, with frontage along Patterson Road less than two miles from I-70. The location provides easy access to doctors' offices, shopping and unobstructed mesa views.
Led by OZ Architecture's senior living team and principal architect Jami Mohlenkamp, the Lodge at Grand Junction is a 38,700 SF, 48-unit senior living community. Of those units, 36 units will be assisted living studios and one-bedrooms, and 12 units will be memory care studios.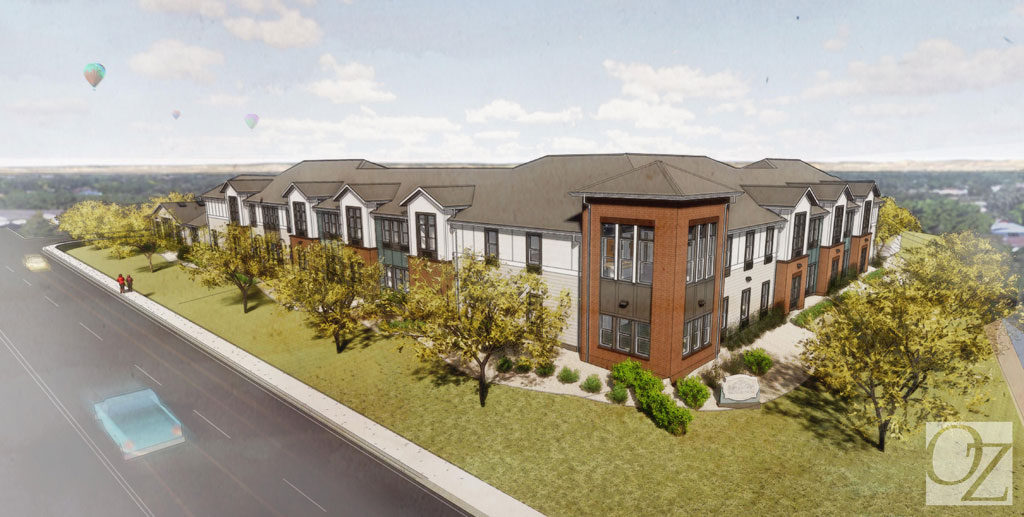 The Lodge at Grand Junction will feature amenities including a two-story entry lobby and dining facilities—complete with private dining room—served by a full on-site commercial kitchen. Communal living spaces will have televisions, comfortable lounge seating and fireplaces. OZ Architecture also designed a multipurpose room with a kitchen for resident use, and a theater room, computer room and library to support social programs and community.
Wellness amenities include a gym, salon and spa, and on-site wellness clinic with an on-staff nurse to assist with developing personal care plans. For off-site medical visits, complimentary transportation is provided.
Assisted living residents will have use of a greenhouse, which offers residents the opportunity to grow vegetables and flowers during all four seasons of the year. Memory care residents will have access to an interior sun room and an enclosed, landscaped garden outside. These amenities promote a stronger connection to the outdoors, which is an important part of the WellAge senior living model.
"It has been really exciting for OZ Architecture and our team to continue our work for older adults on Colorado's Western Slope," said Mohlenkamp, head of the senior living practice area at OZ Architecture. "We appreciate the support we've received for the project from the City of Grand Junction and its community, and we look forward to this project adding additional care and services for aging adults."
The Lodge at Grand Junction is slated to open in the summer of 2019. Shaw Construction is the general contractor on the project; Bow River Capital Partners teamed with Pacifica Capital Investments and Rocky Mountain Senior Housing as an equity partner. Bank of Colorado Glenwood Springs provided financing.
About OZ Architecture
Headquartered in the vibrant RiNo district of Denver, and with studios in Boulder and Colorado Springs, OZ Architecture has been at the forefront of design since 1964. The OZ team includes over 165 architects, designers, strategists, and artists whose broad range of expertise and passions create a variety of project types on every continent. The firm is recognized for designing award-winning projects that make a positive and lasting contribution to the community. For more information, visit www.ozarch.com.