In a key move to positioning itself as a leading medical research institution, UC San Diego Health transformed what was once a community hospital into a world-class destination for patient-first care. Reflective of UC San Diego Health's vision, "to create a healthier world – one life at a time – through new science, new medicine and new cures," the 245-bed Jacobs Medical Center embraces the future intersections of technology, medicine and patient experience.
Connected to USCD's existing Thornton Hospital and located adjacent to the new Altman Clinical and Translational Research Facility, the building is a translational medical center in the truest sense – embracing a "bench to bedside" model and facilitating the convergence of research, education and clinical care. Although one building, the 10-story 509,000 sf hospital functions as three hospitals – housing centers for women and infants, cancer care and specialty surgery.
Everything about the building, from its expansive art collection and carefully planned staff spaces to its significant architecture, seamless sustainability elements, one-of-a-kind surgery suite, integration of technology and meticulous details make the hospital nothing short of remarkable.
A Building Designed with Ambition
From the outset of the project, UC San Diego Health envisioned Jacobs Medical Center as a leading-edge healthcare center on numerous fronts spanning patient experience, architecture, sustainability and more.
The collaborative, multi-disciplinary design team created over 60 design concepts with a wide range of configuration and relationships of Jacobs Medical Center to other buildings and medical facilities on the campus. What emerged is a building with unique curvilinear form driven by advanced computer parametric modeling to capitalize on views of the surrounding La Jolla Valley. The building geometry creates a subtle continuous flowing curve of the exterior, a dynamic form that changes its visual form as one passes around the building perimeter.
Positioned on what was previously a parking lot/brownfield site, the hospital is designed to adhere to LEED silver standards, and reflects a number of Well Building Principles. Key sustainability features include:
An extensive landscaping strategy, including drought-tolerant plantings and the inclusion of sprawling greenspace at the ground level and at the patient level via raised gardens. Meandering pathways throughout the site encourage patients and staff to remain active.
The overall curvilinear form of the hospital maximizes daylight and minimizes solar gain and glare. Fritted glass serves as buffer to the harsh southern California sunlight, reducing the workload for the buildings air conditioning system. There are also sunscreens on the exterior façade to help minimize solar gain and glare.
The overall interior – with the inclusion of floor-to-ceiling windows, artwork, neutral colors, curved corridors, modern finishes and state-of-the-art technology – supports cognitive and emotional health.
The building is positioned in close proximity to bus and light-rail transit, provides designated parking for low-emitting vehicles, and includes bike storage and changing rooms to encourage alternative transportation.
Located adjacent to the building, the design team also designed a LEED Gold central utility plant that breaks away from the standard concrete box design. The CUP reflects the organic nature of the hospital in a curvilinear, eco-conscious facility that appears to be growing from the earth. It's the first stand-alone medical center energy plant to achieve LEED Gold certification.
Focused on Energy Performance
Designing buildings able to respond and mitigate multiple and sometimes opposing performance criteria – a critical focus of Yazdani Studio of CannonDesign over the past decade – is an exciting challenge. Understanding that every point on a building has a unique relation to the building's orientation and program, it is feasible that a building's performance can be optimized by tuning each of these points on the building to unique positions that enhance its ultimate performance.
Historically, various environmental, social, functional and contextual considerations have worked to inform the visual expression of a building façade that has produced orientation-based uniformly articulated facades that deploy singular, one-size-fits-all solutions to responsive enclosures. The use of computer driven analysis exploits the benefits of panel variation in building design through the evaluation of large arrays of unique components and complex data sets that when optimized simultaneously create a more scientific approach to optimization. All of this data is continually tested through computer simulation to quantify and enhance the measurable aspect of these performance gains in real time as massing decisions are made. This cyclical process between form orientation and performance continues until all criteria are fine-tuned into an optimized solution. Our team leveraged this approach on Jacobs Medical Center to drive energy performance results.
Large healthcare buildings typically consume a significant amount of energy due to the very stringent medical, technical and operational requirements in hospital design and construction. Aware of this, the design team equipped Jacobs Medical Center with numerous features to reduce energy consumption. In fact, in 2018, the American Society for Healthcare Engineering (ASHE) awarded UC San Diego Health with an Energy to Care Award for reducing its EUI by 10% from 2016 to 2017 – which was almost entirely a result of Jacobs Medical Center.
One of the leading energy performance features of Jacobs Medical Center is actually the placement of photovoltaic panels on the rooftops of six neighboring buildings and parking structures. Moreover, all electricity purchases from the California grid for the building is 100% renewable as of 2017. Jacobs Medical Center also relies on one of the largest variable air volume HVAC systems in a healthcare building, which better optimizes heating and cooling and ensures the system only kicks on when required by set parameters.
Additional energy performance features include:
The overall form of the building was influenced by significant solar studies; in response to northwest and southeast exposure, solar control was placed directly on the glass facade (ceramic frit).
Occupancy sensors and dimmable controls better optimize lighting, ensuring only the right amount of light is used as needed. The floor-to-ceiling windows throughout allow natural daylight to penetrate deep into the building.
A new Central Energy Plant provides chilled water, steam and emergency generator power for the entire campus and can expand to support another 500,000 SF of future building space
Actual electricity consumption (the total amount of electricity building consumes) is 13,554,953 kWh/year. Net Electricity Consumption (Subtract annual production from energy use: 13,554,953 kWh/year – 1,374,423 kWh/year – 2,982,090 kWh/year) is 9,198,440 kWh/year.
A Conservative Approach to Water
Being in such a dry and arid climate, water conservation was of the upmost importance while designing Jacobs Medical Center. Overall, the site uses very little turf, with all of the plantings being drought tolerant. By using low-flow and drip irrigation, advanced irrigation controllers, and municipal reclaimed water, no potable water is used for landscape irrigation.
All lavatories, showers, and toilets in the facility are low-flow and feature water efficient plumbing, which supports the hospital in achieving water use 40% below baseline set by the 1992 Energy Policy Act.
By providing a separator and an underground detention system, stormwater runoff does not contribute to disruption of the surrounding watershed. Post-development runoff rates and volumes match predevelopment. The design team used the stormwater detention system as an opportunity to create unexpected landscape elements, such as secret meadows and intimate contemplation gardens. 
Incorporating Nature's Therapeutic Benefits
The design of Jacobs Medical Center also takes advantage of the important role nature can play in heating and recovery, providing numerous connections to the outdoor environment. Dubbed a "garden hospital" due to the unique intermingling between buildings and landscape, multiple elevated gardens and terraces bring nature up to the patient level. Furthering the connection to the surrounding landscape, the interior color palette and finishes reflect the neighboring canyon, nearby ocean and the West Coast's breathtaking sunsets.
The building massing capitalizes on views to the outdoors for all patient rooms, with 95% looking out onto the La Jolla landscape and the remaining 5% with views to outdoor gardens. Each patient room contains floor to ceiling windows designed to allow the patient to see outside, even when lying down, further connecting the outdoor environment to the interior spaces and allowing the landscape to be incorporated into the patient room.
Outside of the patient rooms, daylight filters throughout the floors, and family rooms are optimally designed in prominent locations at the ends of the corridors to allow maximum light and views. Using daylight as a tool to combat disorientation and capitalizing on exterior views to assist with wayfinding, the hospital helps users easily navigate the building. Daylight has even been added to spaces where it is not typically found, including the OR and the below-ground pharmacy and laboratory spaces.
By numerous measures, Jacobs Medical Center stands out as a beacon for healthcare design. It leverages bold sustainable design features to limit its impact on the environment while taking patient care and staff experience to important new levels.
About the author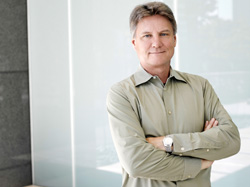 Craig Booth, Principal
Craig Booth is a Principal for the Yazdani Studio of CannonDesign with more than 20 years of architectural experience and has helped establish the Studio's design vision at the intersection of boutique practice and global design firm.
CannonDesign is an integrated global design firm that unites a dynamic team of architects, engineers, industry experts and builders driven by a singular goal — to help solve our clients' and society's greatest challenges.