Whether it is specifying products and materials for the interior or the exterior of the building, architects have the difficult task of staying up to date on the latest enhancements, trends and innovations. When it comes to building designs that incorporate metal building products as part of the building envelope, whether it's the entire building or an aesthetic design element, understanding the coatings used on the metal substrate is incredibly important. Here are five things to consider when specifying a metal exterior and the coatings that will protect it from the elements.
1. Coating Properties
Before selecting the appropriate coating for your design, it's important to understand coil coating properties and how they lay the foundation for its performance. There are four principal ingredients in every coating:
Resin: The primary component of a coating. Binds together all components of the paint formulation and is the source for the coating's durability, physical properties and weather resistance.
Pigments: Provide color and function such as camouflage and chemical resistance.
Solvents: Transport solids to and from the substrate.
Additives: Any number of chemicals added to the coating to enhance paint performance.
Coating applications also range from good to best in performance depending on the resin types. The different coil coating types include:
Polyester: Ideal for limited sun exposure or interior applications with limited weather performance.
Silicone-Modified Polyester (SMP): For extreme conditions, SMP provides superior damage resistance, providing protection and durability against scratches.
Fluoropolymer (FEVE): A resin-based coating that provides a unique combination of vibrant colors and gloss.
Polyvinylidene Fluoride (70% PVDF): The current state-of-the-art coating. The carbon/fluorine bond is one of the strongest chemical bonds offering exceptional weathering performance.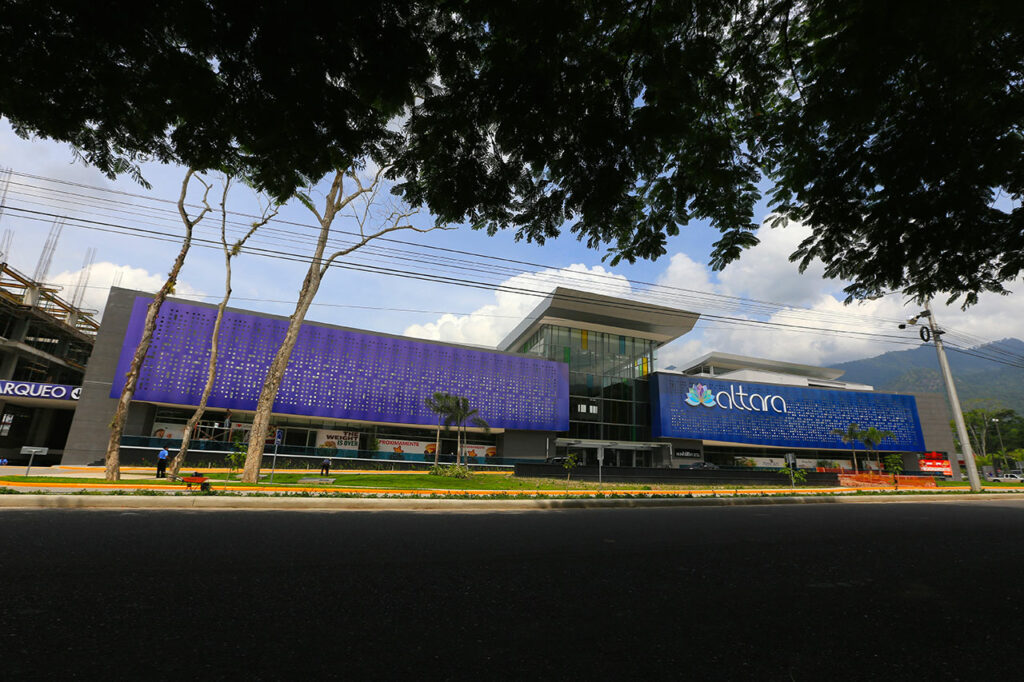 Sherwin William's Fluropon Effects Kameleon™ Colors were used to create a dynamic façade for the Altara Center business park in Honduras. Depending on time of day and lighting or perspective, the colors appear to shift. (Photos from Alpolic)
2. Building Type
The type of your building is the most important consideration for choosing a coil coating. Each application is ideal for a specific climate and structure, so you want to ensure you are investing in what is necessary to uphold the demands of your building type. Light industrial or commercial buildings such as a factories or agriculture facilities, require silicone-modified polyester applications to meet their performance needs. In contrast, high-end monumental buildings such as stadiums, educational facilities, hospitals or other high-end commercial projects, are expected to deliver long-term performance. For these types of structures, it is important to collaborate with metal product manufacturers who offer products coated with either 70% PVDF or FEVE.  FEVE is ideal for buildings that are identified by their colors and branding, such as restaurants, retail stores, automotive dealerships, corporate facilities, and so forth.
From metal walls to metal roofs and metal building accessories, there are an array of metal products that can be applied to various building types. Metal walls panels such as insulated metal panels (IMPs), composite wall panels and single skin panels, are popular solutions for architectural and commercial buildings because they offer an array of design and aesthetic capabilities, and act as a protective weather barrier. Metal roofs are also a popular and sustainable application for protecting both commercial and residential buildings.
You can also let the coating color inspire the design of your project. As mentioned earlier, pigments dictate the color and function of coatings, and those within PVDF and FEVE coating systems can create visual effects that make your building shift, shine and stand out. Coatings with color changing pigments create a consistent iridescent gradient look that makes building colors shift when viewed from different angles or lighting. Other coating effects include an intense sparkle element that can be combined with any color in architectural coatings. Both elements may inspire you to create a memorable design with distinct angles.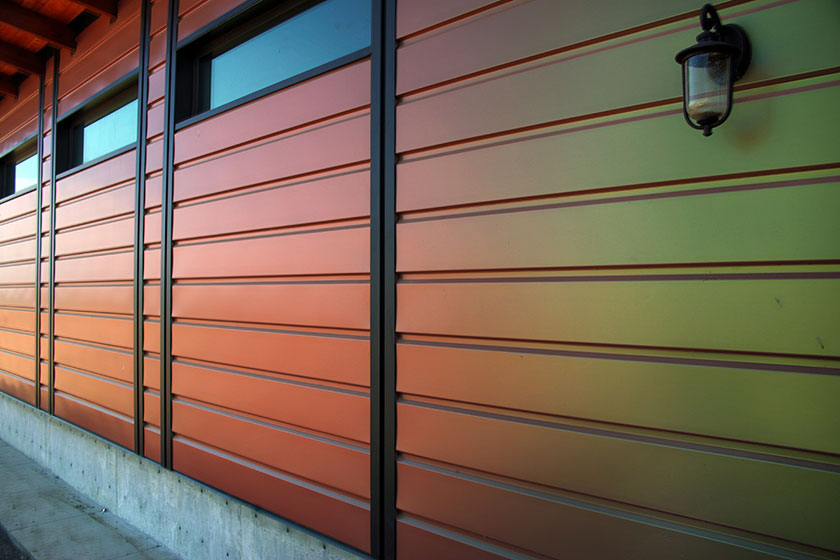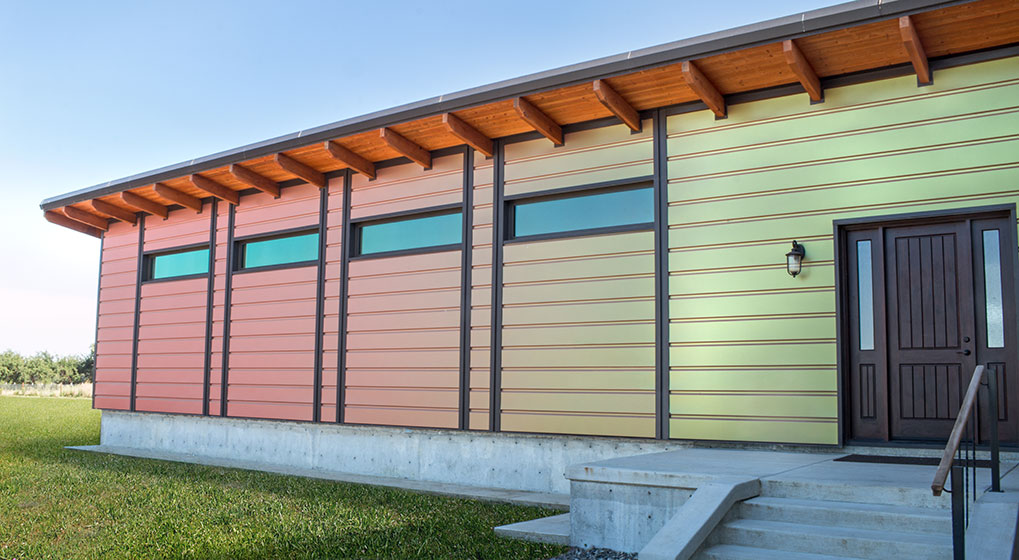 Sherwin William's Fluropon Effects Kameleon™ Colors were used to create a head-turning, net-zero home in California. Depending on time of day and lighting or perspective, the colors of the home appear to shift.
3. Location and climate
Beyond the aesthetics and type of building, it is also critical to consider where it will sit. Exposure to the sun (UV light), moisture, humidity, high temperatures and temperature fluctuations can lead to color changes, chalking, blistering, corrosion and many other physical factors that can affect the performance and protection of the metal coating. If you are designing a building for the coast or shoreline, it is important to consider coatings that protect against corrosion.
For climates with heavy sun exposure, you will want to look for coatings with strong resin types to reduce the risk of fading and chalking. Resins are what bind together all the components of a paint formulation and increase the physical strength and chemical resistance of a coating film. The stronger the resin bond, the more the coating will look like new.
Facilities in sunny climates may also be suitable for coating applications with solar-reflective pigments. These solutions can help reduce heat absorption, reduce sun exposure indoors and ultimately lower facility energy costs without sacrificing the durability or beauty of the building.
Climate is not the only consideration. For settings susceptible to vandalism such as urban areas, consider protecting your facility with graffiti resistant coil coating solutions and removal systems. ASTM (American Society of Testing and Materials)-compliant graffiti resistant systems can be built in for all building products and give you peace of mind that your coatings are protected. In addition, should graffiti appear, be prepared to quickly and safely remove it with a certified graffiti removal service that is well equipped to handle this type of work. Ensure that you are choosing a solution that has been proven to perform alongside your building's location and climate.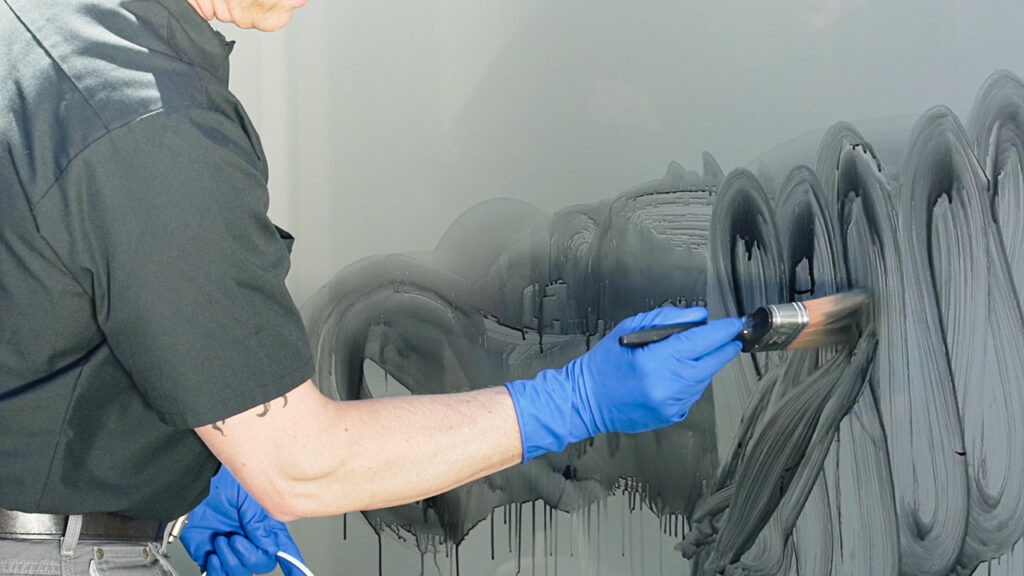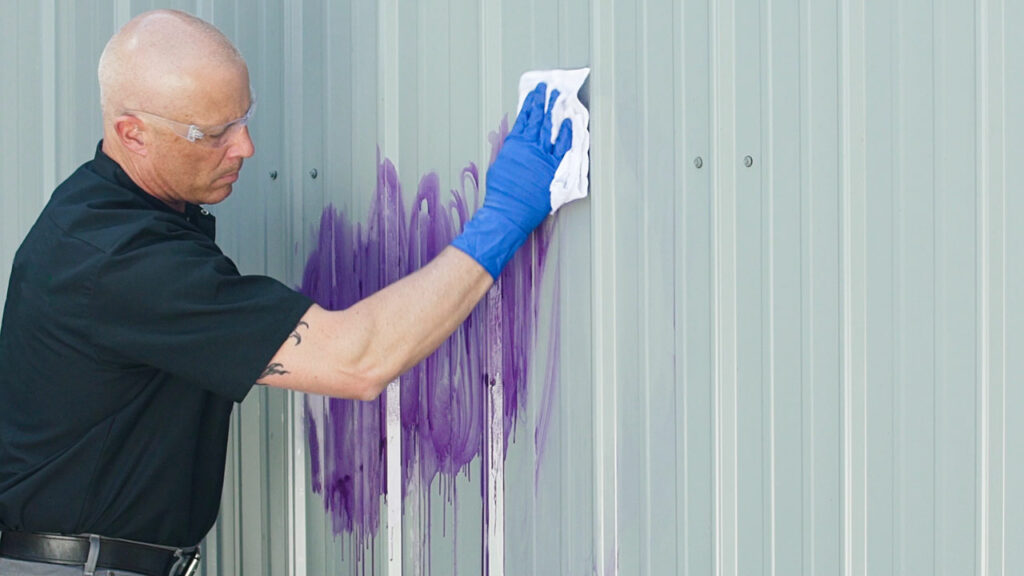 Two-part graffiti resistance systems make it faster and easier to protect the building exterior and remove unwanted damage.
4. Health and environmental impact
More and more architects are looking for long-term solutions that not only aid the environment today, but that also will meet sustainability standards of the future. For instance, although not currently regulated in the U.S., the International Future Living Institute (ILFI), the Green Building Council (GBC) along with their industry partners, have succeeded in standardizing requirements for Hazardous Material Reduction (e.g. the Red List) and Material disclosure (e.g. Declare Labels and the HPD v2).  This standardization allows architects to find and choose the right products for their project while also meeting the most stringent environmental standards.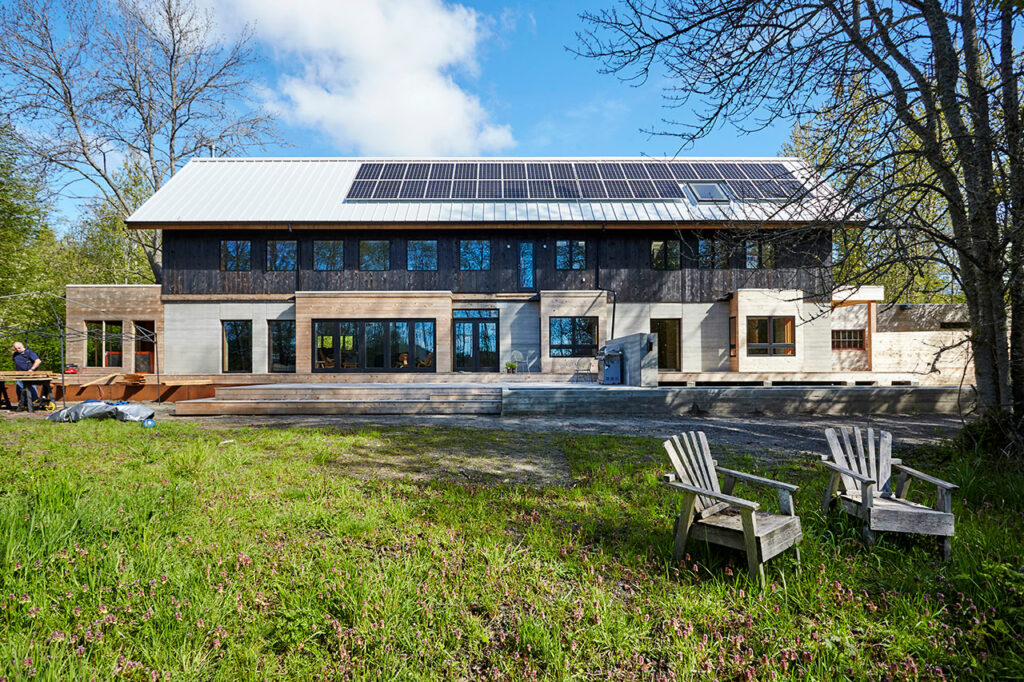 The use of Fluropon Pure snowdrift white on the roof contributed to the building's aesthetics, energy efficiency, and the Living Building Challenge's green building rating system. The metal roof panels and coating used on the home are certified under the Materials Petal.
5. Seek reliable, innovative and supportive partners
Once you have considered the building type, location and environment, it is critical to identify a partner who can help guide you from blueprint to grand opening. Partner with a coatings provider that has a solid reputation for quality, integrity and dependability. The leading providers have a rigorous testing process for every climate and variable, and they are constantly innovating to meet current and future customer needs. Not only should their products have a proven track record, but their sales, service and technical teams should be reputable for superiority as well. While choosing a coating that is fit for your building environment is important, your investment will not get you far if the coil coating is not backed by a provider who brings expertise, superior service and innovation that will deliver long-term performance for your building.
About the author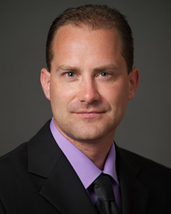 Channing Beaudry, Global Technical Director, Sherwin-Williams Coil Coatings
Channing Beaudry leads the Global Research and Development Group for Sherwin-Williams' Coil and Extrusion coatings division.  With a dual degrees in Chemistry and Chemical Engineering from the University of Minnesota and over 20 years of experience in the paint and coatings industry, Channing has led the development of a wide range of innovative coating systems across a number of industries including general industrial segments and building products.  Channing works with architects and customers to understand their unique needs and develop coatings for metal building products that meet any aesthetic or specification while lasting long into the future.