A friend of mine who is a chef once told me his secret to enjoying a meal out. The first thing he does is take a bite of his dinner to experience the sensory pleasures immediately and directly – as anyone would. Take the chef out of the mix. Then with the second bite, he starts to analyze the dish with chef-level insight. This "chef technique' can be applied to any industry, including supply chain management and design.
It's great advice for anyone to experience their professional world on a more personal level as well. I take it to heart every time I stay at hotels as I travel around the world for my job as CEO of White Space. We manage the global manufacturing of custom interiors for the hospitality industry and for commercial spaces, including furniture, casework, fine millwork detailing and other finishing touches. Our mission is to help all those responsible for creating innovative and inspiring built environments achieve their missions. To accomplish that we apply what we call "active management" to the supply chain.  I'll explain what that means and why it's important in a bit.
When I walk into a world-class hotel today – applying the chef technique – what I notice immediately is the theatricality. That's true whether it's the Ace or the Standard on the hyper-trendy side; the Charlotte Street Hotel in London (part of Firmdale's mini-empire of impeccable coziness); or the Ritz Carlton – where refined elegance is delivered without stuffiness. Disclaimer:  we work with the Ritz Carlton to deliver on their highly-branded experiences.
What do I mean by theatricality?  A sense of drama that is created by the interplay of design elements: furniture, lighting and accessories – and of course, the people.  The buzz and thrum of conversation, the music (an entire industry in itself!), the clatter of ice in a cocktail shaker – these elements all combine to create the kind of elevated experience that guests are demanding today. The kind of experience they can't typically get through Airbnb. If Airbnb is about authenticity and intimacy, to compete hotels must offer theatricality and performance to create a more personal experience.
Of course, furniture plays a profound role in delivering theatricality and making a statement in public spaces and guest rooms. One reason the mid-century modern style is so ubiquitous in hotels around the world is that its aesthetic vocabulary is both dramatic and accessible. It's bold, yet warm. More and more I am seeing a level of attention being paid to the role of walls, floors and even ceilings as part of beautifully executed and fully engaging hotel projects that drive the theatricality of the space.
These formerly neglected aspects of hotel and hospitality design are being given a level of attention that we used to see in the late 19th and early 20th centuries – consider the legendary "palaces" like the Savoy in London or the Crillon in Paris. These critical dimensions of the "built experience" became less of a focus as time went on.
The great news is that a generation of amazingly talented designers is doing truly imaginative and creative work to bring walls, floors and ceilings back into the theatrical present. Involving new materials – many of which are sustainably harvested – and playing on the dramatic interplay of colors, textures and surfaces.
I can't help but think of the work we did for Disney in this context, helping to renovate and update the rooms of the original 1955 Disneyland Hotel, 5.  Together with WB Powel, we brought Kristin Smith Design Studio's vision to life by creating new furniture, casework, vanities, headboards and closets that remained true to the hotel's original spirit and aesthetic, but with enough modern flourishes that the end result feels timeless. We achieved this while meeting the standards necessary for CARB and the Architectural Woodwork Institute (AWI) certification. It's that kind of attention to contemporary trends and historical lineage that helps modern designers develop a unique audience.
When I travel in today's Instagrammable world, I notice guests taking pictures of hotel lobbies and panoramic public spaces. Often I also see them grabbing an image of a small but telling detail – light reflecting off a lacquered wall; a stunningly parqueted floor; the Frank Gehry-like curve of a ceiling. Perhaps the trend of Instagramming our food has made us more sensitive to detail, color and composition.
Earlier, I discussed our "active management" approach; I want to return to it here as it's relevant to the role of designers in creating an immersive guest experience. In a world where details are transcendent, the journey from imagination to actual creation – from vision to execution – can be treacherous for designers. The smallest modification from the renderings they sketch and the specifications they establish can change everything.
Typically, though, designers are cut from the process after they have put their drawing pens down. There are several reasons for this – none of which are acceptable to me – the most obvious being that designers have a reputation for being demanding. As the stereotype goes, designers are also often thought to be more interested in purity than budget and operational realities. However, I welcome their relentless desire for perfection. It pushes innovation and makes us and hotels better in the end.
Another reason designers are often cut from the process has to do with the complex nature of sourcing and purchasing; it involves multiple stakeholders: purchasing agents, general contractors and of course owners and their representatives.
It may not seem to be in the best interest of any of these participants in the ecosystem to invite designers into the process. They redline drawings and approve samples pre-production, but that's the extent of it. This is because the traditional sourcing industry built a closed system in which designers cannot participate. The industry wants designers to stay locked in their studios.
However, at White Space we have built an open system that welcomes designers into every stage of the process.  We encourage them to become part of the entire end-to-end production system starting at the initial design phase.  Often, a designer has a vision for unique treatment for a wall or a floor – but it's not realistic.  With our understanding of manufacturing realities, networked factory system and cultural reluctance to say "no way, that can't be done" to a designer, together we can turn the theoretical into a buildable reality.
We also invite designers into the production world, deeply engaging them during the sampling stage, giving them full visibility into the manufacturing process – whether that's through photographs, ongoing quality-control reports or even videos from the factory floor.  Designers act as a second line of quality control, in addition to the teams we have installed on site at every factory, who are already overseeing everything with a hawkish alertness.
In fact, we have found that from designers taking an active part in the process, they love being included and appreciate learning about the junction between design and production. With this experience, they are able to build production realities into their work for future projects – without sacrificing vision.
The system we have built allows designers to ensure the integrity of their work throughout the entire process.
The built environment has never been more important than it is today. Moving forward, we will see Millennials continue to shape the future of the hospitality industry as they seek out aesthetically and experience-driven atmospheres. The built environment matters deeply to them, and designers are at the heart of that. The choice is simple: should designers serve the manufacturing process, or should the process serve designers?  But now it's evident where I stand on the matter!
About the author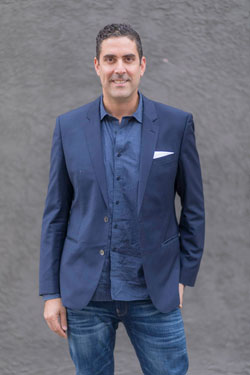 Aytan Litwin, Founder and CEO, White Space
Twelve years ago Aytan identified a white space in the industry – an opportunity to redefine global production by marrying craftsmanship and quality to the speed and scale the industry demanded. Aytan built this vision into an innovative and respected company through his entrepreneurial drive, worldwide business relationships, commitment to client service and passion for design. But for Aytan, merely winning the praise of discerning clients was not enough. His ultimate ambition – and White Space's, too – is to build a global supply chain that creates positivity throughout the entire manufacturing ecosystem, making the world a better place – whether you're building their furniture, or relaxing on it.