New façade coatings technology draws from nature to improve performance related to a number of key sustainability measures
Nature offers inspiration for a wide variety of pursuits, from the fine arts and sports worlds to new ideas in improving health care and combating climate change. That is one reason that the principle of biomimicry has emerged over the last two decades, as not only an established discipline in applied science but also a preferred process for improving building performance. At its core, biomimicry looks to nature for design inspiration, uncovering innovative and sustainable solutions to human challenges by emulating time-tested patterns and strategies in biological processes.
Examples of this approach, according to the Missoula, Montana-based Biomimicry Institute, include new wind-power turbines designed based on humpback whale fins, as well as the new buildings in cities such as Harare, Zimbabwe, with internal climate control systems developed by emulating the structures of termite mounds. Another significant area of study for sustainable building design and operations has been the successful application of biomimetic micro technologies in finish materials, sealants and coatings. One example is StoColor® Lotusan®, a highly water-repellent coating that emulates the function of a lotus leaf. Developed in Germany in the late 1990s, this product has a 20-year track record of self-cleaning and mold-resistant performance on building exteriors. A second façade coating that promotes rapid drying of water from its surface was introduced earlier this year. StoColor® Dryonic® takes inspiration from the fog-basking beetle found in the Namib Desert.
The benefits of these and other next-generation coatings include improved baseline performance, in particular under variable climate types and enclosure functionality requirements. Green building teams have adopted the coatings as a best practice in a wide range of applications — from a rainscreen-wrapped elementary school in Missouri to a stucco-clad condominium in Sarasota, Fla., and in hundreds of other commercial and institutional settings. The work underscores how biomimicry — including on the nano and micro scales — contributes to all facets of sustainability's triple bottom line: their exteriors and varied substrates are durable and resilient, reducing the need for reapplication and saving money and time while remaining as bright and luminous as when new.
Examples and comparisons of these high-performance coating systems follow, and illuminate the potential for biomimicry to continue improving the sustainability of a range of construction systems. The track record also helps explain why these formulations have been classified as "smart coatings" and intelligent technology among manufacturers of paints and sealants.
Using nature intelligently
Nanotechnology studies of lotus plants in the 1990s in Bonn, Germany, led by biologist Wilhelm Barthlott, sought to determine why their leaves easily shed water and dirt. Evaluations of the leaf surface microstructures revealed an answer: They offered minimal contact area for water. Barthlott created a similar nanostructure for use in exterior paints, which offered self-cleaning characteristics unseen in other formulations, thanks to the water-repelling effects at the micro-scale. The promise of this novel class of coatings was its ability to resist water, microbes, icing, and dirt accumulation on all surfaces, not just those finished with inherently non-absorptive materials such as plastics.
"Variations in the surface microstructure of hydrophobic materials can deliver widely differing results," states Blaine Brownell, AIA, in his article "The Evolution of Hydrophobic Design" published on Architect on July 11. Brownell is a materials researcher and author of the Transmaterial book series. He notes that a water contact angle of 90 degrees or greater describes a hydrophobic material, while the water contact angle of 150 degrees or greater yields a superhydrophobic surface, where water is much less likely to adhere. Seeing the potential for better material performance, Barthlott and his research team have studied about 24,000 different species of plants and animals exhibiting similar exterior traits.
Whether hydrophobic or superhydrophobic, the resulting coatings like StoColor® Lotusan® create surfaces that clean and dry themselves rapidly and, specified properly, can provide for years of effectiveness including on highly porous surfaces such as concrete, wood, stucco and more. This opens doors for multiple sustainability strategies, thanks to specifiable and desirable effects possible with hydrophobic coating systems in a range of contexts. Radiant color intensity, for example, can have a longer effective life thanks to the less pronounced degradation curves of hydrophobic materials. Also valuable is the lasting ultraviolet (UV) protection and weather resistance, which can contribute to the goals of varied green-building protocols, including Passive House, LEED and the Living Building Challenge.
Another valuable benefit arises in the reduction in microbiological growth on building exteriors, including the algae and fungi that discolor and degrade materials over time. Building surfaces designed to shed water and dry quickly provide improved performance over those that hold moisture and water, and these fast-drying surfaces have also been adapted from those found in nature.
In "Fog-basking behaviour and water collection efficiency in Namib Desert Darkling beetles" published in Frontiers in Zoology (July 16, 2010), Swedish biologists Thomas Nørgaard and Marie Dacke summarize how Darkling beetles in the coastal desert of southern Africa facilitate water capture from fog — a neat trick — as they roam the ridges of the dry dunes. Using its shell and forewings, or elytra, all covered in microscopic bumps, the beetles condense water on the hydrophilic upper tips of the textured surfaces, and then the useful liquid is diverted away into the hydrophobic depressions in between. With observations like these from the uniquely adapted "fog-basking beetles," application researchers have developed the Dryonic® technology now employed for façade paints. The coatings' micro-formed surface textures help dry dew and rain more quickly than standard paint formulations do, again protecting against damaging microorganisms and wear while improving color retention and durability on a variety of substrates.
Active sustainability solutions
Another benefit of biomimicry in sustainable design is the adaptation of responsive or smart materials that activate when exposed to certain environmental stimuli, leading to enhanced performance. These active materials inspired by nature include the more effective water-shedders, which can help clean surfaces through their beading and movement and can also interact with UV radiation to improve visual characteristics, too.  Employing a rapid drying coating is another way to boost the active behavior of a building surface to boost performance and sustainability.
Even more radical are "bioinspired materials" like the self-healing mortars combined with microbes being tested this year, or the recently developed liquid film at Harvard University that can alter its porosity depending on the level of tension applied to the surface. This kind of managed or tunable performance can be used to fix damage or shed water rapidly — or to make it slow or stop in place, depending on the desired characteristic. Yet today, many promising ideas like this adaptive material remain lab experiments only.
For today's building projects, coatings being introduced with properties that come straight from nature can add a new dimension to a building's adaptive capacity and operational profile. "Smart coatings," as they are called, are designed to protect a building against at least one of six key performance impacts: mechanical (such as hail or thermal expansion); contaminant (such as mineral or organic pollutants); biological (such as fungus or termites); water (such as humidity or rain); temperature (such as ambient or fire-related); and light (such as reflectivity and UV radiation). With these in mind, the use of biomimicry has been shown to create architectural coatings that enhance building performance in a range of ways, including:
– Improved efficiency. Rapid drying and water-shedding coatings have been found to reduce both maintenance costs and facility downtime.
– Increased durability, safety and comfort. With biomimicry enhancements, coatings better resist the growth of mold, mildew, and algae, and they exhibit UV stability and excellent weather- and chalk-resistance.
– Extended building lifecycle. Improved coatings provide for enhanced reliability of façade systems, materials and assemblies, and the more durable formulas can help reduced total cost of ownership, or TCO.
– Boosting cleanliness and long-term aesthetics. Coatings with biomimicry-related enhancements demonstrate a very high level of water- and dirt-repellence after drying of the coating.
In addition, these biomimetic materials address the true needs of a buildings, not just the building codes and certification standards. Using the Lotus-Effect® Technology, for example, dirt simply runs off with the water that falls on the façade, while the façade remains dry and attractive — and this is shown to work effectively even on the building sides that are particularly exposed to the weather. Yet the formulations are vapor-permeable, allowing the substrate to breathe naturally and resisting blisters caused by trapped water vapor. The UV-resistant systems also boost color retention dramatically, further extending the product lifecycle.
In the example of the StoColor® Dryonic® coating, the extremely quick-drying surfaces protect better against the effects of rain, fog, and dew, with an environmentally friendly and long-term safeguard against algae and fungal attack. Helping to underscore the effectiveness of the novel coatings, a study by the Fraunhofer Institute for Structural Durability and System Reliability LBF compared five façade paints to determine their drying properties under typical environmental conditions. With thanks to Africa's unique fog-basking beetles, the Dryonic® applications excelled with the fastest drying times.
About the author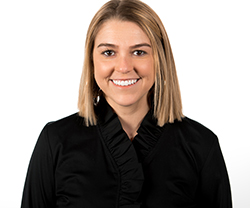 Amanda Poole
Associate Product Manager, Coatings / Sto Corp.
Atlanta-based Amanda Poole is an executive experienced in the building materials industry and serves as Associate Product Manager, Coatings with Sto Corp. Poole earned her Master's in Public Administration (M.P.A.) from The University of West Georgia and a BA in Organizational Communication from Queens University of Charlotte