High-performance architectural coatings for extruded aluminum
University of Washington, College of Engineering, Nano Engineering and Sciences Building in Seattle. Photo by Aaron Leitz Photography, courtesy of ZGF
by Tammy Schroeder, LEED® GA, Linetec's marketing manager
Manufacturers of window, storefront, entrance, curtainwall, skylight framing; rainscreen and canopy systems; and exterior sun shades and interior light shelves all rely on aluminum extrusions to achieve the dependable strength and performance of their architectural products.
High-performance, polyvinylidene fluoride (PVDF) resin-based coatings provide product manufacturers, architects, specifiers and building owners with the capability to select nearly any conceivable color or combination of colors, while enhancing their products' durability and longevity.
A better understanding of the components, aesthetic options and performance specifications will help with selecting the best architectural coating for the architectural extrusions to meet the unique applications and project requirements.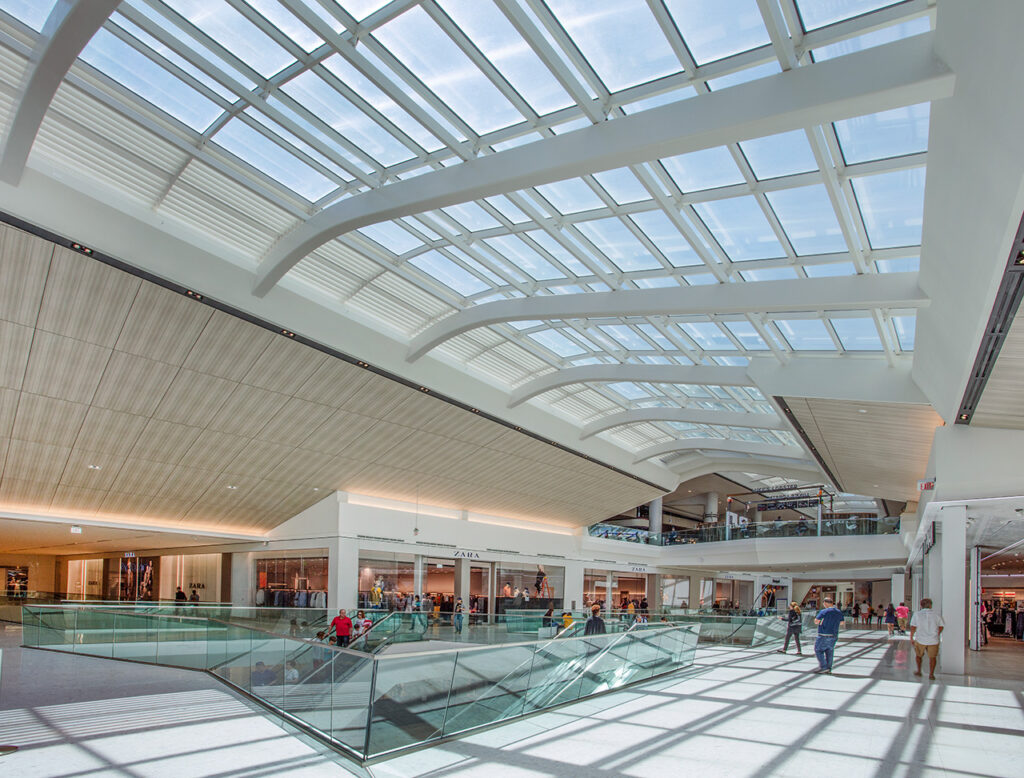 Aventura Mall in Miami. Photo by William Lemke, courtesy of Super Sky Products Enterprises, LLC
Coating Composition
High-performance PVDF resin-based coatings may be defined as a thin layer of plastic film containing resin, binder and pigments that is applied to the extruded aluminum's surface to provide protection and a decorative organic coating.
The exact composition of a particular paint coating is often complex and proprietary. In general, most paints contain resins, pigments, reducers and additives.
Resins
Resins are the compounds in the paint that form the film and hold the pigment in place. The resin system incorporated into the paint is the determining factor in the specific characteristics and performance properties. In the architectural industry, two primary resin systems are involved in refinishing of metals: fluoropolymer based (PVDF), or "baked enamel" type, usually composed of acrylic or polyester resins.
Pigments
Pigments are the material added to the paint to give it color or to enhance certain physical properties of the coating. The selection of pigments is based on physical needs, durability, gloss, color fastness and chemical exposure. Pigments are both naturally occurring, as well as synthetic.
Reducers
Reducers are used to serve different purposes: Using an active solvent will reduce the viscosity. Diluent solvent is used to extend a solution, but will weaken the power of the active solvent. Thinner solvent can extend a solution, but does not impair the power of the active solvent.
Additives
Additives are related to paint type and specification. These can be added to enhance gloss, hardness and other characteristics.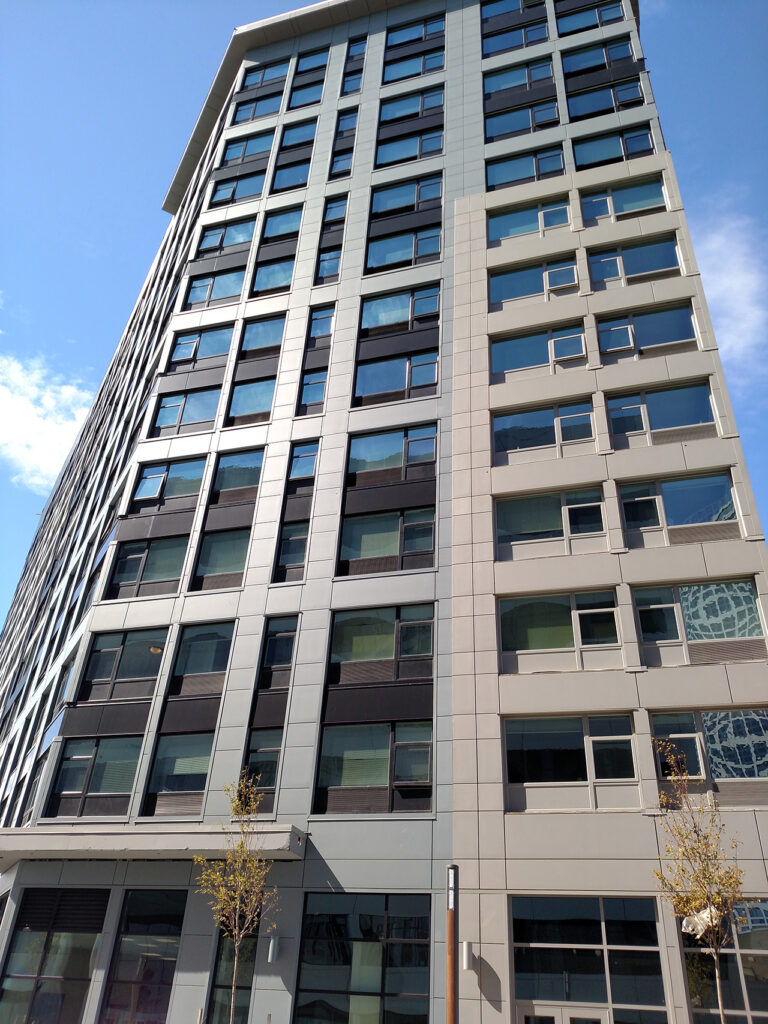 3 Journal Square in Jersey City, N.J.
Photo courtesy of Winco Windows
Paint coatings can be classified by function, curing system, volatile components and resin system.
Function
Function can be described as filler, surfacer, size coat, primer, tie coat and clear coat.
Curing System
Different types of curing systems include air dry, air dry/force dry, bake/cure, catalyzed and radiation.
Volatile Components
Solvents, waterborne (water based and water reducible) and 100% solids.
Resin System
Acrylic, epoxy, polyester, polyurethane, vinyl and PVDF; these often are referenced by their resin brand names. As examples:
• Hylar 5000® is a registered trademark of Solvay
• Kynar 500® is a registered trademark of Arkema Inc.
The resin system determines the performance and properties of the paint. A gallon of high-performance paint for aluminum extrusion typically would contains 10% pigment, 20% resin and 70% solvent (reducers and additives).
Color and Appearance
The range of aesthetic design choices possible with architectural coatings for extruded aluminum is one of its key advantages. Pigments impart the majority of a paint's color. White colors remain the most popular color choice for architectural extrusions. As anyone who has looked at a color deck knows, whites can vary from Glacier White to Bone White, from Italian Limestone to Greek Vanilla.
Most finishing service providers offer a variety of standard, premier and custom colors. A few finishing providers have invested in advanced equipment and quality control techniques, and earned partnerships with coatings manufacturers that allow for in-house computerized blending capabilities. As the United States' largest finisher of architectural aluminum products, Linetec showcases a library of more than 55,000 unique colors applied through its paint facility. Along with its existing colors, custom matches are continuously formulated including in specialty type paints, such as metallics, micas, spattercoat and textured coatings.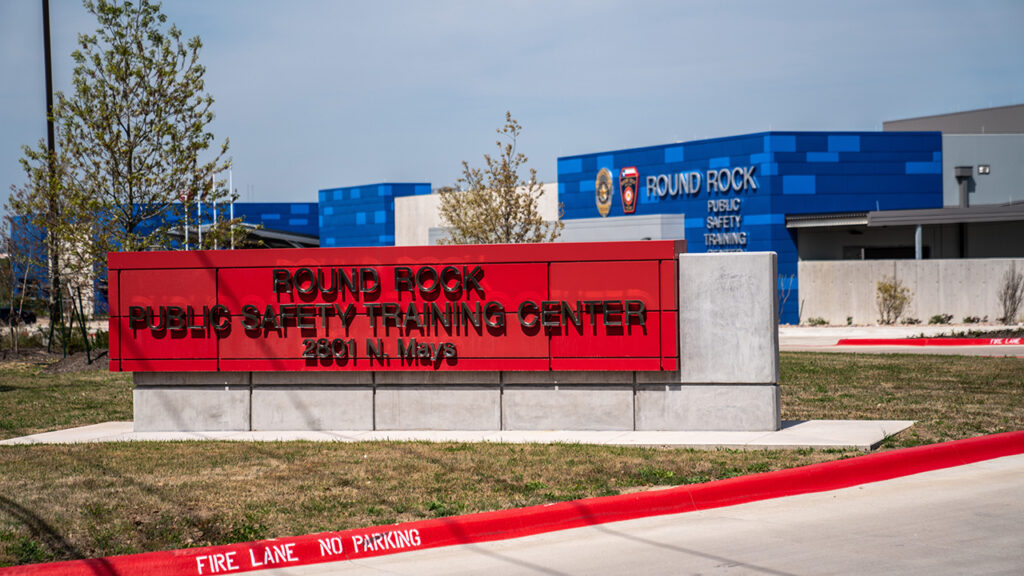 Round Rock Public Safety Training Center. Photo by Ethan Lankford, City of Round Rock, Texas
Metallics and micas add vibrancy to the coatings. The metal flakes within the pigment catch the light to create a shimmer or sparkle. Spattercoat finishes combine several color selections and are hand-applied in patterns to resemble marble or other decorative designs. Textured coatings add tactile element to coatings, such as when mimicking shades of terra cotta.
Performance Specification
Retaining the color and resisting degradation from ultraviolet (UV) radiation are notable performance strengths of architectural painted coatings on aluminum extrusions. Paint also protects and maintains the structural integrity of the aluminum, withstands salt-spray, may be ordered in small batches, and generally is a cost-effective finishing option available for accelerated construction schedules. After installation, small dings and scratches also can be touched-up in the field by a professional applicator.
To ensure optimal performance of coated aluminum extrusions, reputable finishing service providers, product manufacturers and coatings manufacturers follow the American Architectural Manufacturers Association (AAMA). The specification series, most recently updated in 2017, is known by its document numbers: AAMA 2603, AAMA 2604 and AAMA 2605.
AAMA 2603 – typical for interior specifications
Required to show only "slight" fade and chalking after one year, AAMA 2603 has no specifications for gloss retention and erosion resistance. Baked enamel (acrylic/polyester) paints should meet AAMA 2603. These painted finishes are less expensive than PVDF resin-based coatings, but have poor resistance to color fading and chalking. Baked enamel coatings are harder than PVDF and can be used for interior applications where color retention is not required.
AAMA 2604 – an "intermediate" specification
AAMA 2604 specifications are more demanding than AAMA 2603. If a finish qualifies, then five years after its application the color must have faded no more than 5 Delta E, the chalking no greater than 8, the finish still retain 30% of its gloss and no more than 10% of it has eroded. This finish will provide good color and gloss retention. It also will provide good hardness and abrasion resistance. Painted finishes meeting this specification typically are 50% PVDF resin-based coatings and commonly are applied on aluminum storefront framing, entrances or other high-traffic areas.
AAMA 2605 – the specification for high-performance exteriors
The highest-performing organic paint coatings meet AAMA 2605, Voluntary Specification, Performance Requirements, and Test Procedures for Superior-performing Organic Coatings on Aluminum Extrusions and Panels. Ten years after it has been applied, an AAMA 2605 paint will have faded no more than 5 Delta E, the chalking will be no higher than 8, at least 50% of its gloss will still be retained and only 10% of the film will have eroded.
These finishes exhibit outstanding resistance to humidity, color change, chalk, gloss loss and chemicals. Painted finishes meeting this specification typically are a 70% PVDF resin-based coatings and are commonly applied on aluminum framing and systems for monumental architectural projects.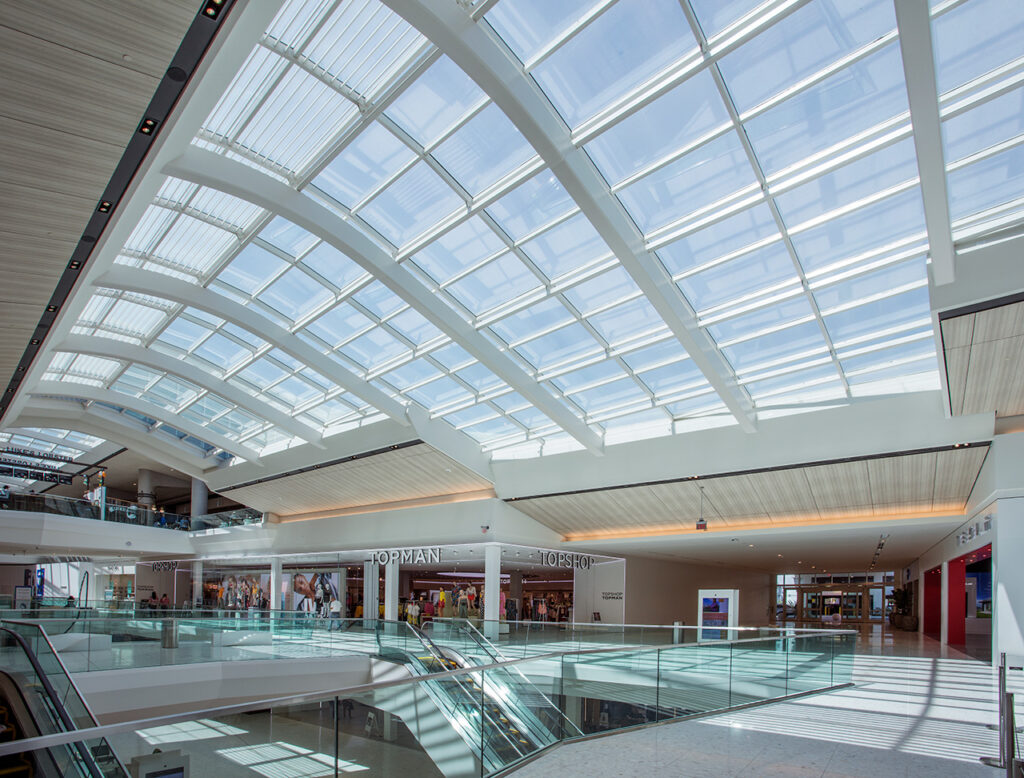 Aventura Mall. Photo by William Lemke, courtesy of Super Sky Products Enterprises, LLC
Regardless of specification, all coatings should be visibly free from flow lines, streaks, blisters or other surface imperfections in the dry-film state on exposed surfaces when observed at a distance of 10 feet from the metal surface and inspected at an angle of 90 degrees to the surface.
Durability and Sustainability
Painted aluminum extrusions seeking the longest life cycles should feature a 70% PVDF resin-based coating system. This is applied by the finishing service provider's facility using a chrome phosphate pretreatment, along with an inhibitive chrome-rich primer, to meet or exceed all the requirements of AAMA 2605.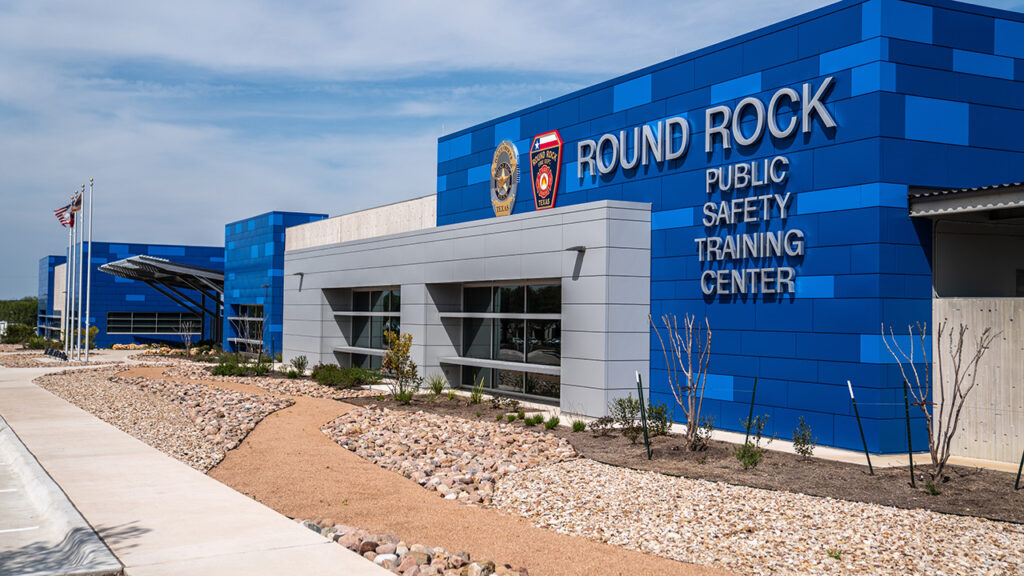 Round Rock Public Safety Training Center. Photo by Ethan Lankford, City of Round Rock, Texas
Beyond ensuring the highest quality application, environmentally responsible finishers also can manage liquid paints' volatile organic compounds (VOCs) content in their facilities before the coated material returns to the product manufacturer or arrives at a jobsite. Using a 100% air capture system, they can safely destroy the VOCs with a regenerative thermal oxidizer. The more innovative finishing applicators then re-use the heat energy byproduct to improve process energy efficiency. This process of re-use is completed before the material exits the paint line.
At the end of the useful life of the painted aluminum extrusion as an architectural product, it can be stripped and re-used, or the aluminum can be recycled into another product.
Selecting the right finish for architectural aluminum extrusions supports the project's aesthetic and performance goals, contributing to the environmental and structural integrity of the building, and creating a lasting impression for all to see.
About the author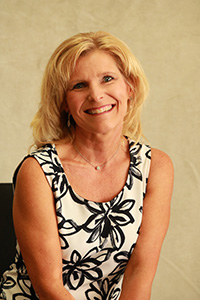 Tammy Schroeder, LEED® GA, serves as marketing manager at Linetec and as an industry educator on architectural coatings. With 20 years of experience in the finishing industry, she shares her knowledge of liquid paint coatings, powder coat and anodize with architects, specifiers and architectural product manufacturers in commercial and residential markets. Schroeder can be reached at tammy.schroeder@linetec.com.