As sustainability experts and forward-thinking design professionals know, biophilic design isn't simply a trend — it's the way we're defining the future. Many designers and architects are bringing greenery indoors through living walls, as they make a major aesthetic impact while maximizing the array of benefits associated with designing with nature in mind.
The positive effects of incorporating plants into the built environment are well documented:
Employees with plants situated throughout their workplace can experience a 30-60 percent reduction in stress levels and negative feelings. ((NGIA), Nursery and Garden Industry Australia Limited, 2010)
Hospital patients who view plants can have significantly shorter hospitalizations and require less pain medication.  (Mattson, 2009)
Those with access to natural elements in their workspaces can enjoy increased perceptions of well-being by up to 15 percent. (Professor Sir Cary Cooper & Browning, 2015)
Airborne mold spores and bacteria can be reduced by up to 60 percent using plants. (Scruton, 2017)
These data have made biophilic design a new imperative — but designers and architects are left with the task of bringing the indoors to life in a practical sense. In order to specify the vertical gardens that an increasing number of clients with workplaces, hospitals, retail environments and other commercial design projects are requesting, there are a few logistical aspects to keep in mind.
Wall Types: Modular/Free-Standing vs. Custom
Custom living walls are great for large-scale coverage — think three-story atrium walls or a garden that runs the length of a long hallway. They make an incredible visual impact in a space, offering health benefits while also serving as an alternative to a large sculpture, oversized art piece or other installation.
However, living walls aren't reserved just for the major new build or remodeling projects with large budgets and plenty of space. Even smaller scale environments can have access to living walls that were previously either cost prohibitive or, if affordable, lacking in quality, function and aesthetics.
Now, design professionals have options. Everything from modular living walls that are double-sided with greenery to replace the dreaded cubicle, to wall-mounted vertical gardens with lease options that include lighting and even maintenance can be considered when specifying.
It's important to determine the overarching needs and any limitations when making the initial selection of a particular wall type, as this determines what specifications the living wall will require.

Plant Design: Finding What Thrives
Designers and architects will certainly have opinions on the placement and design of the plants themselves, as the selections can help further define the look and feel of a space. Color, texture and patterns must be taken into account in the same way a piece of art might be considered.
Living wall designers and interiorscapers will know how to balance the design intent with the realities of the environment, taking all factors into account. Surprisingly, even areas within the same interior can have different microclimates, whether due to height, proximity to HVAC, or other elements, and these aspects must be considered when designing the layout of the plants within the wall.
For instance, I recently designed a vertical garden in an office building where the client desired a true focal piece that could be viewed from every sight line in the workplace. Since the wall is over two stories tall and situated under a skylight, the top of the wall experiences more extreme temperature shifts and is much hotter during the day. Taking this into consideration, I included the asplenium 'Austral Gem' throughout the design, as this durable but elegant fern can not only thrive throughout all areas of the wall, but will tolerate the hotter and drier environment at the top portion, as well.
To best navigate these complexities, it's best for design professionals to consult a horticulturalist who understands how to best grow a variety of plants under an array of circumstances.

Plant Survival: Water and Light
After the right plants have been selected, access to light and water are critical to the success of any living wall. It might seem as simple as keeping a houseplant alive, but as with many things executed at scale, it requires much more attention to detail.
When implementing a custom wall, it's typically necessary to access the building's plumbing to connect a water source. And though direct access is the most efficient way to provide a vertical garden with a water supply, it may be difficult to achieve if the project is further along or the space is undergoing a simple refresh, rather than a new build or gut renovation.
In contrast, modular living walls usually feature self-contained water tanks, allowing for easier installation while also serving as an option even for renters who aren't interested in rerouting plumbing to reap the benefits of biophilic design.
However, access to a water source isn't the only requirement; irrigation systems, timers, grow lights, dosatrons and other instruments are all likely needed to keep the living wall system flourishing. With the right living wall partner, these items can be acquired with ease — either by sourcing necessary components for to make a custom wall system complete or by selecting a modular system with the items already incorporated.
With the flexible options available today, living walls are feasible in more indoor environments than ever before. And with the right planning, proper research and a good vertical garden partner, they can be beneficial and beautiful while also being practical.
About the author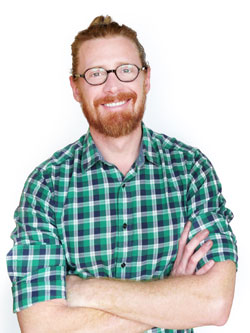 Nathan Beckner
Lead Plant Designer & Horticulturalist
Nathan's passion turned to plant design in 2008, when he left a successful 15-year career in the world of fashion and celebrity photography behind him to pursue a career in horticulture. His first big break in the plant world was as a rosarian (grower and procurer of ancient and heirloom roses) for Chicago's Gethsemane Gardens before joining the Sagegreenlife team. With a background in photography and design, combined with his love for plants, he was a natural fit as Sagegreenlife's Lead Plant Designer.
Sagegreenlife
Sagegreenlife is dedicated to building a better quality of life through living design. The company designs, manufactures and installs living green walls that can be scaled for any size project as well as interior design products that reimagine the way people interact with nature. Through advanced patented hydroponic technology, Sagegreenlife is committed to designing healthy, sustainable and aesthetically captivating spaces. With an array of design capabilities, Sagegreenlife is at the forefront of the green design industry.
CITATIONS
(NGIA), Nursery and Garden Industry Australia Limited. (2010, July Issue No. 6). TECHNICAL NURSERY PAPERS: The positive effects of office plants. Retrieved from Nursery and Garden Industry Australia Limited (NGIA): https://www.ngia.com.au/Attachment?Action=Download&Attachment_id=1430
Mattson, S.-H. P. (2009, Feb vol. 44 no. 1 102-105). Therapeutic Influences of Plants in Hospital Rooms on Surgical Recovery. Retrieved from HortScience: http://hortsci.ashspublications.org/content/44/1/102.full
Professor Sir Cary Cooper, C., & Browning, B. (2015). HUMAN SPACES: The Global Impact of Biophilic Design in the Workplace. Retrieved from Interface, Inc.: http://interfaceinc.scene7.com/is/content/InterfaceInc/Interface/Americas/Website%20%20Content%20Assets/Documents/Global%20Human%20Spaces%20Report/Global%20HS%20Report%202015_US/wc_globalhumanspacesreport2015us.pdf
Scruton, A. (2017, July 11). The Health Benefits of Indoor Plants and How to Avoid "Sick Building Syndrome". Retrieved from Professional Skills Development Institute: https://psdinst.com/health-benefits-indoor-plants-avoid-sick-building-syndrome/