Penton, parent company of New Hope Network, is set to move from its downtown Boulder Pearl Street headquarters to a new state of the art 60,000 square foot, cross-laminated timber (CLT) building in South Boulder. Penton will occupy the former warehouse space in the building referred to as "The Loading Dock" due to its adaptive reuse of a former warehouse and loading dock. The Penton space will include the transformed loading dock, reinterpreted as a wood-planked, pedestrian-friendly elevated boardwalk that connects to the indoor office environment via floor-to-roof glazed openings.
The site also includes a 30,000 square foot addition that will house Sovrn, a Boulder-based technology firm that helps publishers grow their businesses on the web. The Loading Dock was designed by award-winning national architecture and design firm OZ Architecture and is one of only a few in the nation to fully integrate CLT into its walls, floors, roof and structure. The team hopes this unique building will serve as a catalyst to transform the East Boulder office park.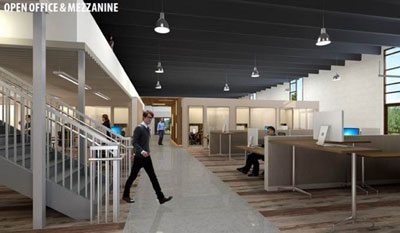 "The look of CLT has captured our imagination because of its inherent beauty and authenticity, as well as the opportunity to provide a built solution that is sustainable and high performing," said Amanda Johnson, associate principal at OZ Architecture.
This construction type is relatively new to the U.S. but it quickly gaining traction in this region as companies continue to explore contemporary solutions with warm historic character and charm.  CLT is made from engineered wood panels laminated together in alternating directions to enhance its strength. The end result is exceptionally stable and solid with a look that emulates heavy, old-growth lumber.
Beyond the authentic feel CLT creates, it also offers substantial waste reduction and environmental benefits. CLT is sourced using sustainable forestry practices and the boards are precisely pre-cut, which creates less material waste. The pieces arrive organized and numbered, allowing the building to be assembled on site, extremely fast; the primary structure of the Loading Dock will be erected in approximately one day.
"The design concept is based on both connection and authenticity," says Joe Anastasi, lead designer on the project and associate at OZ. "We wanted to connect to the existing warehouse and outdoor environment architecturally, but more importantly, we had the unique opportunity to connect to this local fabric in a transformative way. The potential for future development in this office park, the community, Colorado and even nationally required a distinctive solution that highlights an honest use of materials, one that exposed the beautiful structure and unique connections and details."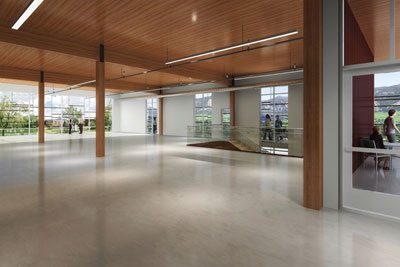 To help reinforce this physical connection, a large CLT roof element cantilevers over the main entry and informal gathering deck space highlighted by string lighting above. Other notable features include photovoltaic roof panels and a green screen integrated into the balcony railing which helps shade the outdoor deck space during the summer months. The early collaboration between the construction and design team also allowed for alternative mechanical, electrical and plumbing coordination. Features include pre-cut lighting block-outs in the glue-laminated beams and concealing electrical conduit within the floor, each helping to expose the warm and natural wood ceiling.
"Penton is an innovative company, so we appreciated the creativity and unconventional design and materials that are incorporated into the building," said Fred Linder, group president of Penton's Lifestyle & Penton Exhibition Services. "It feels true to both our company's character and the character of the neighborhood — we look forward to moving into the space."
The revitalization of the office park with a contemporary yet timeless aesthetic is already evident in other nearby projects. IMM was recently recognized as the 2016 Grand Prize Winner at the Starnet Awards, while places such as Upslope Brewery and Ozo Coffee continue to attract young talent to the area.
Ground breaking on the Loading Dock project began in May and CLT erection will take place in mid-June, with completion anticipated in September 2016.
About Penton
Penton is an innovative information services company that empowers nearly 20 million business decision makers in markets that drive more than 12 trillion dollars in purchases each year. Our products inform with rich industry insights and workflow tools; engage through dynamic events, education and networking; and advance business with powerful marketing services programs. Penton is the way smart businesses buy, sell and grow.
Headquartered in New York, Penton is privately owned by MidOcean Partners and Wasserstein & Co., LP. For more information, visit http://www.penton.com or follow us on Twitter @PentonNow.
About OZ Architecture
With offices in Denver, Boulder and Colorado Springs, OZ Architecture has been creating innovative, collaborative, and timeless architecture around the world since 1964. The firm has completed projects in nearly every continent, and is known for designing globally-recognized, award-winning buildings that offer the best solutions for clients and make a lasting contribution to the communities they're in. OZ has a team of more than 150 diverse and passionate architecture and design professionals whose work spans a wide range of practice areas. From resort and hospitality to urban living and higher education, OZ designs it all and has a reputation for creating elegant, timeless solutions. For more information, visit www.ozarch.com.