Designing safer fire stations to help prevent cancer in firefighters
Firefighters have a 9 percent higher risk of being diagnosed with cancer and a 14 percent higher risk of dying from cancer than the general U.S. population, according to a study conducted by the National Institute for Occupational Health and Safety (NIOSH). Respiratory (lung, mesothelioma), GI (oral cavity, esophageal, large intestine), and kidney cancers account for much of the higher risk.
According to the Firefighter Cancer Support Network, some fire departments are addressing higher than average occupational cancer rates. For example, 32 percent of Miami-Dade Fire Rescue's (MDFR) active members were diagnosed with cancer or receiving treatment between 2008 and 2010.
In 2016, cancer caused 70% of career firefighter line-of-duty deaths, according International Association of Fire Fighters (IAFF). While firefighters used to be diagnosed with asbestos-related illnesses, they are now at a 129% increased risk of dying from cancers like mesothelioma than the public.
The higher incidence of cancer among firefighters is due in part to the contents commonly found in our homes and businesses. More specifically, the raw materials used to manufacture furnishings, flooring, wall coverings, and even packaging for the food in our cupboards, are made of synthetic chemicals and plastics, which, when burned, emit fine particulates that become airborne. These particulates, some of which are carcinogenic, collect on firefighters' equipment, skin and clothing. If not properly removed and contained, the risk of exposure accelerates. Carbon monoxide, benzene, sulfur dioxide, and hydrogen cyanide are among the toxic chemicals firefighters are exposed to that can linger on gear and skin.
"In the past decade, more firefighters have died from cancer than running into burning buildings, saving communities from hazardous waste spills, or protecting neighborhoods from active shooter situations," explained Harold Schaitberger, General President of the IAFF in an interview with Fire Engineering magazine.
Such statements have spurred architects to reconsider their approach to fire station design. Sure, rapid access to bays, response times, efficient maintenance, and durable, sustainable materials are essential considerations in station design, but what about the men and women who occupy those buildings? We have a responsibility to factor in air quality and safety for our firefighters who are continually exposed to potentially carcinogenic contaminants. A zoned approach to containment and decontamination, as first introduced by Architect Paul Erickson, is a standard of care that ought to be embraced by the design community to mitigate chemical exposure.
Get in the Zone
Red Zone – Contain Contaminants
Carcinogen-contaminated gear is kept in a red zone and out of the firefighters' living areas. Featuring a separate, enclosed air handler, contaminants are contained and kept out of living areas or public spaces.
Yellow Zone – Decon Rooms
Decontamination (decon) rooms provide hand sprayers and detergents to safely rinse gear and skin. This area also has a separate HVAC system. All items associated with cleaning gear and skin should be kept in the yellow zone to prevent spread of contaminants.
Green Zone – Safe Areas
The Green Zone includes all living, kitchen and other community spaces. Keeping the space contaminant-free is essential. Contaminated gear should be prohibited from entry into this area.
Decontaminating the Body – Sweating it Out
It's impossible to completely escape contaminated gear and chemicals. To combat this, many architects have been incorporating saunas into their designs. Studies show that sweating is 10 times more effective at removing toxins than other natural methods. This allows toxins, heavy metals and lead that enter the firefighter's blood stream to be flushed out and removed.
While scientific studies have yet to measure results, incorporating these safe zones into fire station design could dramatically reduce harmful chemical exposure, which can increase cancer risks for generations to come.
About the author
Ken Henton, AIA , LEED AP
Partner – Hoefer Wysocki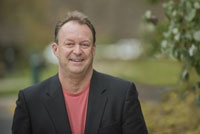 Ken leads the firm's public safety and judicial practice. His extensive portfolio spans nearly 30 years and includes award-wining, sustainable facilities across the U.S. The hallmark of his project leadership is centered on a collaborative spirit and a hands-on approach.
ABOUT HOEFER WYSOCKI
Founded in 1996, Hoefer Wysocki is an interdisciplinary architecture, planning, and interior design firm known for collaborating with clients to create performance-driven solutions. From offices in Kansas City and Dallas, the firm's design studios work with clients in healthcare, higher education, government and commercial sectors on projects across the U.S. Our award-winning designs are a testament to our passion for partnership with our clients and the relentless pursuit of their business objectives. For more information, please visit: www.hoeferwysocki.com.