Spring is here! For some, springtime can represent the start of something new and a period of revitalization. To that end, some architects may be considering new ideas for landscape design in order to spice up building exteriors. Creating an eye-catching landscape can sometimes prove challenging. However, spring can be a fantastic way to start anew with fresh ideas, beautiful colors, and new architecture.
Here are six design tips for landscape architecture that you should know in order to shake things up for springtime:
Be adaptable: It's always a smart idea to utilize the environment by playing towards it. In some states such as Florida, shade can be good, but in other environments, high rises can prevent plants from getting sunlight. Get creative! Choose plants based on how much sunlight they may need and be sure to mix materials by incorporating pebbles, gravel and colorful containers to enhance a look.
Consider creating an edible garden: Fresh vegetable such as cherry tomatoes, cucumbers, carrots and lettuce can be wonderful in landscape architecture! They are easy to grow and fun to eat. You can find planting space in your backyard or in decorative containers on a balcony at an office. Research your plants to understand their soil, light and water requirements.
Try your skills at cultivating herbs: Depending on the landscape environment, cultivating herbs may prove beneficial especially if the landscape is outside of a fun restaurant. You can use mint in cocktails like mojitos. Peppermint uplifts the spirit via aromatherapy or when added to iced tea. Spearmint, used in similar ways, can relieve stress. Many herbs are used in traditional cooking recipes for sauces. Ask a relative to share a family secret ingredient or look up herbs that represent cultures that are interesting to you.
Don't be afraid of edging: So, now that you've got the ideal springtime landscape, try adding some edging to distinguish certain areas. By doing so, you can add additional textures to the landscape or more colors. Remember that springtime is all about revitalization so don't be scared to step out of your comfort zone!
Encourage people to stay longer: It's springtime! In order to keep people on your property, be sure to add contemporary style benches and chairs. Fountains and water structures can also give people something to marvel at along with fire pits. Choose items that will complement the colors of the building itself whether it is an office or a home. Creating a sense of community will go a long way.
Don't be afraid to show off! Programming events to bring people to your outdoor space represents the best tip for spring. It is easy to Google an ice breaker game to start conversations or prepare a five cheese tasting in your newly planted garden. Any reason to enjoy the landscape architecture in and around your home or office space will increase the quality of life. Use it to renew relationship, relax outdoors, and refresh your mind!
About the author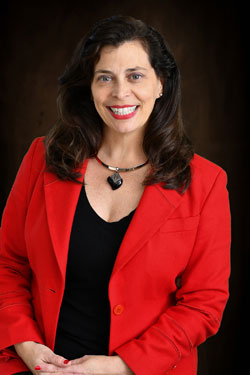 Grace Harrison, RLA
Landscape Architect with Baker Barrios Architects
Ms. Harrison specializes in landscape design, project management, public involvement, and feasibility studies. She is a Registered Landscape Architect with a solid background in all phases of site development from concept through construction documentation, making her a valuable asset to any team. Ms. Harrison is knowledgeable in conducting site inventories, preparing site analyses, developing site layout plans and grading plans, developing specifications, creating final construction installation instructions, inspecting and reporting landscape installation processes, project management, and quality control.
Ms. Harrison is also adept at involving stakeholders for controversial projects and bringing consensus to diverse groups.