In less than 20 years, LEED has become the international standard by which sustainable design and construction are measured. Today, LEED v4 is pushing the sustainability envelope even further with a more performance-based approach and an expanded focus on the end-user experience.
When it comes to higher education design, material selection plays an extremely important role as designers are selecting the immediate environment students will be in contact with for the majority of their day. The paint on the walls they sleep next to, the counter they use to prepare their food, the flooring they walk on or the glue used to adhere it are all evaluated based on their impact on human health and the environment under the new LEED v4 criteria.
With the new LEED v4 criteria in full effect, designers are seeing a variety of new trends in the finishes industry that are helping to boost sustainable material options for higher education design.
Recycled Materials
More and more materials used in building interiors are being made from sustainable, recycled materials, such as countertops made from recycled plastic waste and carpet nylon made from recycled fishing nets harvested in the Philippines and Central Africa.
Material manufacturers are diverting waste from landfills by setting up take-back programs where end-of-life materials are recycled into new materials, or modifying their processes to create zero waste by collecting their scraps and recycling them back into new products. LEED v4 is also enabling the reduction of construction waste by requiring manufacturers to ship their products in recyclable packaging.
Material Transparency and Accountability
Just like a consumer wanting to know where their food is sourced and prepared, LEED v4 is encouraging the use of products that have environmentally, economically and socially preferable life-cycle impacts. More material manufacturers are providing Environmental Product Declarations (EPDs) that outline the life-cycle environmental impact of their products, and Health Product Declarations (HPDs) which disclose all known hazards within a product and any health risks associated with those ingredients.
Just because a material has a hazardous ingredient in the fabrication, that does not mean the overall product is not safe. Many ingredients in specific combinations are not considered harmful.
Indoor Environmental Quality – Low-Emitting Materials
Similar to that 'new car smell,' that 'new building smell' is a combination of off-gassing from materials used in a building's interior, most of which may be harmful to the occupant's health. Under the LEED v4 standards, the focus has shifted to occupant health and the reduction of chemical contaminants that may be harmful to the environment, human health and air quality. Designers are encouraged to use materials with low or zero Volatile Organic Compounds (VOCs) – organic chemicals that evaporate off materials and enter the surrounding air, which can have long-lasting, slow-to-develop health effects on occupants. Buildings are also encouraged to have a period of time to off-gas and flush-out before occupancy, with points awarded in LEED v4 for achieving allowable testing levels.
LEED v4 is pushing the construction finishing materials industry to step up its game to produce more sustainable and healthy materials, while designers are challenged to find creative, new ways of utilizing these new materials. Together, the goal to create living, breathing buildings that are safe for occupants and the environment can be achieved.
About the author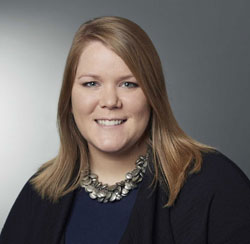 Meghan Bogener, Project Architect and Interior Designer at KWK Architects
Meghan Bogener, AIA, IIDA, is a Project Architect and Interior Designer at KWK Architects. With ten years of experience in sustainable architecture, she has developed a particular expertise in material selections for sustainably-designed projects.
About KWK Architects
Founded in 2013 by five architects with a combined 150 years of higher education knowledge and experience, KWK Architects partners with colleges and universities across the United States to create innovative and inspiring places that enhance campus life. Areas of expertise include student housing and dining, and academic and science/technology spaces. KWK Architects has completed more than $1 billion in construction-valued projects since its founding and currently employs a growing staff of 15 at its headquarters in St. Louis, MO. For more information about KWK Architects, visit www.kwkarchitects.com