PRISM 2018 Media Kit
PRISM | Sustainability in the Built Environment is a leading growth-orientated publication covering all aspects of the architectural built environment. An online bimonthly publication and daily website ensure readers have all of the latest information on sustainable building design and materials at their fingertips.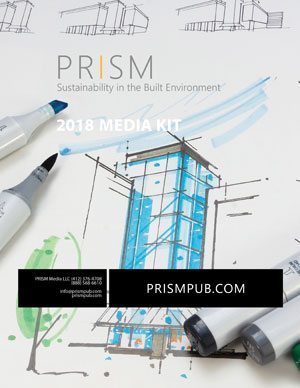 PRISM partners with the industry to transcend the typical definition of 'sustainability' to illuminate the essence of sustainability throughout the entire life cycle of the architectural built environment.
PRISM integrates the whole building — providing timely news and information on building science, color and design; historic restoration and preservation; landscape architecture; urban and exurban planning; and industry news, focusing on the commercial and institutional markets.
Advertise on PRISM – NEW! We have an online shop, to fill all of your advertising needs!
Download just the 2018 PRISM Editorial Calendar.
Download the entire 2018 PRISM Media Kit.
2017
Download PRISM 2017 Media Kit.
Download PRISM 2017 Editorial Calendar.
Click on PRISM Editorial Guidelines for more information regarding editorial submissions.
Read PRISM