$10 Million Gift from Jeanne and Edward H. Arnold Propels Innovative Facility
The Jeanne and Edward H. Arnold Health Professions Pavilion opened officially last week as the new home of the College's Athletic Training, Exercise Science, and Physical Therapy programs. An extraordinary $10 million gift from Jeanne Donlevy Arnold H'08, a member of the College's Board of Trustees, and Edward H. Arnold H'87, trustee emeritus, as well as gifts from many other friends of Lebanon Valley College, brought the $20 million-dollar facility to life.
"We believe in LVC and the outstanding education it provides to all its students," said Jeanne, College trustee and former vice president of WellSpan Good Samaritan Hospital. "Graduates trained in the new health professions pavilion will help meet the nation's growing need for skilled health practitioners and will provide graduates with challenging and fulfilling careers." Her husband, Ed, trustee emeritus, added, "Because of the country's aging population, which is particularly relevant in the Lebanon Valley, there is a great need for the highly talented health professions graduates LVC will develop."
"The opening of the Jeanne and Edward H. Arnold Health Professions Pavilion is a milestone in the life of our College," said President Lewis E. Thayne. "It signals our commitment to providing our students with exceptional learning spaces, as well as our commitment to the wellbeing of this region."
LVC's growing health professions majors will produce highly trained graduates for an industry that is projected to add more jobs—more than four million—than any other industry between 2012 and 2022, according to the Bureau of Labor Statistics.
With extensive input from LVC faculty and students, the architects from Stantec and Breslin Ridyard Fadero Architects, working closely with Benchmark Construction, designed the Arnold Pavilion to promote spontaneous interaction, support individualized learning, and allow ample natural light flow throughout the space. Learning commons are dispersed throughout the facility, offering formal spaces for quiet study, team rooms for collaborative learning, and breakout spaces for all students to study or socialize.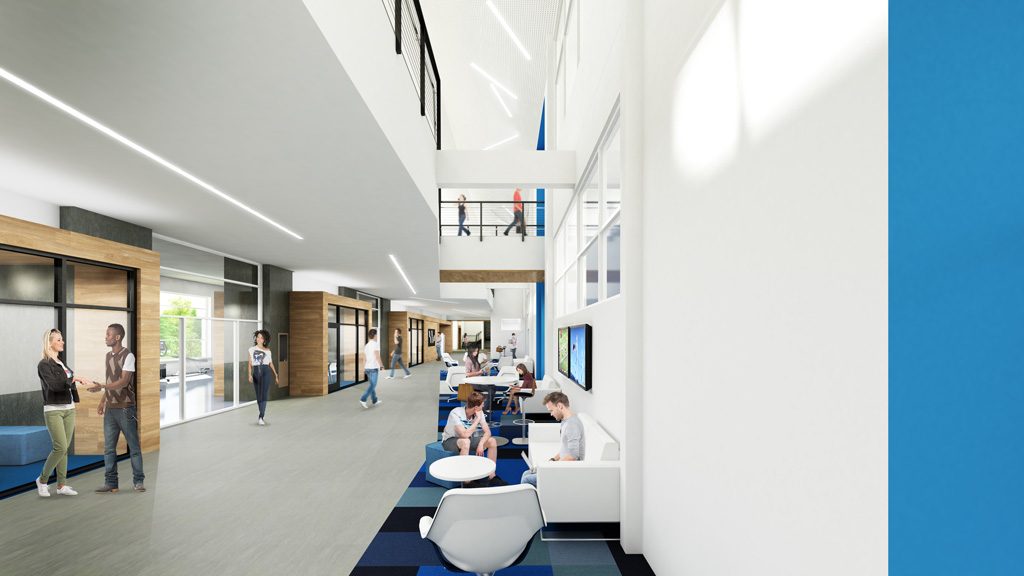 "Assisting the design team has been a true pleasure," said Gwen Breslin, architect and senior associate of Breslin Ridyard Fadero Architects. "Our purpose and goal was to bring together furnishings and equipment to enhance the experience of the facility's many remarkable spaces. The project is a testament to the College's vision and commitment to providing its students with top-notch, innovative, 21st-century learning environments."
The Arnold Pavilion will have advanced learning spaces throughout including a Human Performance Laboratory that puts sports biomechanics equipment at the fingertips of LVC students. This equipment, typically only found at upper-level graduate programs and research institutions, will enable students to use new 3-D Motion Capture, Forceplate, and Electromyography Systems.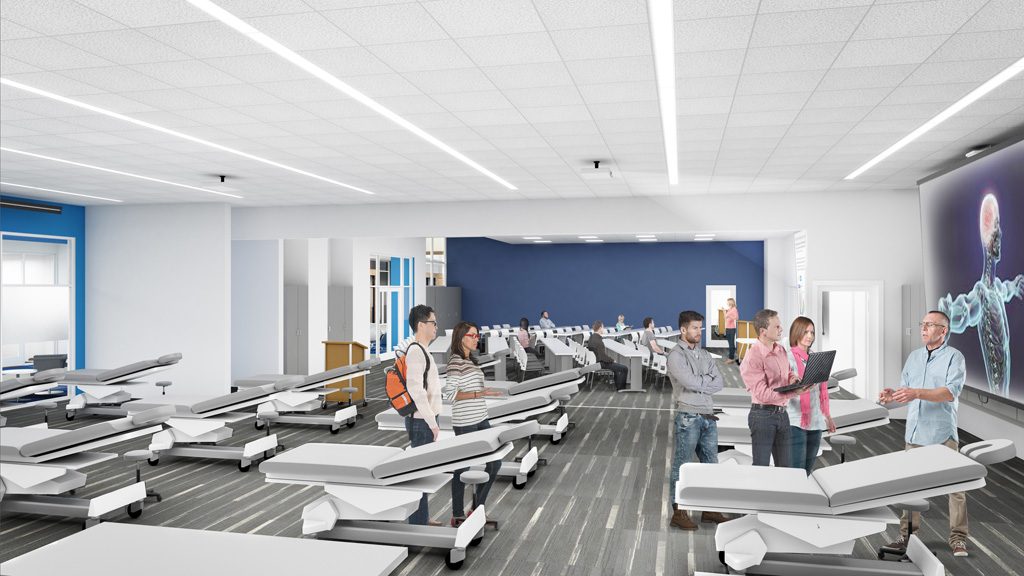 "In partnering with Lebanon Valley College, we focused on designing a setting that supports individualized learning, provides flexible space as programs and technology evolve, and establishes an iconic destination on campus," said Alex Wing, principal in higher education at Stantec. "We're proud to support Lebanon Valley College in bringing this cutting-edge facility to life."
The Arnold Pavilion was designed for LEED Gold certification, a reflection of LVC's commitment to sustainability. It includes a building-length terrace that overlooks Henry and Gladys Arnold Field, the campus, and the Lebanon Valley. Outdoor seating, along with an adjacent food/beverage area, creates an ideal setting for functions, social interaction, and collaboration outside the classroom.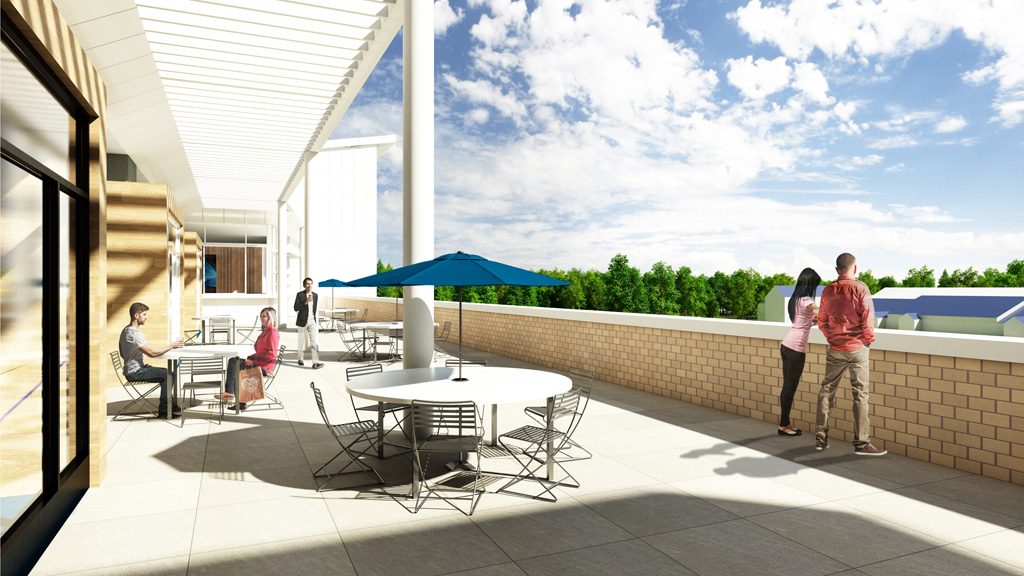 "Benchmark Construction has been involved with many projects for institutions of higher education throughout the region, and in our experience, this academic facility is a clear differentiator for Lebanon Valley College," said Andy Gilberg, Benchmark's vice president of higher education.
Visit here to see a video regarding the Arnold Pavilion and visit LVC's Facebook page to see photos from the dedication ceremony.
About Jeanne Donlevy Arnold H'08 and Edward H. Arnold H'87
The Arnold family has long been one of LVC's most generous supporters. Jeanne and Ed Arnold, who received honorary doctorates from the College in 2008 and 1987, respectively, have supported numerous academic, athletic, cultural, and scholarship projects financially and as active volunteers.
Ed, trustee emeritus, served as a member of the Board of Trustees from 1975 to 2001, and Jeanne is a long-time member of the board currently serving on the Marketing and Enrollment Committee and as vice chair of the Academic/Students Affairs Committee.
About Benchmark Construction
For more than 30 years, commitment to their core values has made Benchmark Construction the ideal building partner for the region's most forward-thinking organizations. Benchmark's success comes from a steadfast commitment to the client's vision and a culture of balance, integrity, leadership, and loyalty. Benchmark transforms the construction experience through creation of an environment that fosters collaboration and project team engagement.
About Breslin Ridyard Fadero Architects
Breslin Ridyard Fadero Architects is a firm of architects and designers founded in 1964 who provides architectural, programming, interior design and master planning services. Our experience includes award-winning planning and design of buildings on a regional and national basis. We respect tradition and culture and strive to create order and beauty in the built environment. This is premised in our committed belief that architecture can enrich the lives of people.
About Stantec
Stantec (NYSE, TSX: STN) is a recognized leader in academic design, as ranked by Building Design + Construction, creating innovative learning environments that give students, faculty, administrators, and their communities the spaces they need to learn, grow, and succeed. Through global design, intuitive planning, and local delivery, the team is focused on supporting our greatest asset, our current and future generations of students. We're designers, engineers, scientists, and project managers innovating together at the intersection of community, creativity, and client relationships. Balancing these priorities results in projects that advance the quality of life in communities across the globe. Visit us at Stantec.com or find us on social media.
About LVC
Career guidance site Zippia listed Lebanon Valley College #1 among all U.S. colleges and universities in its listing of "The Best Colleges in Each State for Getting a Job 2018." LVC's placement rate of 96.185% was based on College Scorecard Data "for the college in each state with the highest listed job placement ratings, looking specifically at employment levels at year 10 after students have graduated."
This private college offers more than 40 undergraduate majors plus self-designed majors and a range of minors, concentrations, and pre-professional options, as well as graduate degree programs in athletic training, business administration, music education, physical therapy, science in STEM education, speech-language pathology, and a fully online MBA, as well as certificate programs in modern band and STEM.