The Nanjing International Youth Cultural Centre harnessed the energy of the 2014 Youth Olympic Games to create a project with a lasting legacy that has enhanced and also regenerated its setting — acting as both an anchor and a catalyst for future investment in Nanjing's Hexi New Town.
Comprised of two hotel towers that include the new Jumeirah Nanjing, a cultural centre with conference facilities, an urban plaza, offices and mixed-use areas, the development initially provided accommodation for the 2014 Youth Olympic Games.  Now in its legacy stage, the centre has fostered investment in Hexi New Town on multiple levels; integrating additional infrastructure with new functions that include the hotels and a venue for Jiangsu Province's annual conferences.

Some of these functions, such as the footbridge connecting the city to the rural landscapes of Jiangxinzhou Island in the Yangtze River, are expressed. Others, such as burying the existing expressway below ground to create a new riverside park, are now hidden.
The four elements of the cultural centre (conference hall, auditorium, shops and guest zones) are independent volumes surrounding the central courtyard. These four elements merge into a singular whole at higher levels, enabling pedestrians to walk through an open landscape at ground level. The conference hall seats 2,100 and is equipped with a multi-purpose proscenium stage suitable for conferences, cultural and theatrical events. The auditorium seats 500 and is optimized for acoustic performances.

The cultural centre's design is a three-dimensional calligraphic composition that resonates with Nanjing's 1,600-year-old tradition of Yunjin – the name given to the intricate brocade threading used by local craftsmen to weave the region's acclaimed gold and silver fabrics. Like Yunjin thread, a continuous line interweaves throughout the cultural centre connecting it with its earthquake-resistant towers and beyond to the new central business district, riverside park and Jiangxinzhou Island.
The tapering profiles of the towers, at 255m and 315m Zaha Hadid Architects' tallest completed towers to date, extend the viewer's sense of perspective. The towers' trapezoidal floor plans maximize their river-facing frontages and double-decked elevators increase the efficiency of their core area planning by fifty per cent. The cross-sectional geometry of the towers ensures an average net to gross ratio of over 70 per cent.

High standards in the quality and performance of the centre's interior environments are achieved by bringing natural light into the deep plan spaces of the conference centre and minimizing the need to augment daylight by avoiding tinted glass. Office spaces combine mechanical and natural ventilation which, along with high level gardens, enhance the user experience. Efficient cooling and heating strategies, optimal passive design orientation, flexible planning and self-cleaning facades are used to maximize the project's design life.
Driven by the milestone of the 2014 Youth Olympic Games, for which the development provided venues and competitors' accommodation, the centre's construction operations set records and demonstrated the project team's expertise.

Mainland China's first completely top-down/bottom-up tower construction, combining above and below ground construction with extensive design work proceeding in parallel, the project's construction program was reduced by a full year. The entire centre was completed 34 months after design began with all works on site lasting only 18 months.
The Nanjing International Youth Cultural Centre's architecture is defined by its location at the intersection of an important urban axis and the Yangtze River, as well as its location at the junction between the city's urban fabric and the natural landscapes of the parks that line the riverside. With its popular 2,100-seat theatre and the new Jumeirah Hotel, the Nanjing International Youth Cultural Centre has been a vital catalyst for investment in Hexi New Town's civic infrastructure: an excellent legacy of the 2014 Youth Olympic Games.

Project Data
Tower 1: 255 m
Tower 2: 315 m
Conference Hall: seats 2,100
Auditorium: seats 500
2 Hotels: 136,000 sq. m.
Conference Centre: 106,500 sq. m.
Offices: 122,500 sq. m.
Basement: 100,000 sq. m.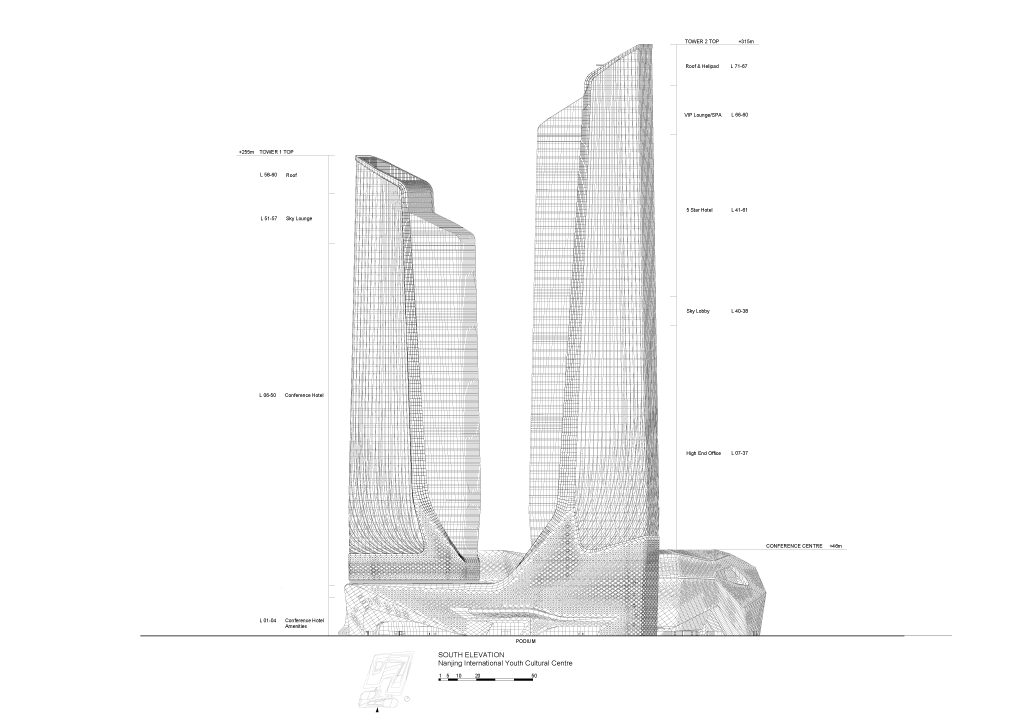 Construction
• More than 20,000 customized steel members
• Largest GRC project in China
• More than 12,000 GRC panels have been fabricated
• First completely bottom-up/top-down tower construction in China
• 717 drilled piles completed in 6 months; 6,325 piles in total and more than half are steel piles.
• The diameter of the largest piles is three meters; the deepest piles reach below minus 90 meters
• 541-meter diaphragm wall construction completed in four months; the deepest part reaches below minus 50 meters
• 80,000 m2 B01 excavation completed in one month
• Tower basement concrete slabs complete whilst Tower level reaches L17 in one year
Conference Centre Sustainability
Layering conditioning of the spaces. Unconditioned/partly conditioned/fully conditioned
Minimizing energy use through efficient cooling and heating strategy
Flexibility of the ancillary spaces – adaptation to future usages
Maximizing structural efficiency while maintaining the iconic character of the building
Self-cleaning façade system
Tower Sustainability
Controlling solar gain
Creating high level garden and meeting spaces
Openings to fresh air
Maximining structural efficiency while maintaining the iconic character of the building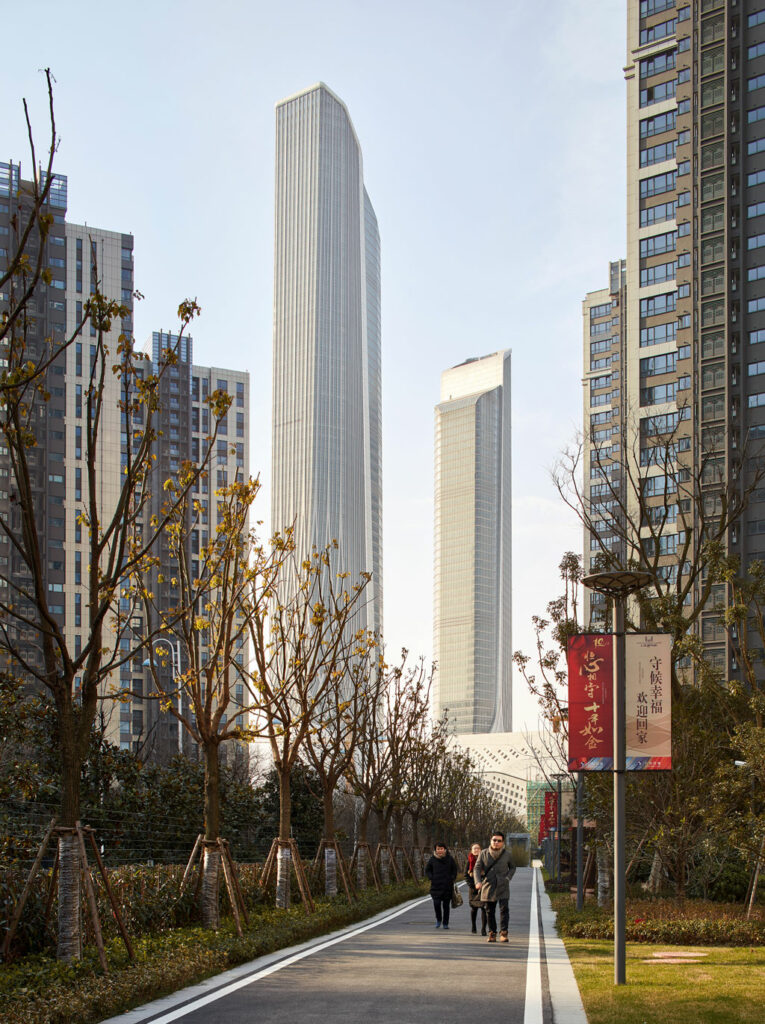 Project Team
Architects: Zaha Hadid Architects (ZHA)
Design: Zaha Hadid, Patrik Schumacher
ZHA Project Director: Nils-Peter Fischer
ZHA Consulting Associate: Cristiano Ceccato
ZHA Project Architect: Shao-Wei Huang
ZHA Lead Facades and Envelope: Shao-wei Huang, Lydia Kim
ZHA Lead Conference Centre: Melike Altinisik
ZHA Lead Towers and Podium: Garin O'Aivazian
ZHA Lead Interiors: May-Jinqui Qin
ZHA Lead Landscape and Urbanism: Carolina Lopez-Blanco
ZHA Lead Site Supervision: Ed Gaskin
ZHA Competition Team: Garin O'Aivazian, Jalal El-Ali, Kyla Farrell, Maria Tsironi, Matthew Richardson, Melike Altinisik, Meng Chan Tang, Mirco Becker, Mostafa El Sayed, Paolo Gamba, Saman Saffarian, Shajay Bhooshan, Shao-wei Huang, Shyamala Duraisingam, Spyridon Kaprinis, Suryansh Chandra, Yevgeniya Pozigun
ZHA Project Team: Alexandros Kallegias, Ashwin Shah, Carlos Michel-Medina, Carlos Piles Puig, Chao Wei, Charbel Chagoury, Christy Yin, David Doody, Duarte Reino, Elena Scripelliti, Emma Chen, Ermis Chalvatzis, Eugene Leung, Frenji Koshy, George Frenji, Ho-Ping Hsia, Hongdi Li, Igor Pantic, Jamie Mann, John Randle, Julia McLeod, Katharina Hieger, Konstantinos Mouratidis, Leonid Krykhtin, Leo Wu, Mattia Gambardella, Michael Grau, Michael Sims, Mostafa El Sayed, Mu Ren, Nassim Eshaghi, Natassa Lianou, Nicholette Chan, Niqui Berkowski, Patryk Ruszkowski, Sebastian Andia, Shajay Bhooshan, Soomeen Hahm, Spyridon Kaprinis, Vincent Nowak, Yuchen Zhang, Yue Shi, Yun Zhang
ZHA Site Supervision Team: Juan Liu, David Chen, Liyuan Zhang, Vincenzo Cocomero, Xi Wang, Xin Ji, Yan Geng
Architect of Record: China Architecture Design and Research Group
Structural Engineer: BuroHappold Engineering, China Architecture Design and Research Group
MEP Engineer: BuroHappold Engineering, China Architecture Design and Research Group
Vertical Transportation Consultant: Dunbar and Boardman
Façade Engineer: BuroHappold Engineering,
Landscape Architect: SWA Group
Lighting Consultant: Brandston Partnership Ltd
Acoustics Consultant: Zhejiang University, China
Theatre Consultant: China Art and Technology Institute
Main Contractor: China State Construction Engineering Corporation Division 8, China State Construction Engineering Corporation Division 3
Editor's note: All photography of the Nanjing International Youth Cultural Centre is ©Hufton+Crow, courtesy of Zaha Hadid Architects.