When it comes to making a house feel like a home, or rather a condo feel like a home, customization is key. Savvy designers have taken note, with many working with new condominium developers to offer efficiently-priced upgrades and leading the charge in design centers where homeowners can tailor their space, moving beyond lighting fixtures and window treatments and including tricked out tech packages and upgraded sleeping sanctuaries.
Becoming more involved in the design process of their home not only keeps owners engaged throughout the home buying process, but when executed correctly, can create a significant revenue stream for developers and designers on projects that are years from opening their doors.
The Master Bathroom must be Masterful Indeed
What was once considered a minor convenience, the expectations for the master bathroom have changed drastically. This is an enormous opportunity for designers to really make a statement by delivering expansive and elegant master bathrooms. Homeowners are looking for a peaceful, spa like room that can be used to de-stress from the endless demands of urban living. Master bathrooms should include a large walk in shower or "wet room" with a seating section and recessed shelving, a focally positioned free standing tub and floating vanities and separate water closet with bidet.
Preferred materials tend toward natural stone such as Carrara, Linac marble or porcelain tile that should be installed in a floor to ceiling application, while plumbing fixtures must be of the highest quality, with many clients leaning toward chrome finishes. As a primary space to prepare for the day, lighting is an important component in the master bathroom – a great choice is recessed LED bulbs with an elegant chandelier.
Master Bedroom turned Sleep Sanctuary
Very closely tied to the master bath, the master bedroom is also enjoying a renaissance of its own, with renewed attention being paid by clients. While entertaining and public spaces like the kitchen and bathrooms have typically stolen the design show, there is an increasing emphasis being placed on the bedroom, which makes perfect sense as  this is where people will spend the majority of their time when at home.
Refined details like fireplaces, wood paneling, soft, natural lighting and elegant drapes can transform an often non-descript room into a welcoming retreat. Wherever possible in high rise buildings, designers should also recommend developers position the master bedroom to receive a beautiful view.
The Smart Home of your Choice
There is a new norm for modern convenience – tech savvy home owners expect that they can set the mood from their portable device to ensure the perfect environment upon arriving home.
An encouraging trend for designers is that developers are now expressing a lot more interest in providing a pre-wiring infrastructure in the base building spec to support a wider variety of smart home technology such as Savant and Control 4.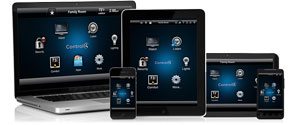 Top specs include low voltage wiring for motorized shades, CAT 6 wiring for faster internet connections, in-wall speakers, wireless access points for guaranteed transmittal speed in steel and concrete buildings and a designated equipment area to house a 24×24" equipment rack. Aesthetically, this eliminates wall cluttering light switches and outlets to leave beautiful clean walls primed for personalization.
In addition, new homeowners are able to easily customize their home with the technology of their choice, centrally controlling lighting, HVAC, shades and AV.
The Future of the Kitchen
At the end of the day, the decision to shoulder the extra cost to deliver higher-end kitchens makes sense purely from an ROI standpoint. With this in mind, developers are finally beginning to steer away from standard kitchens from a quasi-known name cabinet manufacturer. Moving forward, designers will be seeing a lot more modular style kitchens with a substantial kitchen island or peninsula. Minimal hardware and sleek low profile countertops such as Neolith provide an incredibly elegant, yet simple, aesthetic. As in every room, lighting makes a world of difference and we'll see it continue to trend toward recessed LED or a combination of recessed and pendants. Integrated appliances and convection and steam cooking will become a must. The industrial range belongs in your pied de Terre in the wine country.
One Size Does Not Fit All
Custom is the new standard – an oxymoron, but not an exaggeration. Clients today expect the opportunity to customize many of the finishes in their home. When spending in excess of $1,500 per square foot, it is simply not acceptable to buy the exact same home as your neighbor. By offering stunning hardwood flooring, appliance packages, closet systems and custom built-ins, a variety of window coverings, bath accessories and smart home technology, homebuyers can create their own unique space and build the cost of the improvements into their new home loan.
About the author
Kathryn Baker — VP Design Services
Kathryn is responsible for the day-to-day management of all Polaris Pacific escrow activities and design centers. In her role as the onsite liaison between Polaris Pacific clients and the homebuyers, Kathryn guides the consumer experience to promote each project's unique selling points and generate increased sales. Kathryn received her Bachelor of Arts degree in Business Studies from the Lancashire Polytechnic Institute in Preston, U.K.
About Polaris Pacific
Polaris Pacific is the leading real estate sales and marketing group for today's high-density communities. Drawing on a legacy of success in the Western United States, Polaris Pacific specializes in new development, leveraging the latest tools and technology to create a clear path forward. Long-term client relationships with industry leaders provide the company's platform for innovation, establishing Polaris Pacific as the irrefutable expert in major urban markets. For more information, please visit www.polarispacific.com.