"Location, location, location" has always been the mantra of smart retail, commercial, and residential brokers. In today's difficult and urgent healthcare climate, that's been shaped by a global pandemic, health systems and community hospitals are tapping into the communities they serve to offer as many outpatient services as possible. With a healthcare system that has been increasingly overwhelmed, the abundance of outpatient centers provides a solution to improve quality of care, as well as provide relief to centers that have registered more patients than they can handle. As a result, healthcare service offerings close to residential clusters, demographic epicenters—places where community members work and shop, drive by, and congregate—have created a new patient mantra that is centered around convenience, expedition, and enhanced patient care.
With the help of their strategic business planners and design partners, future-forward health executives are beginning to embrace more creative ways to help and maintain a consistent service for their communities. Patients often complain about healthcare systems being difficult to navigate, and when guests have difficulty interacting with hospitals or other healthcare systems, dissatisfaction and revenue loss is the end result. Therefore, moving outpatient services away from the often-confusing pathways on a typical, older acute campus, and closer to the patients themselves, makes sense for the healthcare provider as well as for the patient. One-stop visits at outpatient centers for numerous testing services and small procedures offers a less costly environment for the healthcare provider, is less time consuming and stressful for the patient, and results in higher overall patient satisfaction, a valued health system commodity.
Since the early 1990s, retail settings have posed a creative solution for limited healthcare services. Small practice settings in neighborhood shopping centers—from vision and dental to back-to-work rehabilitation centers—have been around for a while, offering high visibility, front door parking, and convenience. In the mid-90's, medically based wellness centers began to repurpose small anchor stores in shopping centers, usually the local 40,000 grocery food market or vacant chain store. These offered not only clinical services and outpatient rehabilitation, but opportunities for upstream individual health control. Offerings of fitness and exercise, dietary nutritional education, emotional wellness, yoga, tai chi, and other similar services all combined to raise the general health of each community served. These whole health centers gained momentum by the new century and have up until recently been a robust part of the farsighted health systems continuum of care in our nation.
By 2012, major national mall developers saw healthcare service offerings as a means to expand their customer base from the retail side, while filling some of the inevitably empty retail spaces in their malls. They began to recruit hospitals, offering chances to put services directly in front of the shopping pathways of their retail customers. The trend was clear with the growth of Amazon and online shopping, as the huge anchors—traditionally driving heavy foot traffic to those same megamalls—began to go dark. Repurposing those large, multi-floor spaces has become the next round of major investments, as in the past, the vitality of most malls has depended heavily on those environments. Some anchors get torn down and the space is completely transformed into outdoor eateries and public spaces; some get repurposed into multi-tenant environments, adding again to the vitality and excitement of the larger format.
Health planners are looking at large anchors as a way to offer a broader array of outpatient clinical services, including urgent care, primary and specialty care, diagnostic imaging, women's health, medical oncology, laboratory services, and even administrative and support services programs. Today, there exists a number of successful healthcare centers that have been conceptualized from the repurposing of entire malls, such as Vanderbilt's 450,000-square-foot One Hundred Oaks Mall in Nashville, Tennessee. Another transformation is underway at an empty mall in Suburban Atlanta, where a major health system is planning to utilize the entire complex for a wide variety of services.
Going beyond the current global pandemic, we have a growing population of aging baby boomers who are in critical need of more healthcare facilities. The large number of dark anchor spaces becoming available throughout the country is an opportunity for health systems to move in and get ahead of future demands—potentially at a lower cost. At present, the NELSON Worldwide design team is repurposing a vacant Sears at Oakdale Mall in Johnson City, New York, for Ascension Lourdes Hospital. The remodel will include approximately 30,000 square feet of hospital administrative and support services space; 15,000 square feet of clinical services; and 40,000 square feet of fitness and exercise venues, outpatient rehabilitation, and a three-pool natatorium. The firm is also actively working alongside the Main Line Health system to find new retail sites for their facilities, as they had the early foresight to consolidate more than 25,000 square feet of outpatient services in the regional Exton Square Mall in Exton, Pennsylvania. In addition, Main Line Health just dedicated their new Women's Health Center, a 100,000-square-foot specialty care center focused on women's health in King of Prussia, Pennsylvania. Along with all of the specialized healthcare services, it will include the Aneu Kitchen & Juicery, a teaching kitchen, interactive wellness classes, The Wellness Porch–a boutique, wellness-focused retail store, and a 6,500-square-foot rooftop farm with its own professional farmer, where produce grown will be given to local food banks. As in all of these projects, both new construction and renovation, the focus in both design and construction is on sustainability. The products and materials sourced, the environmental design approaches taken on energy consumption and lifecycle costs, and the creation of healthy footprints for both the caregivers who share each environment and the patients they serve, are paramount to the "success" of each project.
About the author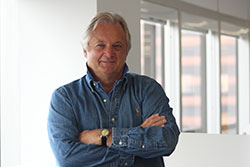 Brad Earl, AIA, NCARB
Managing Principal, NELSON Worldwide
Brad brings over 38 years of experience in managing complex architectural and design projects to the NELSON Worldwide team. He is skilled in client advocacy, strategic business development, team leadership, and visionary conceptual design. He specializes in healthcare design and has served as a trusted partner to numerous healthcare systems and academic medical centers across the nation.