Simply Measured, a Seattle-based marketing analytics company, sought to reinvent their existing work environment while satisfying their need to accommodate a growing development team and sales force. Located in the t Building along the waterfront in Seattle's Belltown neighborhood. Recently named one of the "top 25 places to work in Seattle," the client was interested in providing more informal, communal gathering spaces and work areas as well as traditional desk layouts to support their diverse staff.
Splashes of color—blue-painted walls, ceilings, and floors—help organize the space while providing a not-so-subtle nod to the corporate brand color. The approach provides a lo-fi/low-cost way to create visual interest and takes a stand against the white walls typically found in office environments. Amenities (kitchen and alternative work areas) occur at intervals along the blue navigation bar.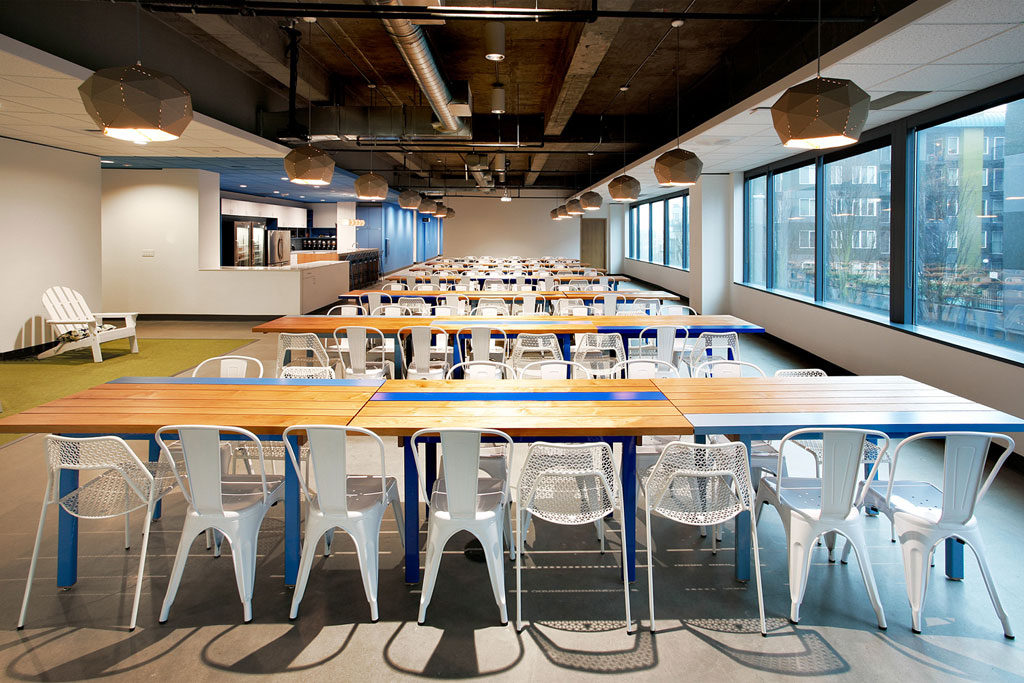 That playful spirit is continued through custom built-ins and furnishings such as the simple picnic tables employed in the lunch room, the abstracted lifeguard station that serves as the reception desk, and in the monochromatic sitting area which features a series of picture frames where foam pyramids stand in for art.
"The leaders of Simply Measured were interested in creating a country club kind of atmosphere for their team and the building's shape was similar to a large cruise liner, so many of the design cues were a response to these conditions. There is a literal putting green in the lobby, the reception desk was conceived of as a stylized lifeguard station, and the cafeteria where they have all office lunches every week is filled with custom designed picnic tables," described Best Practice Architecture architect Ian Butcher, AIA. "All of these "fun" elements were balanced with a tightly organized series of desk pods and both formal and informal meeting areas."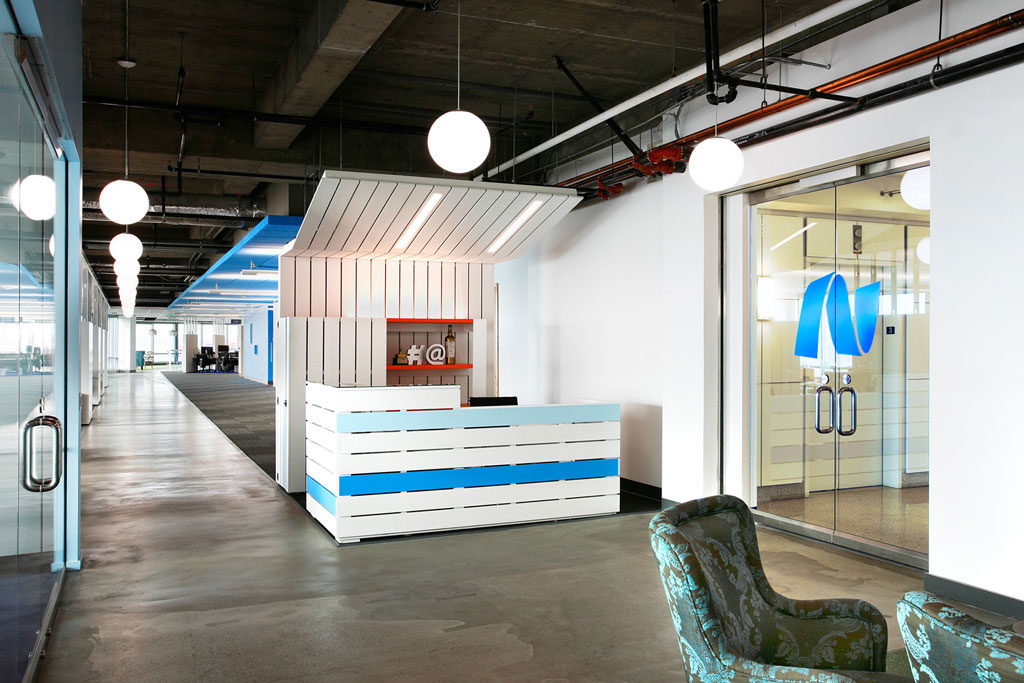 The monochromatic color scheme also serves as a way to shift focus from the materials themselves—dematerializing them—and redirecting focus to the formal qualities of the environment. These playful touches add a touch of humor and intrigue to what was once a relatively bland office space, while working within a tight budget.
By adding lounges adjacent to open work tables, a cafeteria that doubles as a presentation space, and huddle spaces for quick team breakouts, the design results in an interconnected network of spaces and places throughout the entire floor. The seamless integration of one space to another enables employees to untether from their desks and work remotely from anywhere in the office, exploring new teaming arrangements while taking in amazing views of Puget Sound.
Project details
Size: 20,000 square feet
Architecture and Interiors: Best Practice Architecture
Consultants: Objetks (procurement services for all loose furnishings); Lighting Designs, Inc. (lighting consultant)
Specialty fabricator: Big Leaf Manufacturing (fabricated custom-designed conference room table and lunch tables)
Contractor: JMS Construction
Building owner: Unico Properties
Photography: Mark Woods
Products used on the project
Carpet (Shaw Minimal and Shaw Applied)
Lighting (Juno, LED recessed cans and pendant spot lights, LED Cylinder; Pinnacle, Edge recessed linear lighting; Erich Ginder Studio, Dot/Dash pendants)
Laminate (a mix of Wilsonart, Nevamar, and Formica)