The construction and operation of buildings accounts for nearly half of all emissions linked to global warming. The building design and construction community has responded to this fact by improving the energy efficiency of buildings and by building with low embodied carbon materials. The structural system is the primary contributor to the overall embodied carbon footprint of a building. This aspect has led designers to explore low embodied carbon structural materials such as mass timber.
Mass timber structures include elements such as glued-laminated timber framing (glulam) and cross-laminated timber panels (CLT). These structural materials are built up from smaller dimensional lumber, which is regrown quickly in contemporary, sustainably-managed forests. The process of harvesting wood and manufacturing mass-timber elements has a lower embodied energy compared to conventional structural materials while also sequestering carbon in the materials of the building. Managed forests have other sustainable benefits such as preventing erosion, soil development, and support of bio-diversity. The key to the long-term sustainability of mass timber is forest management, which replants harvested trees and stays within the natural growth rates of the forest.
Forests in developed nations have been expanding for decades through conservation and management of resources. Reforestation in developed nations has occurred because stakeholders recognize the long-term benefit of the resource and work to stay within the natural growth limits of the forest. Current-day deforestation typically occurs in developing nations who can realize a greater financial benefit by harvesting forests and reusing the lands for other industries, such as agriculture or grazing for livestock.
Forest management is an established field in developed nations that recognize the benefits of wooded areas for several reasons. First, forests are natural habitats for many animals and insects. Forests also provide amenities such as outdoor recreation, threatened species/pollinator preservation, soil and erosion control, improved water quality, and a carbon sink that takes in CO2 from the atmosphere. The carbon sequestration benefit of wood as a building material is perhaps the most powerful aspect of mass timber structures. One pound of wood material typically sequesters 1.8 pounds of CO2. Mass timber buildings then sequester this carbon over the lifetime of the building.
The sustainability of mass timber buildings was studied as part of Skidmore, Owings & Merrill's (SOM) Timber Tower Research Project, which explored a structural system for high-rise buildings that uses mass timber as the main structural material. The research focused on a 42-story building, but the proposed system is appropriate for buildings of any height. The structural system utilized mass timber for the main framing elements, such as the floors, columns and bearing walls, supplemented with reinforced concrete at the connections to improve the overall efficiency of the structure. This hybrid approach of using mass timber and reinforced concrete is an effective and sustainable way to support high-rise buildings – today and into the future.
The initial research project showed that the embodied carbon footprint of the structure could be reduced by 65 to 75 percent by using mass timber. These embodied carbon savings include the benefit of carbon sequestration. The systems proposed in the research project were later refined and tested at Oregon State University as a proof of concept.
More information on the benefits of mass timber construction can be found at www.som.com.
About the author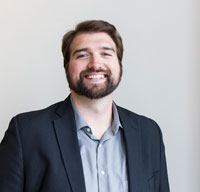 Benton Johnson is a senior structural engineer with Skidmore, Owings & Merrill LLP. He has been with SOM for over 10 years and has worked on a broad range of domestic and international projects. This work has included super-tall buildings, mixed-use developments, convention centers, hospitals, and single-family homes. His work also includes innovative research projects such as AMIE 1.0, a 3D printed demonstration building and the Timber Tower Research Project.
Skidmore, Owings & Merrill LLP (SOM) is one of the largest and most influential architecture, interior design, engineering, and urban planning firms in the world. Founded in 1936, we have completed more than 10,000 projects in over 50 countries. We are renowned for our iconic buildings and our commitment to design excellence, innovation, and sustainability.